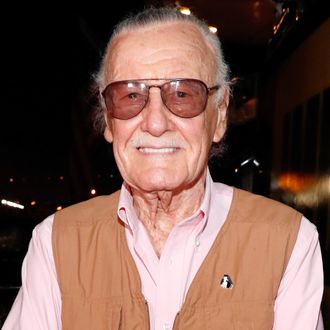 Double-oh-Stan.
Photo: Rich Polk/Getty Images for IMDb
Stan Lee has led a fascinating life. The nonagenarian co-created a bevy of lucrative superhero icons, including Spider-Man, Iron Man, the X-Men, the Incredible Hulk, and Doctor Strange — and did so in his late 30s and early 40s, making his story one of the greatest second acts in American popular culture. He was embroiled in bitter fights with his co-creators, started an operatically disastrous solo company, and has earned a deeply complicated legacy. However, to our knowledge, he was never a spy. But what a developing Fox film presupposes is … maybe he was?
The studio has purchased Lee's life rights and is developing a bizarre project: an espionage thriller starring a fictionalized version of Lee. The Hollywood Reporter broke the news that producers Marty Bowen and Wyck Godfrey are working on a film about Lee leading a double life. In public, he's the Stan Lee of the 1970s — a decade that began with him rising to executive status at Marvel and concluded with him struggling to earn respect for superheroes in Hollywood. But behind the scenes, he'd be a 007-esque secret agent. They're allegedly going for a Kingsman: The Secret Service vibe, which is somewhat appropriate, given that that movie was based on a comic. We're guessing it's supposed to be a comedy? But man, what if they take it super seriously? Honestly, this whole thing is such a crazy idea that everything's up for grabs.