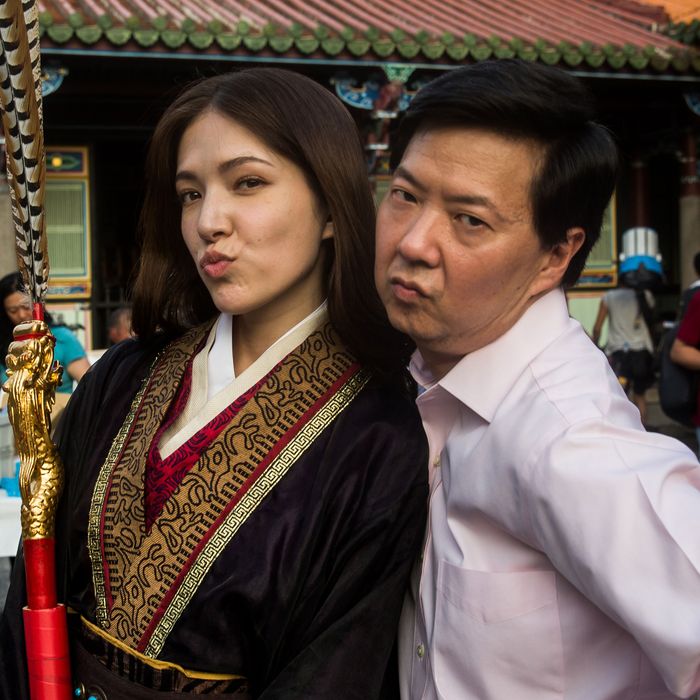 Ann Hsu and Ken Jeong pose for photographs during filming at Confucius Temple in Taipei, Taiwan, on August 4, 2016.
Photo: Billy H.C. Kwok/New York Magazine
By all pop-culture and entertainment-industry measures, Ann Hsu is a huge star in Taiwan. She's won a Golden Bell Award, the Taiwanese equivalent of an Emmy, for her role in The Way We Were, and she's been nominated twice for a Golden Horse Award, Taiwan's version of the Academy Award: Once for a best new performer in 2014's Design 7 Love, and again last night, for best leading performer in The Tag-Along. What, then, drew the 32-year-old former model to a guest-starring role on Fresh Off the Boat this summer?
"I love Ken Jeong! I really love him!" Hsu, who also goes by Hsu Wei-ning, exclaimed. Guest star Jeong plays Louis's (Randall Park) brother, and Hsu plays his fiancée, Margaret, who marries him in the season-three premiere, which was shot on location in Taipei (read the backstory on the premiere here). "My friends all know that I want to act with him. They are like seriously? He's so famous in Taiwan because of The Hangover. I really can't believe it."
Fresh Off the Boat is Hsu's first stab at comedy, an area she's always wanted to explore. Producers scouting for Taipei locations were also looking to cast for the role while they were there, and asked local producers for recommendations. Hsu's name was on the list. "I wanted it to be someone from Taiwan, someone famous," executive producer Melvin Mar said. "I get these names and I start Googling." He recalls standing on a corner in the city's Da'an District when he asked, "Who's this Ann Hsu?" A friend replied, "She's super-famous — turn around!"
Hsu's face was staring at Mar from a billboard cosmetics ad. Mar got in touch with her manager, who arranged a Skype call. "She was really funny when I talked to her," Mar explained. "She has this cool, bubbly thing about her. You instantly recognize her star power."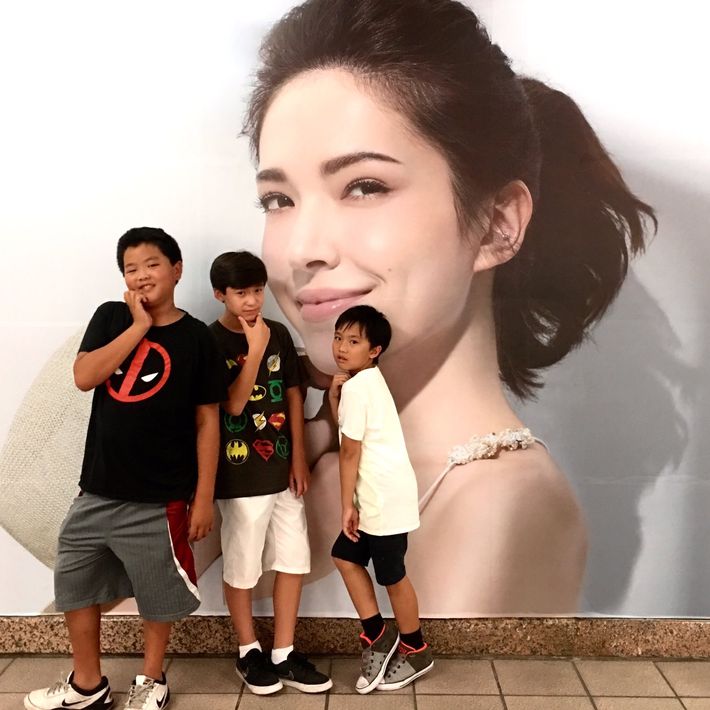 Hsu, who is of Taiwanese and Italian descent, told Mar she would love to be a part of the ABC sitcom, which is hugely popular in Taiwan. "It's very funny and it's also a lot like my family," she told Vulture, with some translation assistance from her manager, Lyn Fang. "My grandmother is like Jessica. She's about free air-conditioning and fighting with vendors for more spring onions. Louis is just like my grandfather: mild and good-tempered."
When Mar told her she would be playing opposite Jeong, "She had a moment," he said. Hsu never quite got over it. "I finished the script immediately after I got it and I couldn't stop imagining how I would act," she said, of filming her first scene with Jeong at the Grand Hotel, a Taipei landmark. "How can you act when you are face-to-face with Ken? I might have to hold him and cry."
After the three-day shoot in Taipei, Hsu visited Los Angeles for the first time to film other scenes, including a reenactment of Ghost (a running joke throughout the episode). If Hsu were at all concerned about breaking into comedy, she's already made one, well-connected fan. "I was very impressed with Ann Hsu's comedy skills," Jeong said. "I ruined many a take that night, and I haven't laughed that hard in a long time."