You Can't Go Home Again: On Set in Taiwan With Fresh Off the Boat
It's barely an hour after sunrise, and Hudson Yang is mugging like a rapper, sporting a pair of '96 Air Jordan 11s. The temperature's already over 90 degrees, the humidity nearly as high, and Westside Connection's "Bow Down" is playing through a speaker to keep the 12-year-old Fresh Off the Boat star focused. Behind him, a white 1960 Chevrolet Impala drives up slowly, stops, and bounces.
His character, Eddie Huang, is in a hip-hop fantasy that wouldn't feel unusual for the show if he weren't surrounded by dozens of tourists milling around the grounds of the scene's backdrop: Taipei's most prominent landmark, the Chiang Kai-shek Memorial Hall. As the lowrider springs up and down with its owner, local Taiwanese classic-car collector Dragon Chen, in the driver's seat, director and showrunner Nahnatchka Khan glances over at her crew and laughs, "This is crazy, right?"
In a rare move for a broadcast TV sitcom, ABC's Fresh Off the Boat traveled 6,773 miles to Taiwan for three days of filming. (Vulture was on set, exclusively, for the duration of the shoot.) Picking up after the season-two finale, the Huangs decide to return to the motherland for Louis's brother's wedding (guest star Ken Jeong). The journey, which makes up the story line for the show's October 11 season-three premiere, "Coming From America," takes Louis (Randall Park) and Jessica (Constance Wu) back to their native country after two decades in the States, with their three American-born sons, Eddie, Emery (Forrest Wheeler), and Evan (Ian Chen) in tow.
But there's a lot more to the story than a sibling's wedding or a family vacation, the scenarios that have led other sitcoms, like The Brady Bunch, Friends, and Modern Family, to fly to locales like Hawaii, London, and Australia. The trip raises an inner conflict common among immigrants, one that has never been explored on television in a meaningful way: the identity crisis that happens when you exist in two cultures, and never quite fit into either.
Randall Park, who was born in Los Angeles to Korean parents, calls the experience definitively American. "Everybody, at some point in their lineage, had to experience this sense of loss, but it's also a sense of discovery," he says. "There is no real homeland anymore. It's a weird, bittersweet mix that I feel only our show — at least right now — can really explore in this way."
The '90s-set sitcom, loosely based on restaurateur Eddie Huang's same-named memoir, opens its first season with the Huangs relocating from Chinatown in Washington, D.C., to Orlando, Florida, to open a restaurant. While Louis works hard to make his new Western steakhouse a success, Jessica focuses on raising the boys to thrive in their new, majority-white community without losing touch with their Taiwanese background. Despite initial skepticism that the show might not succeed, fueled by Eddie Huang's harsh critiques of the series' failure to reflect his own upbringing, Fresh Off the Boat was widely praised in its first season. It became a more confident sitcom in its second, settling into its own culturally specific sense of humor, which it deploys in ways that both immigrant and nonimmigrant audiences can appreciate. "For the family to come back to Taiwan is really poetic," Park adds, "but it's also great for the cast and the fans: It adds to [the show's] layers of authenticity."
The idea to produce an episode in Asia was first floated in a conversation between Khan, who is of Iranian descent, and executive producer Melvin Mar, an Angeleno whose family hails from Hong Kong, about the first time they visited their parents' homelands. While brainstorming what Mar calls "the all-important third season" — the time when shows struggle to stay fresh — their discussion turned more personal. Khan was so young when she visited Iran that she doesn't remember it, but what has remained vivid through the years is her family's longing for the country they left. In the episode, Khan threw in a moment that felt familiar to both of them: When the family lands in Taipei, the boys chatter about being first-time tourists, and Jessica is quick to correct them: "This is still your home!" she snaps.
"Our mothers were the same way," Mar says. "Natch [Khan's nickname] and I talked about how when she went to Iran and I went to Hong Kong, we realized, this is not home. There is something very relatable to the idea that ultimately we're very American." Khan says the "hyphenate-American" is a concept that's always interested her creatively. "When you are something-American, like Persian-American, Latin American, Asian-American, you are American," she says. "Otherwise you're just Asian or Persian. That idea that you go back and everything falls into place is a fantasy — your experience of living in America changes you."
It made both creative and business sense to film in Taiwan, Khan says, because of how tied the idea is to "the central DNA of the show." "It goes back to the fish-out-of-water idea," she explains. "When they moved in the pilot to the white suburbs of Orlando, they didn't look like the people and they didn't understand the culture around them. I thought it would be cool to do the flip side of that."
Most important, the story had to be funny. A running joke involving the 1990 movie Ghost emphasizes the cultural divide. Louis's family in Taiwan is obsessed with every line of dialogue; since the film has run its course in the States, Jessica feels it's already passé. Khan, who wrote the episode, says she and the writers chose the film because of its international success and the fact that Patrick Swayze's character shares something in common with the Huangs. "He is neither here nor there," Khan says, "and doesn't belong to either world."
Khan continues to tease out the dissonance between the two worlds throughout the episode. When Hudson finishes the scene with the Impala, he takes a short, air-conditioned break inside a production tent and moves into his next scene, in the memorial to the former president of the Republic of China, Chiang Kai-shek, where he bows a few times in front of the monument as "Bow Down" continues to play. Tourists look on quizzically, while the mostly non-English-speaking local crew bursts out laughing. One of the observers is Hudson's father, Jeff Yang, whose parents left Taiwan 50 years ago for Brooklyn. From his perspective, Fresh Off the Boat, the second show in American TV history focused on an Asian family after Margaret Cho's short-lived 1994 sitcom All-American Girl, was already "extraordinary" because of a fact baked into its premise: Khan and the writers chose to tell a very Taiwanese-American story, a move that challenges the notion that Asian America is a monolith.
"One of the earmarks of this show is that it has tried to find universality through specificity as opposed to generic qualities," he said. Yang points to the gummy candy he ate as a child and cans of Apple Sidra in the Huang kitchen, items Taiwanese immigrants would seek out to feel more at home in their new country. It's the type of detail any kid from an immigrant family can appreciate.
"Coming back here is remarkable for that reason because it's almost like shattering a whole other set of boundaries," Yang says. "This family really comes from somewhere."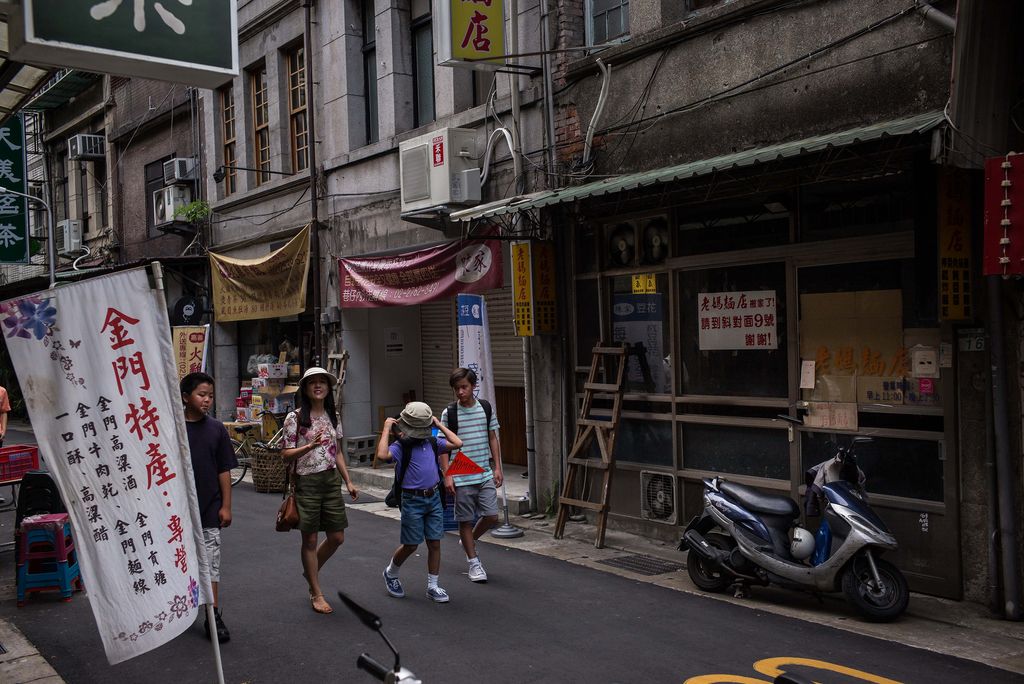 Fresh Off the Boat's second-season finale, "Bring the Pain," ends with Louis declaring the family is going to Taiwan, after Gene (Jeong) disinvites the Huangs from his wedding to his fiancée, Margaret (played by wildly popular Taiwanese star Hsu Wei-ning, also known as Ann Hsu). Khan and Mar considered approaching ABC and studio 20th Century Fox Television about the trip for last season's finale, but decided to table it for the new season so there would be more time to plan and prepare. With the second season wrapped and the entire summer to plan, it became easier to get ABC and 20th executives onboard. "We're not one of those HBO shows," Mar says. "We're in fucking Taipei shooting our 22-minute ABC sitcom — it doesn't happen. I say to Natch all the time: A Persian kid and a Chinese kid somehow talked ABC into letting us go to Taipei."
He recalls a conversation with Everybody Loves Raymond executive producer Phil Rosenthal, who told him it took five years for CBS to agree to go to Italy. "Italy's a little easier in terms of figuring out how you're going to do that. It was more like, 'You wanna go where? Taiwan?' 'That's not Thai food, no, not the same place,'" Mar laughs. "Everyone was very conceptually supportive from the beginning, but it's literally the first network show to go to Asia, so there was a bit of culture shock — it's not Hong Kong and it's not part of China, depending on who you ask. So it was more a matter of how to make it happen, for the numbers to make sense."
Last year around awards season, Fresh Off the Boat made a mock PSA for their Golden Globes campaign, in which the Huangs protest the awards because of Ang Lee losing Best Director to Mel Gibson in 1996. The Oscar-winning Taiwanese director loved it, and has kept in touch with Mar since. When it came time to actually make filming in Taipei happen, Mar reached out to Ang Lee's longtime producer, David Lee (no relation), who introduced him to a lot of key players in Taiwan.
"It took months to figure this out, and there were times 20th would look at the budget and they'd say, 'That's not responsible enough,'" Mar says with a laugh. He made it work by forging relationships with Eva Air, the Regent Taipei, and the local government for sponsorships and deals. "Everyone wanted to showcase Taiwan," says Mar, who adds that he didn't spend more for the episode than he has on past premieres. "I make the joke all the time — I could have spent more going to Santa Clarita."
In May, Khan, Mar, producer Justin McEwen, and associate producer Kyle Weber traveled to Taipei for a week of location scouting and meetings, including an unexpected session with three of the city's ministers to sort out logistics and location rights. From Los Angeles, the producers had done a lot of research and legwork, thanks to help from local producer Ben Lin, whom Mar also met through Ang Lee's company. (One of Ang Lee's sons, actor Mason Lee, had a small part in the episode as a commercial director.) Pulling off the three-day shoot in early August took 80 people, about half the show's normal team. But only 23 people traveled from Los Angeles, including the cast and the child-actors' guardians. The rest of the team consisted of local actors, producers, camera operators, costume designers, and hair and makeup stylists.
It was a formidable crew. After a ten-day search, Lin located the only lowrider on hydraulics in all of Taiwan. The owner, Dragon Chen, had bought it from a friend in America 10 to 15 years ago. "I didn't think I would find one," Lin says, shaking his head, "but finally we got one in my hometown, Tainan, in the south of Taiwan."
As Khan toured Taiwan's capital city in May, the story took shape in her mind. "I was looking for inspiration," Khan says. "We knew the loose structure — there was going to be a wedding. But what are the iconic, interesting places? We need to get the most for our money." In the end, she chose locations that would show off Taipei, but also work as studies in contrast, to elevate the humor in each scene. In addition to the Chiang Kai-shek Memorial Hall, they filmed on Taipei's oldest road, Dihua Street, and at the Grand Hotel, Taipei Songshan Airport, and the Confucius Temple. Working there, Khan says, made the world feel "weirdly smaller."
"You go halfway across the world to a country that doesn't speak English and you think, How are we going to make it work? But then you get there and they're professionals and they understand what you want," she said. "There's a version of this show that could happen there. When I saw them laughing with us at Chiang Kai-shek at the jokes, it felt great — there's this universal language, and it felt very intimate to me."
Before filming begins, the local crew asks everyone to participate in a traditional Buddhist-Dao prayer ceremony known as bai bai, which Mar, as head of production, is invited to lead. Holding incense sticks, Mar and the company pray for safety, success, and good weather. Then everyone bows three times to each of the four corners of the Earth. "You're praying to all the gods to make them happy and protect us," Lin says. "We then will take the bowl with all the incense sticks everywhere we shoot." It works when it most counts, during an outdoor scene where Jessica takes her three sons to look for her favorite swordfish soup on the always-bustling Dihua Street. Dark black clouds appear overhead, but only a light drizzle falls toward the end of the day.
Shot in a narrow alley populated with many extras, the scene ended up being the most complicated part of the episode, because of the many competing elements: Taipei residents jetting by on scooters, pedestrians, food stands open for business, congregating fans, and loud construction overhead (which stopped when filming actually began). And then there's the issue of a familiar American sight on a corner that producers could only resolve by erasing it in postproduction. "That 7-Eleven is inappropriately placed," Hudson is quick to point out, before realizing its utility: It's the perfect air-conditioned refuge for him and his TV brothers during breaks. "It is very hot," complains 10-year-old Ian, who, along with his fellow actors, takes advantage of the store to pose for photos with his fans. "It's not like spending time in the pool on vacation. You're on the job and you can't quit. But this helps."
Khan is taking in the scene from monitors about a block away. To communicate with the four actors, she has to play a complicated game of telephone, first giving her directions to the first assistant director, who walks up the street and relays them to the second assistant director, who then translates it for the local crew. "I really loved that area, and I wanted to see the whole thing," says Khan. "I wanted more grandeur than for a normal episode where you have an establishing shot and then you go to the family. It was tough. I started thinking maybe we should do this part back in L.A., but I'm so glad we did it."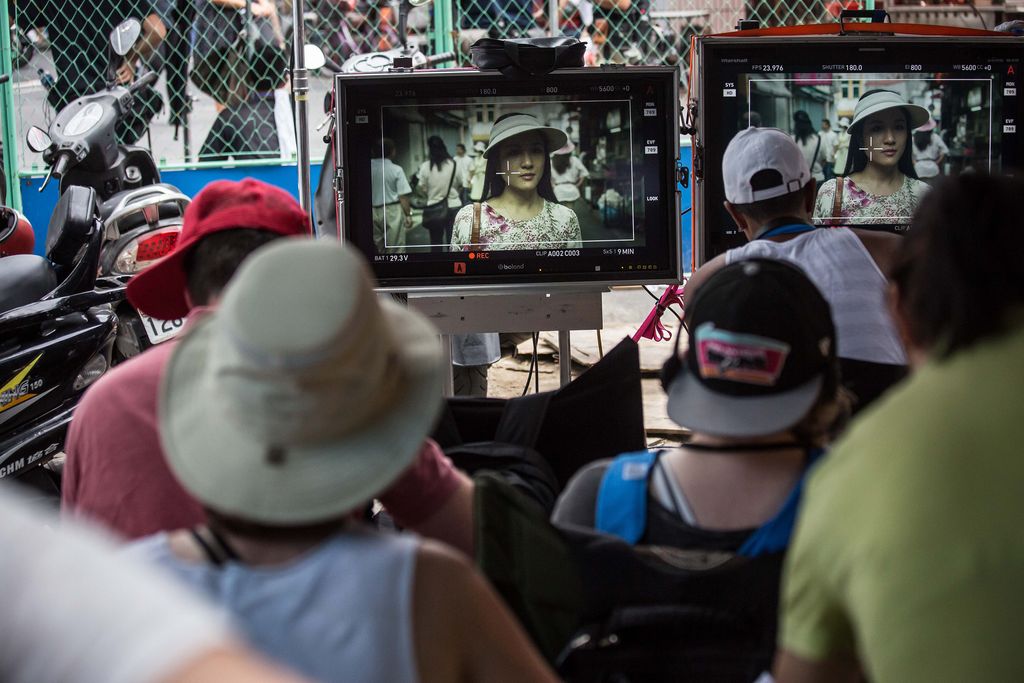 Jessica's (Constance Wu) emotional journey is the crux of the Dihua Street scene. "I forgot how relaxing it is to be around all Asian people," Jessica says to her boys. "You don't feel like a foreigner, you blend in with everyone." Wu, who was born in Virginia to Taiwanese parents, can relate. "To look like the dominant culture can be very empowering in a way because you don't have to prove that any of your behavior is standard — because it is standard," she says. As the scene goes on, though, Jessica begins to grapple with the ideas that first inspired Khan and Mar: that either Taiwan has changed, or she has, or both. "When you dig a little deeper, you find that it's not the same being Taiwanese versus being Taiwanese-American," Wu continues. "There are similarities and overlaps, for sure, but it's a unique identity."
One night at the famous Shilin Night Market, an eager young couple spots Ian Chen, with his family, eating stinky tofu, an oyster omelette, and beef-noodle soup. "Fresh Off the Boat? Fresh Off the Boat?" they ask. When Ian agrees to take a picture with them, they beam. "It was like this at the airport," Ian's mother, Lily Chen, notes. "We didn't expect that." Originally from Taipei, the Chens serve as informal hosts throughout the week, surprising the entire company with treats like traditional shaved ice and boba tea on the hot afternoons. (The trip is Ian's fourth to Taiwan.)
The boys, it turns out, are as popular in Taiwan as is the show itself. "I love Fresh Off the Boat," says Taiwanese TV and movie star Ann Hsu, who guest-stars in the episode. "People love this show here. The family is like families here." The three young actors, who were already close and bonded more during their adventure, weren't the only ones who drew attention. Wherever Jeong goes, echoes of "Hangover! Hangover!" and "Jeong!" follow. The actor, who stars in his own ABC sitcom, Dr. Ken, credits Fresh Off the Boat with paving the way for his show, which just began its second season. "This episode really delves into why Louis and Jessica came to America in the first place and the conflicting feelings of coming back," Jeong says. "Gene's wedding serves as a platform to reflect within themselves on what they are doing and why they're doing it, how they feel about Taiwan now, and how they feel about America. As an Asian-American, I think we all feel similarly."
Randall Park, whose parents left Korea in the '70s, says he watches episodes of Fresh Off the Boat from the perspective of his TV sons, which is the outlook he most identifies with. Like most immigrant children, Park grew up wishing his parents were more like the parents of his American friends. "All these things you're ashamed of, and then you get older and hopefully you realize that it was actually cool, and [my parents] are actually stronger than I am," he says. It's an experience that another recent series, Aziz Ansari and Alan Yang's Master of None, explored in its Emmy-winning "Parents" episode, covering similarly new territory for television. "To really want to be a part of America and to feel a part of it, but then to also be excluded, and for your children to be so different than you are — it's a tough thing to navigate," Park continues. "That's why the political discourse around immigration is so dehumanizing: These are real humans we are talking about."
Forrest Wheeler, who plays the show's middle child, was the only one of the three child actors who had never been to Asia. When they arrived in the city, Forrest's mother, Alice Wheeler — who is from Hong Kong and lived in Taipei before moving to the United States — worried he might miss home too much, but "once he got out of his comfort zone, his eyes opened," she says. "We went to the night market and he tried all these different types of street food; I told him stories, and I think he started seeing that he belongs, too."
Forrest agrees that he saw parts of himself in his surroundings, but the biggest insight he walked away with is one that echoes Khan's and Mar's own experiences traveling to the motherland with their moms. "It's very different and fun here: the food, the language, even the way people cross the street," he says matter-of-factly. "But I'm definitely more American than I thought."