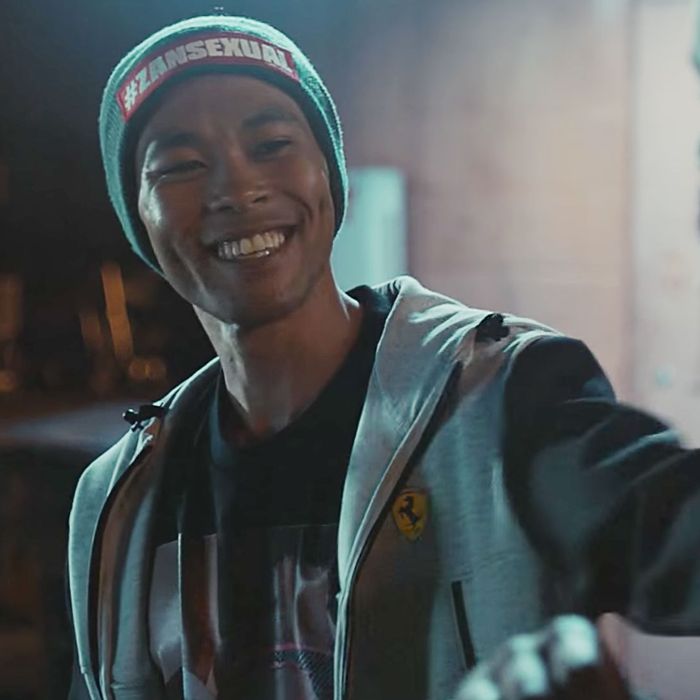 Through its first three episodes, FX's Atlanta established a world that mirrors reality, where nearly every arc is representative of some small chess piece in the rap game. Nothing encapsulates that idea more than "The Streisand Effect," the show's fourth episode, which aired on Tuesday night. The actual Streisand effect (named after Babs) has to do with unintentional self-sabotage, whereby attempting to control a narrative you wish to be excluded from inevitably backfires. In the episode's introduction of a new character named Zan, we can figure out almost immediately that he will initiate the narrative of Paper Boi's undoing, if only for the next 30 minutes. Zan, played with just enough grating panache by Freddie Kuguru, immediately presents himself as an overeager fan of Atlanta's newest folk hero.
But his intentions are more opportunistic than simply wanting a selfie and an autograph. He obviously wants both those things, but he's not just hovering (literally, on a hoverboard) outside the club to feed Paper Boi's fledgling fame; the dude wants to monetize it. He is the living embodiment of branding — a perfect caricature of the social-media star.
Life hustling on the streets has taught Paper Boi to keep his guard up, to always be suspicious of guys like Zan who try to weasel their way into spaces where they don't belong. But what that life hasn't taught Paper Boi is how to handle small-time celebrity. He barely recognizes it in Zan, whose disingenuous greeting comes immediately followed by a plug for his hashtagged merch (#vansexual) and an Arthur meme he's just sure will go viral no matter how little sense it makes ("man, whatever, I got those likes"). All Paper Boi knows is he doesn't trust this guy or his shtick for a second, and he quickly tells him to get lost. What Zan and every troll like him knows, though, is that this test to see if they can get a rise out of someone new to social-media stardom is exactly how a beef is born.
The rest of the episode is textbook baiting: It begins with one public diss, followed by several obligatory responses — all in the Instagram comments, of course — that then escalates and spreads. Paper Boi and Zan have the kind of back-and-forth typical of the internet famous: Most recently, makeup gurus Kat Von D and Jeffree Star fought it out on their channels, while even established rappers like Meek Mill and the Game can't stop their Twitter fingers from firing at each other. The worst (though best in their own eyes) social-media stars have a following on every platform. Zan gets in his next taunt in a YouTube parody video — this is clearly not his first beef — that suggests Paper Boi's mixtape is garbage in a voice-over playing over a video of Paper Boi taking out the trash. It's exactly the sort of below-the-belt meme you'd find on the Shade Room, the gossip platform later referenced in this episode. In an unsubtle shot at real-life YouTube villain the Needle Drop, Zan even uploads a mixtape "review" to further get under Paper Boi's skin with more schoolyard jokes, this time questioning Paper Boi's drug-dealing cred. (And we know how much that's valued in Atlanta rap.)
Paper Boi, momentarily forgetting he's a mixtape rapper who's expected to respond online, where his fame mostly exists, plays by the rules of the streets and shows up to the pizza place where Zan works to confront him. Offline – though never not on – Zan tells Paper Boi he's not as far above Zan's shtick as he'd like to think: "You're exploiting your situation to make rap, and I'm exploiting you exploiting that. Money, bro." Even with a foulmouthed kid in the car whom Zan calls his "business partner" in their Vine video scheme (and whom he later films getting robbed for more clicks, because that's just "the game"), there's a strange sincerity to Zan's moneygrubbing that's uncharacteristically developed for a social-media star.
Zan's antics are no more exaggerated than the next kid at VidCon, but they would never acknowledge that it's all part of the business of being internet famous. Trolling is a profitable profession for too many, often including the ones being trolled — a trick of the trade Zan isn't shy about letting Paper Boi in on. "Helping us get money though," he truly believes. That transparency, however brief and self-serving, and dedication to being totally unlikable, makes Zan a more fascinating social-media star to watch than the ones he's based on.