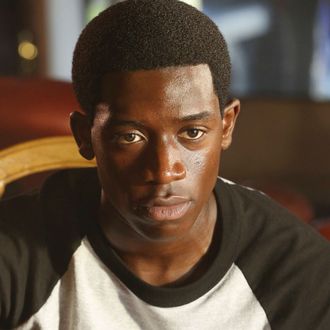 Damson Idris as Franklin Saint.
Photo: Michael Yarish/FX
For those who enjoy the period trappings of The Get Down but wish it had the despairing verisimilitude of The Wire, FX has you covered. The network has ordered Snowfall, a period drama set during the early days of the 1980s crack-cocaine epidemic in Los Angeles, to series. The series centers on Franklin Saint (Damson Idris), a young street entrepreneur on a quest for power; Gustavo Zapata (Sergio Peris-Mencheta), a Mexican wrestler who's in the midst of a crime family's power struggle; Teddy McDonald (Carter Hudson), a CIA operative with a dark past who begins an off-book operation to fund the Nicaraguan Contras; and Luica Villanueva (Emily Rios), the self-possessed daughter of a Mexican crime lord. Dave Andron (Justified, Knight Rider) will be the showrunner and executive-produce the series, alongside a murderers' row of other executive producers: Thomas Schlamme (The West Wing, The Americans), John Singleton (Boyz n the Hood, Four Brothers, 2 Fast 2 Furious), Eric Amadio (After Sex, Stuntmen), Michael London (Sideways, House of Sand and Fog), and Trevor Engelson (Remember Me, All About Steve). Snowfall's ten-episode first season will debut in 2017.