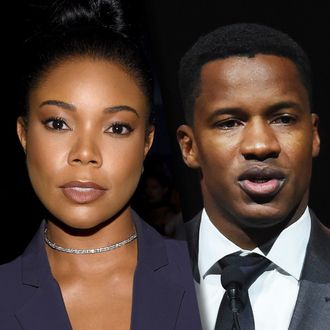 Photo: Dimitrios Kambouris/Getty Images; Alberto E. Rodriguez/Getty Images
Gabrielle Union wrote a powerful, stirring essay for the Los Angeles Times today on The Birth of a Nation and Nate Parker's rape allegations from 17 years ago. In the film, Union plays the wordless part of a slave woman, who, during a brutal scene, is raped. "Since Nate Parker's story was revealed to me, I have found myself in a state of stomach-churning confusion," Union, a rape survivor herself, writes. "I took this role because I related to the experience. I also wanted to give a voice to my character, who remains silent throughout the film. In her silence, she represents countless black women who have been and continue to be violated."
Union has said her Birth of a Nation character's silence was a deliberate choice that she had pushed for. "It's just more symbolic of the lack of control or power that black women had, and have, over our own bodies," Union told Vulture at the film's rapturous premiere at Sundance. "As a rape survivor, I know how powerful and voiceless I felt myself for a very, very long time, and the shame and the rage."

That's why many have waited to hear what Union would say on the matter of Nate Parker as his rape trial from his days at Penn State has resurfaced and overwhelmed the rollout of the film. Union writes that despite how significant she believes the film is she "cannot take these allegations lightly." She goes on to discuss the issue of consent:
On that night, 17-odd years ago, did Nate have his date's consent? It's very possible he thought he did. Yet by his own admission he did not have verbal affirmation; and even if she never said "no," silence certainly does not equal "yes." Although it's often difficult to read and understand body language, the fact that some individuals interpret the absence of a "no" as a "yes" is problematic at least, criminal at worst. That's why education on this issue is so vital.
Union adds that although she's read all 700 pages of the trial transcript herself, it's nearly impossible for us to know for sure what happened that night. But she makes the case that the film is still worth seeing. "I believe that the film is an opportunity to inform and educate so that these situations cease to occur on college campuses, in dorm rooms, in fraternities, in apartments or anywhere else young people get together to socialize."
Read the full essay here.