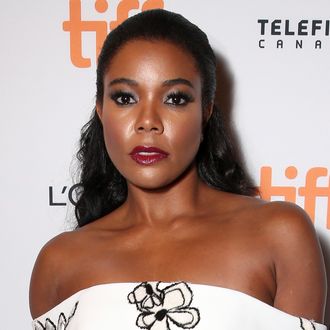 If there's one bright light to come out of the thorny revelations about the 1999 rape allegations against The Birth of a Nation director, writer, and star Nate Parker, it's been cast member Gabrielle Union's beautiful outspokenness about sexual assault and its effect on survivors like herself. Union doesn't have any lines, or much screen time, in the soon-to-be-released biopic of slave rebellion leader Nat Turner, who headed up the massacre of 64 members of slaveholding families in 1831, but her presence is powerful, as a slave who is one night wrenched from her husband's (Colman Domingo) hands so her body can be used as entertainment for visiting slave owners. At the film's Sundance premiere, Union told me that she'd actually asked Parker to cut her character's lines. "It's just more symbolic of the lack of control or power that black women had, and have, over our own bodies," she said. "As a rape survivor, I know how powerful and voiceless I felt myself for a very, very long time, and the shame and the rage. It's only relatively recently that I found the power to have a voice. But part of that comes with the entitlement of celebrity. Our ancestors were never afforded a voice, so to me, it was important that she stay voiceless so you really get that they didn't have one."
Two weeks ago, Union wrote an op-ed for the L.A. Times about her own struggle in reconciling her distaste and confusion over the allegations against Parker with her passion for the movie and its message of resistance. And at today's Toronto Film Festival press conference for the film, she vigorously defended the film, just as she had at a post-premiere Q&A two days earlier. "We're not creating a movie, we're creating a movement," she said, adding that she invited those fighting against sexual violence or transphobia to join them, and to see the movie first without passing judgment. "If you were confused why Ryan Lochte was called a child, was referred to as a kid, and was celebrated and rewarded with a Dancing With the Stars appearance, but you're wondering why Tamir Rice was never referred to as a child but murdered within seconds for acting like a child, and you have a problem with that," she said, "this movie is for you as well. If you're a decent human being who wants to take part in a conversation at the very least about things that bug the crap out of you, this movie is for you as well, and I hope you don't sit it out."
But it was when asked about Hollywood's response to her op-ed that Union really proved herself to be an amazing spontaneous orator. Ninety percent of the response had been amazing, she said, then there were the "five percent [that] feels I threw Nate under the bus, and 5 percent [that] feels I'm a rape apologist." But that 10 percent negativity wasn't going to deter her from speaking her mind, even if at times it meant speaking out in a way that could damage Parker. "Every time I talk about sexual violence I want to puke," she said. "There's never been a time in the last 23 years where I did not want to vomit, but my personal discomfort is nothing compared to being a voice for people who feel absolutely voiceless and powerless … So if there's any message I can give anyone who's ever sat in my seat, it's 'You are not broken, you are not alone, you have a tremendous amount of support. Whether you speak out or you opt to keep your pain personal, you are real, you are valid, you are loved, and you are worthwhile.'"
Read her full remarks below.
The response has been — tremendous is not a big enough word. Every time I speak about it, whether that be at the airport and somebody slides a paper under the stall and says, "Me too, and thank you for talking about this and showing me a way to healing. Thank you" — that happens daily, that happens all the time, that was way before my op-ed. I've been talking about this for over 20 years. When I was 19, laying on the floor after having been raped on the floor of a Payless shoe store at gunpoint, I decided never again. I decided I was going to use my celebrity, my platform, anytime anybody set a microphone in front of my face to talk about the horrors of sexual violence and what it does to your soul and to your psyche and to you sanity and to your family and relationships.

The Hollywood response — I've heard from people I didn't think knew I existed. Walked into the InStyle party last night and [Universal Pictures chairman] Donna Langley got me from the door. I hadn't even gotten in. People hugging me, high-fiving me. I think we're all craving acknowledgment that we're real, that we exist, that we live among you, that we are your mothers, your brothers, your sisters, your lovers. In one of the most important scenes in the film, and Colman [Domingo] and I talk about this all the time, it's so important for people to see that you are not broken and you are not seen as damaged and you are not seen as less than or forsaken. And there's a scene where Colman is literally waiting for his wife who has been snatched away from him to be used and abused, and he's waiting there for her to welcome her back in, and so many of us have not been welcomed back in. And I needed people to see that that is real, that there is hope, there is faith. You are not broken and forsaken. There is always a community that will love you and that is how I've been perceived by Hollywood.

That's about 90 percent. Five percent feels I threw Nate under the bus and 5 percent feels I'm a rape apologist. I strongly encourage those two 5 percents to talk to each other. I think everyone takes something different away from the conversation. Every time I talk about sexual violence I want to puke. There's never been a time in the last 23 years where I did not want to vomit, but my personal discomfort is nothing compared to being a voice for people who feel absolutely voiceless and powerless. We all want a lot of things, but the only thing we can control is ourselves. So if there's any message I can give to anyone who's ever sat in my seat, it's "You are not broken, you are not alone, you have a tremendous amount of support. Whether you speak out or you opt to keep your pain personal, you are real, you are valid, you are loved, and you are worthwhile." And maybe that's what we all need to hear a little more often, and maybe not from the people we want to hear it from or we need to hear it from. But I'll keep saying it for a long time, and I'll continue to say it after this movie has passed. Though hopefully the movie and the movement live on.