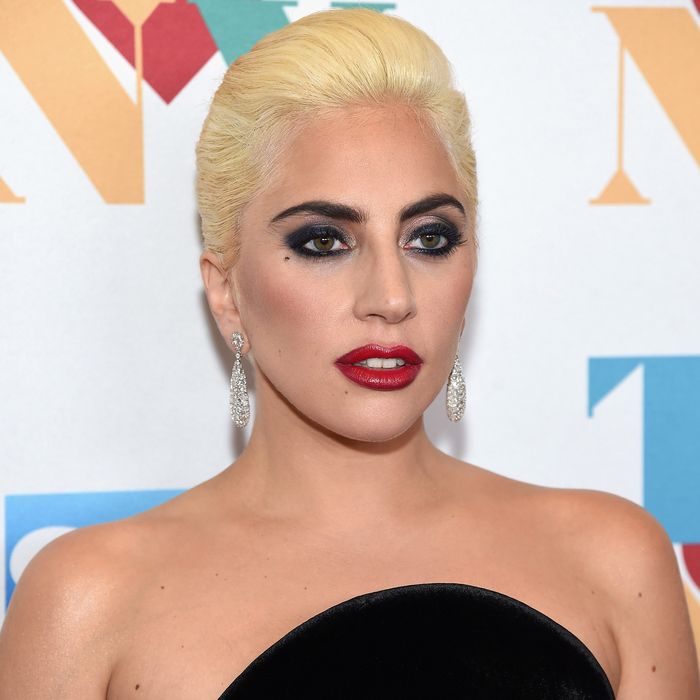 NEW YORK, NY - AUGUST 03: Lady Gaga arrives for music legend Tony Bennett's 90th birthday celebration at The Rainbow Room on August 3, 2016 in New York City. (Photo by Jamie McCarthy/Getty Images for RPM)
Photo: Jamie McCarthy/Getty Images
For two years, Lady Gaga has carefully sidestepped the business of being Lady Gaga, pursuing her interests in theater and cabaret instead of the dance-pop stuff that ostensibly puts the cheese on the burgers. They were lucrative endeavors: Her Tony Bennett duets album, Cheek to Cheek, won a Grammy, and the accompanying TV special was nominated for an Emmy. "It Could Happen to You," her song for the documentary The Hunting Ground, was nominated for an Academy Award. Her performance in the FX horror drama American Horror Story: Hotel earned her the 2016 Golden Globe for Best Actress in a Miniseries. Fans' thirst for new Lady Gaga music was sated last month with the abrupt announcement of the new single "Perfect Illusion." Out today, the song is a catchy, quirky return to form from a pop A-lister finally ready to storm the charts again. Here are a few reasons why.
The rollout was subdued.
Gaga's last solo album, Artpop, was promoted through an extravagant and reportedly expensive "Artrave" gala in Brooklyn. The two-day event, which included artwork and installations by Jeff Koons and Marina Abramovic, kicked off with a coolly absurd demonstration of a "flying dress" called Volantis. The fuss didn't drive sales; Artpop was far from a flop, but the album and its singles failed to match the commercial success of 2011's Born This Way. By contrast, the quick string of social-media dispatches comprising the "Perfect Illusion" drop feels like Gaga letting her music speak for itself.
The vocal here is outrageous.
"Perfect Illusion" recounts a mess of mixed signals and broken hearts, but Gaga's delivery of the words turns the ear. The chorus ("It wasn't love, it was a perfect illusion") is served in a disorienting Eastern European affectation that turns "love" into "lav" and "perfect" into "parfect." The accent comes and goes, and it's hard to tell whether this is a fun exercise in camp or a too-serious commitment to pronouncing things, like that stretch in the '00s where Madonna spoke the Queen's English. Gaga's enunciation has always been extreme, but this is a riot. I'm bouncing between digging into the actual lyrics and enjoying my misreads. Is the line in the first verse "my guessing game is strong" or "moccasin game is strong"?
This is sort of a new sound for Gaga.
"Perfect Illusion" features Back to Black and "Uptown Funk" producer Mark Ronson, Tame Impala figurehead Kevin Parker, and Justin Bieber and Madonna affiliate BloodPop. The pairing awards the song a sleek rock veneer replete with molten duel guitar leads straight from the Ratatat playbook and the same taut drums that rendered Tame's heartsick breakup album Currents danceable. It's an extremely catchy recombination of the '80s rock sound mined in the Springsteen and hair-metal nods of Born This Way.
It also kind of treads water.
As much as the single adds new flourishes to Gaga's work, "Perfect Illusion" plays the same tension release games from verse to chorus as earlier hits like "Applause" and "Edge of Glory." Kevin Parker's own songwriting and production are full of crazy twists and breakdowns, and Mark Ronson's grasp on the mechanics of funk and soul is sharp beyond his years. This thing could've cut so many exciting directions, but it stays on the rails (until a gratuitous end-of-song key change). It feels like BloodPop is here to keep the song aimed squarely at pop euphoria, and maybe that's a bit of a missed opportunity.
This balance is what makes it a shrewd comeback single.
"Perfect Illusion" is a little more daring of a lead single than "Applause" or "Born This Way" but still very much a textbook Lady Gaga dance-floor banger. The margin of error is slimmer after Artrave's multi-million-dollar gamble and the embarrassment of pulling the "Do What U Want" video amid outcry about lingering sexual-assault accusations against the song's guest R. Kelly. "Perfect Illusion" is as much a barrage of hooks and heartbreak as it is notice that Gaga knows LG5 needs to crush and is up to the task.