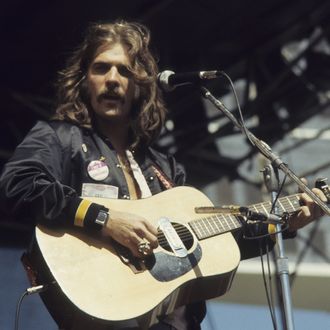 Glenn Frey.
Photo: Richard McCaffrey/Getty Images
Next time you're driving by Winslow, Arizona, in your flatbed Ford, slow down to take a look at the new bronze statue of Eagles founding member Glenn Frey. The Frey statue was recently installed in Standin' on the Corner Park — so-named in reference to lyrics from 1972's "Take it Easy" — next to a preexisting statue that bares a resemblance to co-writer of the aforementioned mega-hit, Jackson Browne,* Billboard reports. The $22,000 statue was purchased using funds raised by two radio morning hosts from Phoenix classic rock station KSLX, Mark Devine and Paul "NeanderPaul" Marshall. After Frey died in January, the idea for the artwork seemed important to Devine and Marshall. "We thought a statue would be a great way to pay tribute to his everlasting impact on Arizona's history," Devine said in a statement. The statue, which has long hair and a mustache to reflect Frey's appearance in the early '70s, debuted during last weekend's annual "Standin' on the Corner" music festival. See a picture from Instagram below. 
* This article originally misstated Browne's involvement with The Eagles. Browne co-wrote "Take it Easy" with Frey, but was not a member of the band.