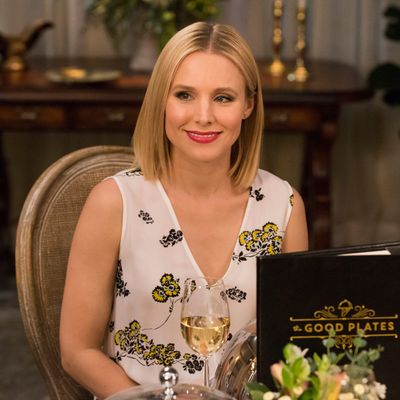 Kristen Bell as Eleanor.
Photo: Justin Lubin/NBC
Good-bye Jianyu, hello Jason! This week's The Good Place expands its flashbacks beyond Eleanor for the first time, giving us a proper introduction to her neighbor, the fake "Buddhist monk" who's actually an aspiring Filipino EDM DJ from northeastern Florida. In his pre-paradise life, Jason Mendoza sold fake drugs to college kids, worked as an amateur hip-hop backup dancer, invented his own body spray, and tried to become a Vine star by making prank videos. Oh, and one time he crashed his Jet Ski into a manatee. That happens a lot in Jacksonville.
The wealth of hilariously pathetic detail in Jason's backstory — coupled with Manny Jacinto's brilliantly dim performance — is the best thing about tonight's episode, which otherwise finds The Good Place writers still hunting for the proper narrative balance. The world that Michael Schur and his team is building is wonderful, filled with mysteries and meaning. The comic rhythms haven't flagged since the pilot. The jokes are still punchy and plentiful, and the cast is killing it, with relative newcomers like Jacinto, Jameela Jamil, and William Jackson Harper impressing just as much as seasoned vets like Ted Danson and Kristen Bell.
But there's just so much for any given chapter of this series to cover, from the pasts of its characters to the reality-bending weirdness of The Good Place itself. And then there's the larger question of what went haywire in the universe to allow undeserving souls like Eleanor and Jason into utopia. With all that to pack in, it's no wonder that these early episodes seem underdeveloped.
Still, I wish the actual situations in this situation comedy had more oomph. Last week's "Eleanor spends the day walking around with Tahani while Chidi tries new hobbies" story lines were nothing special; and this week's "the neighborhood gets a new restaurant" plot is also pretty paltry. Aside from the name of the eatery — The Good Plates — the funniest idea generated by the cranky Chef Patricia's big opening night is the deflating reveal of each patron's main course, derived from their favorite meal of all time. Eleanor gets nothing, because Janet mistakenly thinks she most fondly remembers a hunger strike to protest Bolivian sex trafficking. "Jianyu" gets tofu, although he wishes it were a heaping plate of spicy chicken from Stupid Nick's Wing Dump in Gainesville (where topless ladies eat free!).
The A-story's MVP is Tahani, whom Michael asks to plan Chef Patricia's launch party, based on her history as an expert event hostess. (Her "Bar-th-elona" gala for stem-cell research received five "Gwyneths" from International Sophisticate.) Four episodes in, it's obvious that Schur's writers are having a ball writing for Tahani, who's so ludicrously elegant that she takes a nightly orchid bath and owns separate gloves for afternoon and early evening. Jamila Jamil has been getting most of the show's best throwaway lines, like tonight's: "As us Brits are fond of saying, try your best to hide your sadness!"
That joke is in reference to Michael's decision to leave Jianyu off The Good Plates guest list, because he's not a lively enough conversationalist. But when Tahani overhears Jason talking, Michael changes his mind, which sets up the episode's major crisis: How will Eleanor and Chidi keep this latest fraud from publicly exposing his unsuitability — and theirs?
Eleanor chooses to create a distraction by destroying a cake that Chef Patricia spent a week preparing, which in turn opens up a huge sinkhole right in the middle of the dining room. As has been the case so far with The Good Place, the outsized absurdity of a gaping hole in the ground is more off-putting than amusing. It puts a rough punctuation on a middling bit of storytelling.
But similar to last week's "Tahani Al-Jamil," this episode gets a major boost from its flashbacks. Jason's such a great character, both sweeter and more useless than Eleanor, lacking the self-awareness to understand how precarious his spot in The Good Place actually is. Even the decor in his unfortunately named "bud hole" reflects his immaturity. (It's "12-year-old boy meets 13-year-old boy," according to Eleanor.)
What gives this show its spiritual center is its compassion for all the dopes and jerks who annoy us every day, but who aren't so lousy that they should be damned to The Bad Place. That's why it's so important to get to know the real Jason, a hopeless dreamer who dreams of being like his DJ hero ACIDCAT, headlining gigs in Daytona, Tallahassee, Tampa, and maybe even the orgies that Fred Durst throws on his partially capsized yacht. Let's raise a glass to this man, who throughout his life had hundreds of plans, only one of which got him killed. Like all of us, he longs to be recognized as "a beautiful, unique soul." And like all of us, when he's pushed too far, he looks at a rival's speedboat and tells his friend, "Hand me the thing that blows it up."
Unlimited Fro-Yo:
One reason why this episode is just okay: It's light on Eleanor's journey toward enlightenment. Her only extended scene in Chidi's ethics class comes toward the start, when she admits that she failed to do the David Hume reading. ("I tried to. Well, I tried to want to.") Eleanor does get one of the week's best lines, though: When Chidi hears a loud thumping beat coming from the house next door, she snarls, "That's not music … that's EDM!"
Michael's ongoing efforts to enjoy the benefits of being human(ish) lead to him wearing suspenders, and excitedly stretching them out with his thumbs, country-lawyer style. "So dumb!" he enthuses.
I can't figure out whether The Good Place is supposed to be an eternal rest for its residences, or if they'll eventually move on to something else. Michael suggests the latter this week, when he says, "At some point, each soul will fulfill his true purpose." (He also admits that it's possible for a person or event to be up to 104 percent perfect, like Beyoncé.) Jason, meanwhile, has his own theory about what's going on: "I think we might be in an alien zoo, or on a prank show."
The ever-helpful Tahani responds to the sinkhole crisis by offering to host a daily brunch for the neighborhood. She gives a preview of next week's episode when she says to Michael, "While you re-pair the universe, I shall pre-pare the eggs!" ("Fanciful wordplay!" he replies.)
By the way, I've already seen next week's Tahani-centered episode, and it integrates the flashbacks and Good Place story lines much, much better than these first four have. If you're on the fence, consider sticking with the show for one more week.