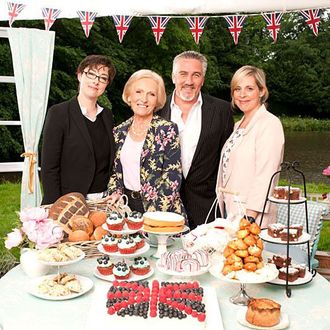 Onto another network.
Photo: BBC
The BBC has failed to rise to the occasion. BBC News reports The Great British Bake Off won't be airing future seasons on the BBC, where it has aired for seven seasons, including the current one. Faster than you can say "quick bread," Love Productions, which produces GBBO, has moved on, with Channel 4 tweeting out the news that it has picked up the show.
The Great British Bake Off, which follows amateur bakers as they compete for the title of star baker, is a ratings showstopper in the U.K., with the last season bringing in 13.4 million viewers, making it the highest-rated series in the country. The BBC had made a last-ditch offer to Love Productions on Monday to keep the show, but the cash, alas, was not in the pudding. "After an extraordinary six-year journey with the BBC, Love Productions announces with regret that it has been unable to reach agreement on terms to renew the commission of The Great British Bake Off," the company said in a statement.
Meanwhile, the BBC said it simply doesn't have the financial resources to keep the show:

Working with Love Productions, we have grown and nurtured the programme over seven series and created the huge hit it is today.  We made a very strong offer to keep the show but we are a considerable distance apart on the money. The BBC's resources are not infinite. GBBO is a quintessentially BBC programme. We hope Love Productions change their mind so that Bake Off can stay ad free on BBC One.
"This has never been about who might write the biggest cheque, but about where we can find the best home for Bake Off," Love Productions stated. "Unfortunately we were unable to agree either a fair valuation, and nor were the BBC able to provide the necessary comfort for the future protection of such a distinctive and much-loved television series."
Ready. Set. Drama!
Update, September 13: This move doesn't have an immediate impact on American viewers, considering PBS has been airing the latest season of The Great British Bake Off as The Great British Baking Show a year after it bows in the U.K. PBS released the following statement to Vulture:
PBS is proud to be the U.S. home for The Great British Baking Show (U.K. title: The Great British Bake Off), and we look forward to bringing at least two more seasons of the popular series, which will have already aired in the U.K., to American audiences in the months ahead.

The network did not note whether or not it will bring future seasons of GBBO, aired on Channel 4, to the U.S.
This post has been updated throughout.