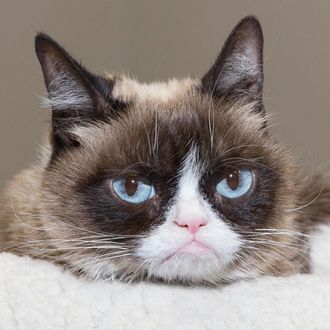 Memory, all alone in the litterbox.
Photo: Suzanne Cordeiro/Corbis via Getty Images
Here's some Jellicle news for Jellicle people. The infamous Grumpy Cat will apparently be joining the cast of Andrew Lloyd Webber's musical Cats on Friday, September 30, making her the first genuine mouser to participate in the production. Why, exactly, is an internet-celebrated cat starring in this long-running Broadway musical, and how is that even logistically possible? Your guess is as good as ours, as her specific role and involvement in the production have yet to be revealed, though a spokesman for the show told the Associated Press that she'll be "worked into the end of the show." Assuming Grumpy Cat is like every other real-life feline who refuses to follow simple commands like "Don't scratch the couch" or "Stop whining for food in the middle of the night," we're going to bet this is more of an honorary gig.