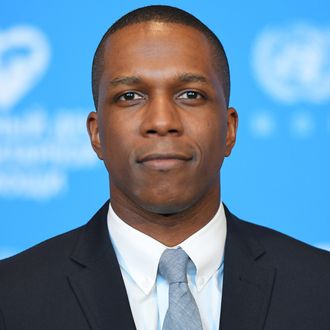 Not throwing away my (rum and eggnog) shot.
Photo: ANGELA WEISS/AFP/Getty Images
Now, instead of a bastard, orphan, son of a whore and a Scotsman, Leslie Odom Jr. is going to celebrate the history of a little-known fellow named … wait for it … Jesus Christ. Odom, who won a Tony for playing Aaron Burr in Hamilton and has since left the show, is bringing you some Christmas music. The album, titled Simply Christmas, is out November 11. It'll include jazz versions of, among others, "I'll Be Home for Christmas," "Have Yourself a Merry Little Christmas," "The Christmas Song," and "First Noel." Now, "What do you want, Burr?" is both a Hamilton quote and a legitimate thing to ask people about their preference in Christmas presents.