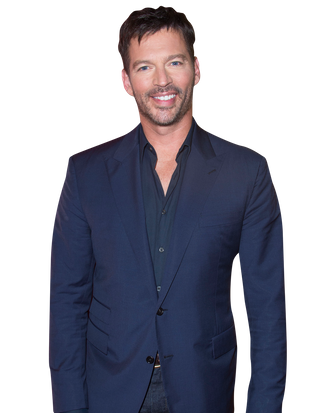 Nearly three decades ago, Harry Connick Jr. was a brash young pianist from New Orleans who shot to fame with his hit soundtrack for When Harry Met Sally. Today, after countless tours, records, acting roles, and an American Idol judging gig, Connick Jr. is undertaking what is arguably his riskiest job yet: host of an eponymous daytime talk show, Harry. Connick Jr. spoke with Vulture about the show's "spontaneous" vibe, why he thinks it's crucial to celebrate everyday people, why musicians make natural actors, and the one show he's had time to binge this year.
How does this show fill a particular void in the crowded landscape of daytime TV?
Well, we wanted to just make a show first, before we wanted to make a "daytime show." Just a really great hour of TV. And the opportunity arose for it to air in daytime and we were lucky enough to sell it to 100 percent of the country. It's very spontaneous and built around all the things that I love. So it wasn't about taking an existing format and plugging me into it. Being the host and bandleader, I have to say I have a lot of flexibility!
Who do you see as your target demo?
I know there are a lot of ad dollars that target certain demos. But to be perfectly honest, I just want to put on the best show that I can without thinking about that. This way we can potentially appeal to a wider variety of people: old and young, male and female, gay and straight, and so on. I don't get too caught up in the demo stuff because there are a lot other people who make their living doing all that. [Laughs.]
You've had a star-filled first week with guests like your pal Sandra Bullock and Empire star Terrence Howard, but I know you're also planning to do a lot of segments that feature regular folks. How will those work?
There's a segment called "I Got This." We've filmed about ten so far all over the country. The producers find someone who needs a helping hand. They don't tell them that I'm coming over — only that someone's coming over to do a TV piece on them. And then I show up! And by the way, I don't know where I'm going either. So we send them off to the spa and I say, "I got this." And I take over their life for a day and do their job whatever it is — whether in a nail salon or serving ice cream. It gives them a chance to have a little bit of a break and feel special.
I bet you've had some tearjerker moments.
It's been incredible. Every single one of these people is unforgettable. And they are a reminder to me and everyone else that this country is just chock-full of really good, decent people who work really, really hard and are just trying to get through the day. I love the opportunity to live in their shoes.
Do you have any dream guests?
I think it'd be pretty cool to have Dick Van Dyke on the show. Isn't he amazing?
What did you learn from American Idol about the do's and don'ts of a family-friendly variety show?
There are certain ground rules: You have to have a creative, intelligent, and dedicated staff, and you need a host who cares. Idol had that in Ryan [Seacrest]. I really loved being there. But our show is so different from Idol, it's kind of apples and oranges.
So, "just be good" is the goal?
[Laughs.] You know what? That is the bottom line. If you're good, whether or not you're successful, at least you can sleep at night knowing you have a good product.
You've been a performer since you were 5, and famous since you broke out with the soundtrack to When Harry Met Sally in the late 1980s. When fans engage with you, what are the most likely to reference?
It depends how old they are! Some know me for making jazz records. Some may know me just from American Idol. Some remember me as Leo from Will & Grace, or the doctor in the movie A Dolphin Tale. Everybody has a different perspective and it's a reminder that I've had so many different ways to express myself. It's pretty cool.
It's hard to believe it's been 26 years since you debuted as an actor in Memphis Belle.
Oh, yeah, man, it's been a while.
Do you have plans to act again?
Oh sure, man. I love acting. Definitely. Just too busy right now, sadly.
Why do you think musicians are often such natural actors? It goes the other direction too, but many big contemporary artists are appearing in this year's high-profile films, like John Legend in La La Land and Janelle Monáe in Moonlight and Hidden Figures.
Yeah, sometimes it works, and sometimes it doesn't. [Laughs.] I think actors and musicians both enjoy pulling back the layers of things and they're always learning.
And maybe there's an ingrained willingness to be fearless.
Yeah, absolutely. Taking risks is a huge part of it.
What shows do you like to watch in those rare moments when you aren't working, whether as a family or on your own?
We don't sit down very often as a family to watch TV because everybody's so busy with homework and activities. I think [wife] Jill [Goodacre] and I most recently binged How to Get Away with Murder, but for the last few months I've been so busy with the show, I haven't had a whole lotta chance to watch TV.
So you have a lot to binge if you don't want to fake your way through all those interviews.
You're right about that!
This interview has been edited and condensed.