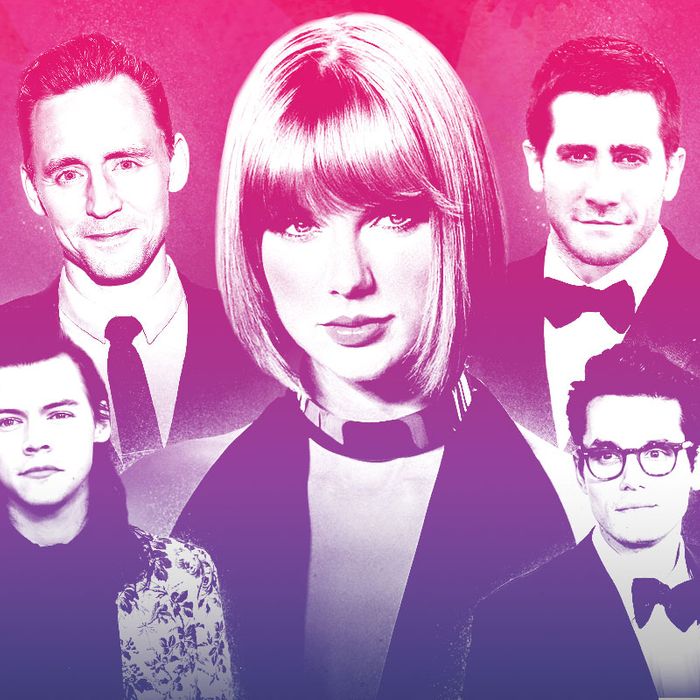 Photo-Illustration: Kelly Chiello and Photos by Getty Images
There are many bad parts of being a celebrity — see here for details — but perhaps the worst part is the inevitable jockeying for position that follows any breakup. It's not enough to unfollow your ex on Facebook and carefully avoid their neighborhood; when you're famous, the days after a breakup must be spent disseminating the talking points that make you look good out into the tabloid media. If you do it right, you "control the narrative," and then you win. (It's just science.) No one in the industry understands this better than Taylor Swift, who's based a large part of her public image on fighting, and winning, these breakup PR battles. On the occasion of Swift's latest split, let's look back at how the pop star, her exes, and a veritable army of anonymous sources have litigated her love life.
Boyfriend: Joe Jonas, boy-bander (third wave)
Duration: Four months in summer 2008
Songs Inspired: "Forever and Always," "Last Kiss"
Ostensible Reason for Split: She told Ellen he dumped her in a 27-second phone call. He wrote on MySpace, "Maybe there were reasons for a breakup. Maybe the heart moved on. Perhaps feelings changed. " Oh, to be in 2008 again.
The Scuttlebutt: Jonas quickly started dating actress Camilla Belle, which led Swift to pen the vitriolic "Better Than Revenge."
Boyfriend: Taylor Lautner, onscreen werewolf
Duration: Three months at the end of 2009
Songs Inspired: "Back to December"
Ostensible Reason for Split: "They became good friends and then went out a few times, but he lives in L.A. and she lives in Nashville and their busy schedules kept it from becoming more than it was," a source told People. Us Weekly's source was more biting: "There was no chemistry … He liked her more than she liked him."
The Scuttlebutt: The lyrics to "December" seem to indicate the latter interpretation. As Swift put it, "You gave me roses and I left them to die." Also, she may have dumped him for …
Boyfriend: John Mayer, racist-penis owner
Duration: No one knows, but it was definitely in early 2010
Songs Inspired: "Dear John"
Ostensible Reason for Split: This relationship was never officially confirmed, so there were no statements whenever it ended. OK! first tried to claim Swift had turned Mayer down completely, while Lainey Gossip reported she was "smitten" with him. We then got a few reports about dates and a rumored sleepover, but that was it, until …
The Scuttlebutt: "Dear John" purported to lay it all out in the open, but kept the details enticingly vague. "Don't you think I was too young to be messed with?" Swift sang. "The girl in the dress cried the whole way home, I should have known." People couldn't resist drawing the obvious conclusion, but whatever he did, it wasn't good.
Boyfriend: Jake Gyllenhaal, nightcrawler
Duration: Three months in the 2010 holiday season
Songs Inspired: "State of Grace," "Red," "All Too Well,"  "I Almost Do," "We Are Never Ever Getting Back Together," "The Last Time," "Sad Beautiful Tragic," "The Moment I Knew"
Ostensible Reason for Split: "He said he wasn't feeling it anymore and was uncomfortable with all the attention they got," a source told Us Weekly. "He also said he could feel the age difference. Taylor is really upset. We told her not to move so fast with this but she didn't listen." Judgmental source!
The Scuttlebutt: In Red's retelling of the Gyllenhaal-Swift relationship, the Source Code star was an obnoxious hipster who drove Swift crazy with his hot-and-cold attitude toward her. Later reports say he took her virginity, then ditched her at a party.
Boyfriend: Conor Kennedy, scion of our nation's political elite
Duration: Two months in summer 2012
Songs Inspired: "Treacherous," "Everything Has Changed"
Ostensible Reason for Split: "It was a distance thing," an anonymous Swift friend told Us Weekly. "They're fine."
The Scuttlebutt: Considering she was a millionaire pop star and he was a high-school senior, I think it's fair to take this breakup at face value.
Boyfriend: Harry Styles, boy-bander (fourth wave)
Duration: A month and change over the course of 2012
Songs Inspired: "I Knew You Were Trouble," "Style," "Out of the Woods," "All You Had to Do Was Stay," "Wildest Dreams," "How You Get the Girl," "This Love," "I Know Places," "Clean"
Ostensible Reason for Split: On a Caribbean vacation, the couple had what a Daily Mail source called "an almighty row." (It was a British source, I guess.) According to Us Weekly, he "said something he shouldn't have."
The Scuttlebutt: How did Taylor write a song about Harry on Red if they didn't start dating until after the album was out? According to sleuths at ONTD, the pair had some sort of hookup situation going on in the spring of 2012, which ended when Styles was spotted cozying up to a model in Australia. If 1989 is to be believed, he worked hard to win her back, but a Vanity Fair source later says her suspicions remained: "The whole time she says she feels like he's looking at every girl, [then on a trip to London, he] disappears one night and after that it was like he just didn't want to keep going." (Styles's rep denies this.)
Boyfriend: Calvin Harris, pseudonymous Scottish DJ
Duration: One year and three months, starting in spring 2015
Songs Inspired: None, yet
Ostensible Reason for Split: "There was no drama. Things just don't work out sometimes," a source told People. Harris backed this up, tweeting, "The only truth here is that a relationship came to an end & what remains is a huge amount of love and respect." Swift retweeted the sentiment.
The Scuttlebutt: Both camps went on the offensive shortly after the breakup, with a source close to Swift telling People that Harris "was intimidated by Taylor," and a source close to Harris telling TMZ he was uncomfortable in the spotlight that came with dating Swift. A month later, Swift sources told TMZ that the singer co-wrote Harris's Rihanna-featuring hit "This Is What You Came For." Despite wanting to keep the collaboration secret, the source said, Swift had her feelings hurt when Harris publicly denied the possibility of ever working with her. Harris shot back on Twitter, claiming he wrote the bulk of the song and accusing Swift of leaking the news to make him look bad. Later, Harris told British GQ he regrets how the breakup became "way more heavily publicized than the relationship itself." His feelings may have been hurt by the possibility that Swift dumped him for …
Boyfriend: Tom Hiddleston, aspiring secret agent
Duration: Three months in summer 2016
Songs Inspired: None, yet
Ostensible Reason for Split: "She was the one to put the brakes on the relationship," an Us Weekly source said. "Tom wanted the relationship to be more public than she was comfortable with. Taylor knew the backlash that comes with public displays of affection but Tom didn't listen to her concerns when she brought them up." (The day before, the Daily Mail reported that Hiddleston had wanted Swift to accompany him to the Emmys.) Meanwhile, a Hiddleston friend tells Heat Street the breakup was because the actor is a "commitment-phobe who gets bored very easily." Both sides agree the couple got too serious, too soon.
The Scuttlebutt: It's slightly too early for the real recriminations to come out, but Lainey Gossip has speculated "Tom loved the spotlight" angle is a masterful bit of three-dimensional chess by Hiddleston. He learned from the best.