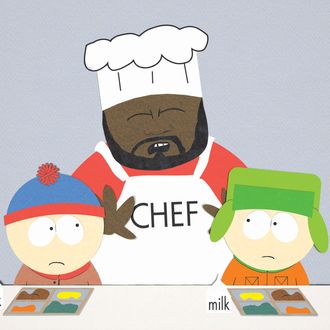 Chef.
Photo: Comedy Central
Of the many controversies South Park has kicked up during its run, the aftermath of its 2005 episode, "Trapped in the Closest" may have been the most mysterious. For months after the Scientology-focused episode aired, Isaac Hayes, who voiced Chef and was a committed Scientologist, quit the show via a statement, supposedly in protest. Now, Hayes's son, Isaac Hayes III, claims that it wasn't exactly a protest. In a roundtable with The Hollywood Reporter, he said:
Isaac Hayes did not quit South Park; someone quit South Park for him. What happened was that in January 2006 my dad had a stroke and lost the ability to speak. He really didn't have that much comprehension, and he had to relearn to play the piano and a lot of different things. He was in no position to resign under his own knowledge. At the time, everybody around my father was involved in Scientology — his assistants, the core group  people. So someone quit South Park on Isaac Hayes's behalf. We don't know who.
Elsewhere in THR's roundtable, Matt Stone and Trey Parker discussed Hayes's trepidation over the episode, and their fears that something "rotten" was going on. Stone said that Hayes approached the two of them and asked them to pull the episode, though that was after the episode aired. "It was pretty obvious from the conversation that somebody had sent him to ask us to pull the episode," he said. "It had already gone on the air, and we didn't tell him because we didn't want him to be held accountable." Hayes's son, meanwhile, insisted that his father knew the show's sensibilities and wouldn't have been so offended by the show's jabs at the church. "My father was not that big of a hypocrite to be part of a show that would constantly poke fun at African-American people, Jewish people, gay people — and only quit when it comes to Scientology," he said. "He wouldn't be that hypocritical."