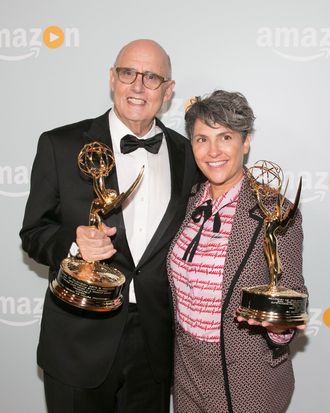 Jeffrey Tambor and Jill Soloway.
Photo: Gabriel Olsen/Getty Images
Discussing Transparent's Emmy wins in the ceremony's press room Sunday night, Jill Soloway became the latest critic to draw a connection between the campaign of Donald Trump and the rise of the Nazis in Weimar Germany, which is depicted in flashbacks through the show's second season. "It's so incredibly timely, the notion of otherizing people to gain political power," Soloway said. "Jews were otherized in Nazi Germany to gain political power, and right now Donald Trump is doing the same thing." As an example, she said, "He calls women pigs if they don't look like beauty-pageant contestants. He blames Muslims and Mexicans for our problems. He makes fun of disabled people. This is otherizing with a capital O. It has been used in our history before to start and win wars "
The director, whose Emmys acceptance speech included a call to topple the patriarchy, argued that it is important to criticize Trump at every opportunity. "He's a complete dangerous monster, and any moment I have to call Trump out to being an inheritor to Hitler, I will," she said, to applause. Standing beside Soloway, Jeffrey Tambor echoed her sentiments with a Swayze-esque "Ditto."
Additional reporting by Lisa Butterworth.