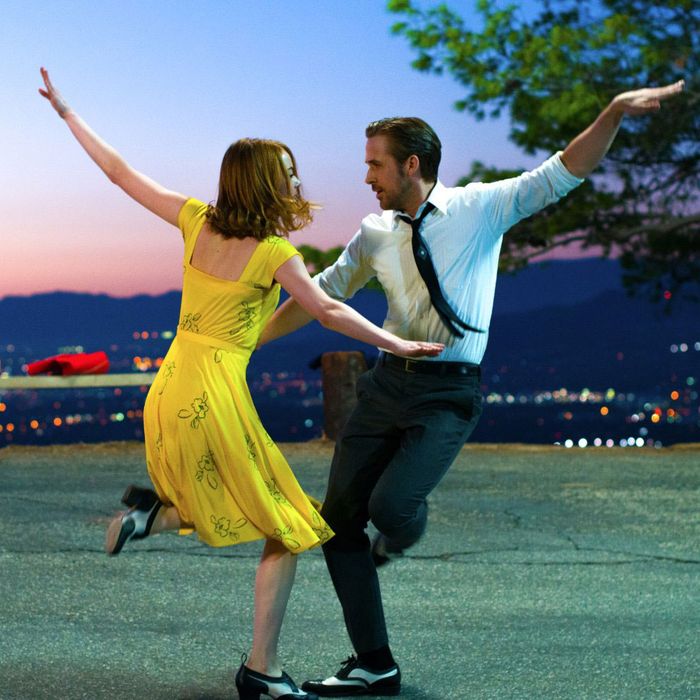 Have you ever had the experience of really missing and craving something but not knowing what that is until it's right in front of your face? Well, get ready, because in a moviegoing landscape that's been serving up so many comic-book movies and prestige dramas we can barely taste them anymore, La La Land, which premiered at the Toronto International Film Festival Monday night to a rapturous standing ovation, is the film equivalent of getting handed an ice-cream sundae.

A charming, retro, original musical from Whiplash director Damien Chazelle starring Emma Stone and Ryan Gosling as its big-dreaming, modern-day Debbie Reynolds and Gene Kelly, La La Land recalls a time when going to the movies was a transporting, unmissable event. It begins with the kind of opening scene that gets taught in film classes about great, ambitious opening scenes. In one sweeping, Touch of Evil shot, we watch as one by one, commuters in standstill L.A. traffic get out of their cars to sing and dance their frustrations away down the freeway. (Shot on an actual E-ZPass ramp, you can see other lanes of real traffic slowly moving below them.) There are people doing backflips off of cars, skateboarders, BMX riders, women swirling around in bright yellow and red and blue 1940s dresses, and a cute guy in a shirt and tie who opens the back of a U-Haul to reveal a full conga band.
Never mind that I could barely understand any of the lyrics or make out anyone's faces — surely they'll fix the sound mix and color before release — the whole number, "Another Sunny Day," about the way Los Angeles' unchanging, amazing weather always makes up for the annoying parts of living there, delivers such a cheeky, joyous tone you're already halfway in love by the time everyone gets back in their cars to move them another couple of inches.
It's in this daily drudgery that our handsome couple first lay eyes on each other. Gosling's Seb (Sebastian) is driving a cool old convertible and playing the opening notes of a jazz piano solo on his tape deck over and over again. Stone's Mia is so deep into rehearsing lines for an upcoming audition she fails to see that traffic is moving. He honks his horn. She gives him the finger. It's beautiful. 

What comes next isn't so much boy-meets-girl as boy-is-kind-of-an-asshole-who-eventually-catches-on, and it's in the realness of those false starts — Seb is stuck playing Christmas carols as a restaurant's pianist when all he wants to do is open his own jazz club, while Mia waits by her phone for a callback to some "Dangerous Minds meets the CW" TV show while working at a coffee shop on the Warner Bros. movie lot — that makes their eventual, inevitable falling for each other that much more romantic. In a city that can quash dreams so easily, what are the chances that you'd keep tumbling into the person who both accepts you as you are, but can see better than you where you're going?

Coming into Toronto, La La Land had already opened the Venice Film Festival to rave reviews and a best actress prize for Stone, who's now considered a lock for an Oscar nomination. But before a mostly American and Canadian audience, its charm proved undeniable, likely to audiences and Academy members alike, as the kind of pure-of-heart crowd-pleaser that rarely, if ever, gets made anymore. 

Lest the weight of expectations become an anchor, it's not perfect. Besides the gorgeous running theme, a piano tune that Gosling plays, I can hardly remember the songs, and there are plenty of saggy moments as Mia and Seb wrestle with money issues and career ambitions that take them away from each other and away from the creative passions that brought them together in the first place. But the good parts are too overwhelming to care much. Chazelle said at the premiere that he loves American movie musicals, but he loves the French answer to those movie musicals, such as Jacques Demy's The Umbrellas of Cherbourg and The Young Girls of Rochefort even more, and that rings true, from the vibrant Technicolor of the set design to the heartrending melancholy of young love butting up against reality.  

This is a movie musical with the smarts to cast natural performers who actually know how to sing and dance — Gosling's once again proving how he got to be in the Mickey Mouse Club, while Stone is fresh off of honing her chops as Cabaret's Sally Bowles on Broadway — and that believes that the form doesn't need to be reinvented with extreme close-ups (ahem, Les Miz) or turning every number into a dream sequence (ahem, Chicago). La La Land  takes us through a world where people do just burst into song, and tap dance on park benches at sunrise, and float through the air of the Griffith Planetarium until they're twirling on purple skies filled with stars. But it's also a world where monetary and creative success rarely get to coexist, and maintaining artistic integrity requires an almost inhuman dedication. As Stone sings her final-hour ballad — "here's to the ones that dream / as foolish as they may seem," tears streaming down her face — you can't help but think that she's singing about herself and the crazy beautiful minds that dreamed up this movie and fought for six years to make it happen, and feel grateful, and want to dream a little bigger yourself. Just try not to swoon. I dare you.