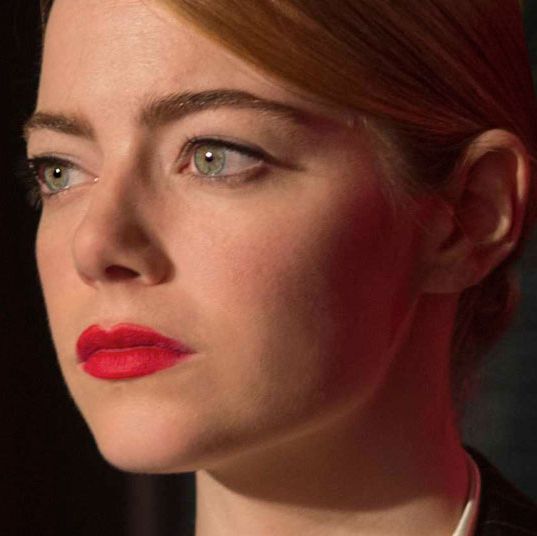 Photo: Black Label Media, A24
With the Telluride Film Festival wrapped and the Venice Film Festival heading into its final stretch, a small but important clutch of awards-season contenders has screened for select press. So far, the musical La La Land and the intimate gay drama Moonlight have won the biggest raves, positioning each film as an Oscar contender in numerous categories, including Best Picture.
La La Land, directed by Damien Chazelle, was perhaps the buzziest title going into the fall festival season, and it hasn't disappointed. Reviews for the film were glowing out of Venice and Telluride, and as we'd been hearing for months, Emma Stone gives the standout performance as an aspiring actress who sings and dances with jazz-cat paramour Ryan Gosling in Los Angeles. Vanity Fair critic Richard Lawson tweeted after his Telluride screening, "Emma Stone is gonna win best actress at the damn Oscars," and Chazelle's certainly got a track record in that department: His last film, the Best Picture–nominated Whiplash, took the Academy's Best Supporting Actor trophy for J.K. Simmons. Gosling is considered less of a lock to be nominated in what's shaping up to be a strong Best Actor year, but several other nods are considered likely, including at least one nomination for Best Original Song.

Meanwhile, in its Telluride premiere, Moonlight picked up five-star reviews and its fair share of shaken, tearful reactions. Directed by Barry Jenkins (Medicine for Melancholy), it tracks one gay black man's journey into adulthood, and its intimate-but-epic scope prompted the Hollywood Reporter's awards-season guru Scott Feinberg to compare Moonlight to some other small indies that have made the Best Picture cut in recent years, like Precious, Winter's Bone, and Room. The lead performance is split between three actors playing the protagonist at different ages, which may make Oscar attention too diffuse for all but actress Naomie Harris, who plays the man's drug-addicted mother over the length of the film and is picking up strong notices.

Three other films will all be jostling for a slice of the Best Actor pie, including Clint Eastwood's airline drama Sully, which won respectful Telluride reviews for Tom Hanks as the pilot who engineered the Miracle on the Hudson. As a boxer back from the brink, Miles Teller entered the fray after the Telluride premiere of Bleed for This, though the film itself received only mixed-positive reviews. Even Mel Gibson may have produced a contender: His war movie Hacksaw Ridge was well-received in Venice with special attention paid to Andrew Garfield's lead performance as a peace-loving medic on the battlefield.

Finally, there's Amy Adams. The five-time nominee toplines two entries this season, the alien drama Arrival and Tom Ford's stylish thriller Nocturnal Animals, and while they've earned some strong festival reviews, neither is a conventional, crowd-pleasing Oscar-bait entry on its face. Still, Adams is said to be the standout in both, and if she's our new Leonardo DiCaprio — an oft-nominated A-lister who is now overdue for an actual win — then Emma Stone's going to have some competition.