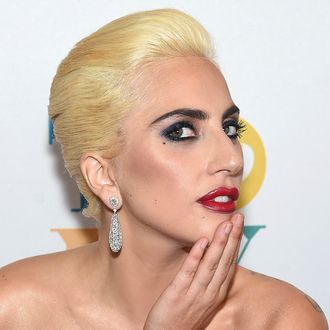 Photo: Jamie McCarthy/Getty Images
Oh boy, Joanne's going to be great, right? We're all going to love it and want to hear all of its tracks at a massive live television event, right? Great, perfect, because following the announcement of her upcoming album last week, word is out that Lady Gaga will reportedly perform the halftime show at Super Bowl LI. That's according to Us Weekly, who announced that Gaga will headline Super Bowl 2017, though there's no word as to whether Gaga will be joined by any other acts, Coldplay/Beyoncé-style. It seems likely Gaga will be joined by other musicians, maybe a few of her collaborators like Florence Welch or Beck or something, so that'll be good, right? Right. "Perfect Illusion" is great, so, you know what? It's all going to be fine.
Update: Okay, however perfect that illusion may have been, it was a brief one. After Us Weekly published its report naming Gaga as the headliner, Natalie Ravitz, the NFL's senior vice-president of communications, denied that the deal is a sure thing. She tweeted: "@usweekly ignored my on record response: we've had conversations w several fantastic artists about SB Halftime Show but no final decision." Ravitz elaborated to the Washington Post: "We have had conversations with several fantastic artists about the Pepsi Super Bowl Halftime Show. However, at this point we do not have a final decision. We're happy there is so much excitement about the show." Well … at least she didn't say that Gaga definitely isn't doing it? What the hey? Go wild and keep that hope alive.