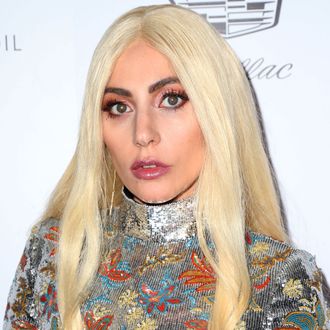 Don't panic.
Photo: Frederick M. Brown/Getty Images
Super Bowl halftime headliner or not, Lady Gaga has bigger fish to fry. The results are in and it wasn't all laaaahve for Gaga's "Perfect Illusion": The lead single from her next album, Joanne, has debuted at No. 15 on the Billboard Hot 100, missing the top ten. (The Chainsmokers and Halsey's "Closer" leads for a fifth consecutive week.) For practically all artists, this wouldn't be cause for concern. However, "Perfect Illusion" is the lowest debut of Gaga's last three lead singles ("Applause" debuted at No. 6; "Born This Way" at No. 1) and the first to fall short of the ten ten on its first try since her 2008 debut. But Lady Gaga isn't the only pop star to struggle after a break: Katy Perry's "Rise" and Britney Spears's "Make Me" also failed to debut in the top ten. Does this news confirm a career in decline, as many critics and anti-monsters online have argued? That's not quite up to a single to decide, nor is chart performance anymore.
"Perfect Illusion" still sold a respectable 100,000 downloads in a week and cracked the streaming chart, while its music video is set to premiere on Fox during Scream Queens (in a show of further allegiance to the Ryan Murphyverse). The cause for concern, then, shouldn't be where she peaks on the Hot 100; it's that she's seemingly (and reportedly) playing by old industry rules when they've never mattered less. An imperfect deluuuusion.