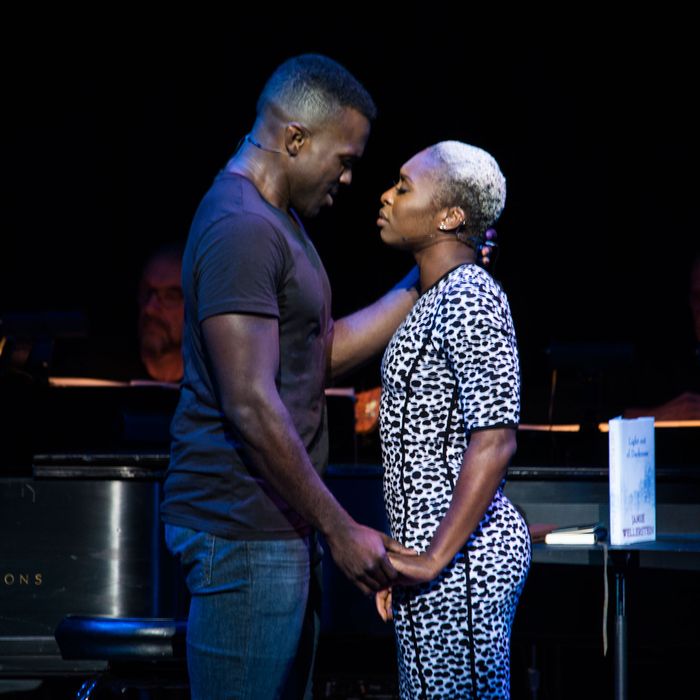 Henry and Erivo in The Last Five Years.
Photo: Jenny Anderson
A sensational concert performance of Jason Robert Brown's The Last Five Years at Town Hall last night, starring Cynthia Erivo and Joshua Henry, started the New York fall theater season off with a bang. I use that phrase advisedly and sadly; the occasion was a benefit for the Brady Center to Prevent Gun Violence. (Erivo, Henry, Brown, and the five other musicians onstage all worked for free.) As if to emphasize the point, Brown began the evening not with the 2002 musical itself, but with a bitter new piece called "A Song About a Gun," in which he snarled, from the piano, that he is "too busy singing songs about my daughters / And the news I have to hide from them today" to pen a paean to some gun lover's Remington. Strange and interior and dark, it was nevertheless an apt prologue to The Last Five Years, which premiered in New York in the shut-down winter after September 11, 2001. For those of us who saw it then, this new context felt too familiar.
For those who only know the show from its ecstatic original cast album, or from the lovely 2013 revival at Second Stage, or from the fine 2014 movie starring Anna Kendrick and Jeremy Jordan, the evening had all the Broadway gloss you could want. The original stars, Sherie Rene Scott and Norbert Leo Butz — she having dashed from rehearsals for The Front Page, still partly in her "old whore" costume, and he wearing an anti-gun T-shirt — introduced the event, both nostalgically and tearfully. (Butz's sister Teresa was murdered in 2009.) They ushered on Dan Gross, president of the Brady Center, who after aptly noting that the audience of 1,500 had not paid up to $250 a ticket to see him, nevertheless roused the hall with the optimistic idea that our society had finally reached a turning point on this issue.
But the ability to recognize turning points as they happen is a key and equivocal theme of The Last Five Years, which covers the relationship between a successful young novelist, Jamie, and his less successful girlfriend-then-wife, Cathy, from two different perspectives. His version moves forward in time, from the exuberance of first attraction to the emptiness of dissolution, five years later. Meanwhile, hers moves backward, from bereft to buoyant. The two arcs are traced in alternating solo songs — 14 in all — that meet only once, in the middle, when the pair gets engaged. It's a structural recipe for sadness at either end, or at best, mixed emotions throughout. Where exactly the balance shifts is, as in life, a mystery not even time can solve.
That — not to mention the relentlessly daredevil vocal writing — makes it a very difficult show to perform. Still, when well cast with superior singing actors, it is always almost unbearably moving. I won't attempt to measure Erivo and Henry against Scott and Butz, who were so at home in the roles it seemed as if the show had been written on their skin. But Erivo, on her day off from The Color Purple, and Henry, the night before leaving to play Burr in the Chicago production of Hamilton, were superb, too, in part because the roles clearly were not written on theirs. Color-blind casting is regularly framed as a problem, a knot of artistic intention and political correctness, but it is more often a wonderful opportunity to look differently at something familiar. And thanks to a forthright acceptance of this in Brown's directorial approach to the evening, it took about 30 seconds to get used to a black Jamie (the character is notably Jewish) and a black Cathy. Henry used Jamie's opener "Shiksa Goddess" to get the giggles out of the audience, and after that — even in the impossible "Shmuel Song" — the show was only about what these two specific actors brought to the story physically, vocally, and emotionally.
In Henry's case that was an explosive charisma; his was the biggest, sexiest Jamie I've seen. Framing the character not as a nebbish but as an entitled prince made his success as a writer seem more inevitable and his personal failure more shocking. The astonishing energy of his opening songs was both endearing and overwhelming; the hollowness of his last ones the natural correlate. Meanwhile, Erivo, in a skin-tight animal-print dress, worked in the other direction, banking her fires through the first half but uncoiling spectacularly in the second — which, as always, proved the more painful trajectory. Her faintly shadowed optimism at the end, after we had already seen where it led, was devastating.
As was the evening overall. Though it raised $200,000 for the Brady Center, and though such events are meant to make do-gooding feel good, there was within the deafening ovation that greeted most numbers a sound that exceeded appreciation even for the work at hand. To me it sounded like rage: the frustration of people fed up with standing by. The theater — especially the musical theater, I would argue — can tap such feelings, but directing them is another matter. Part of the reason The Last Five Years feels so true and sad is that it shows us how easily we may become trapped in a structure too large to fathom, let alone reinvent.