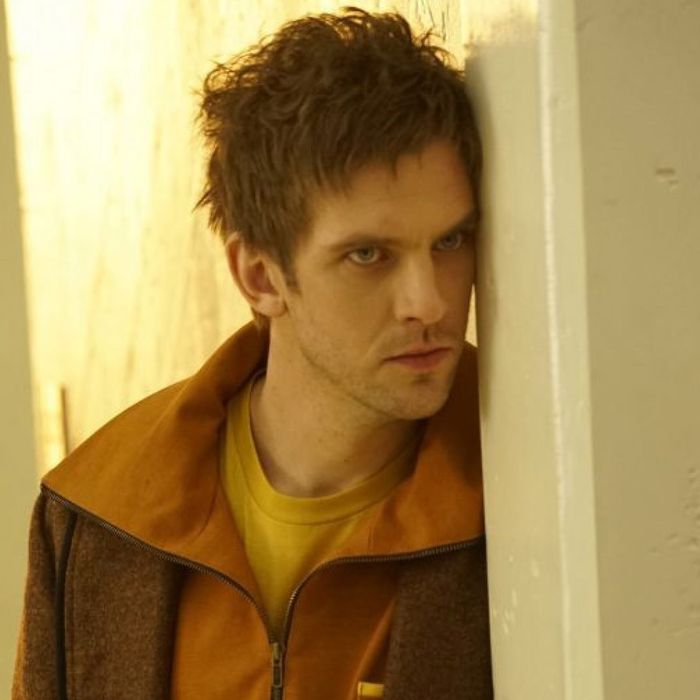 Dan Stevens in Legion.
Photo: FX
Onward we march toward Peak Superhero, watching our cineplexes and DVR guides fill to the brim with witty tales of derring-do and grim tar pits of fisticuffsmanship. But within the overgrown garden of spandex-clad adventures, an oddly colored rose has blossomed: FX's upcoming Legion. A bevy of promotional footage has been released and half of the (very promising) pilot was screened at New York Comic Con last weekend, leaving audiences thoroughly teased with a vision of superpowered drama as surreally funny as it is chilling. It's also somewhat revolutionary in the way it's being run behind the scenes. The series doesn't hit screens until early 2017 (no specific date has been announced), but here's what we know about it so far.
The comic-book origins
Legion will follow the exploits of David Haller, a character with a substantial history in the world of Marvel Comics. He debuted as a villain in 1985, the brainchild of legendary X-Men writer Chris Claremont and groundbreaking artist Bill Sienkiewicz. At the time, they were helming the first spinoff of Claremont's critically acclaimed Uncanny X-Men, a series called The New Mutants. It focused on a young batch of the Marvel universe's persecuted and powerful genetic minority: mutants. Haller was a member of that subspecies, the son of X-Men founder Charles Xavier and his former flame, Holocaust survivor Gabrielle Haller.
The comics version of the character has a power set that's potentially apocalyptic: He's been variously depicted as capable of not only telepathy and telekinesis, but also time travel, the absorption of other people's minds and powers, and the fundamental altering of reality. To make matters worse, he's more than a little mentally ill, suffering from dissociative identity disorder (he has dozens and dozens of alternate personalities, ergo his nom de guerre of "Legion") and often makes decisions based on violent impulses. He's been featured in a wide array of X-comics, including an acclaimed solo series penned by Si Spurrier that ran from 2012 to 2014.
The premise and the powers
It appears that the TV version of David will diverge significantly from his comics counterpart. He's not being touted as Professor Xavier's son; indeed, it's unclear whether Xavier even exists in the universe of the show (we'll get into that in a moment). In a trailer and a few teasers, his demeanor seems to be less demon-like than it is merely troubled and eccentric. In the footage we've seen, he's definitely telekinetic and there appears to be a Bollywood-esque dance sequence that maybe implies some kind of reality warping, but that's about all we know when it comes to his abilities. For what it's worth, the cryptic official description of Haller and the show is as follows: "Since he was a teenager, David has struggled with mental illness. Diagnosed as schizophrenic, David has been in and out of psychiatric hospitals for years. But after a strange encounter with a fellow patient, he's confronted with the possibility that the voices he hears and the visions he sees might be real."
The movie connections … or lack thereof
Here's where things get tricky. Mutants have, thus far, primarily existed onscreen in Fox's X-Men film franchise and a few X-Men animated series. The logo for Legion features an X within a circle, the traditional logo for the X-Men. But there are conflicting reports as to whether or not the show will take place within the X-Men cinematic universe. In January, FX Networks CEO John Landgraf told Slashfilm the show is "not in the continuity of those films," but rather in a "parallel universe" where the public is not yet aware of mutants' existence. However, in August, X-franchise producer and frequent director Bryan Singer told The Hollywood Reporter that Legion is "part of the X-Men universe" and that it "will relate to future X-Men movies." Those two statements are not necessarily mutually exclusive: Perhaps Legion is a parallel universe within the X-Men multiverse, one which could cross over with the X-flicks somehow, much like the CW's Supergirl and The Flash take place in separate worlds that occasionally intersect. After all, that kind of stuff is small potatoes in the brain-straining cosmology of superhero comics.
The showrunner
One thing that makes Legion stand out in the realm of super-TV is that it's being made by a bona fide small-screen auteur: Noah Hawley. The 40-something writer-producer has made critical tidal waves for his other FX show, the anthology series Fargo (which he's still helming, in addition to writing best-selling novels, making one wonder if he, himself, is some kind of mutant).
The cast
Legion has something of a murderer's row of ensemble players. Downton Abbey's Dan Stevens stars as David, a mental patient who's struggling to keep his head above water at an institution. One day, he meets a touch-phobic lady named Syd (Rachel Keller), with whom David falls in love. In the aforementioned trailer, David says he thinks she has powers of her own, ones which enable her to swap consciousnesses with others, including David. At some point, she mysteriously disappears and David says a mysterious group ("they") took her. How sinister.
Rounding out the core cast is Melanie, played by Fargo alum Jean Smart, and Lenny, brought to life by Aubrey Plaza. The former is, according to the official description, a "nurturing, demanding therapist with a sharp mind and unconventional methods." We see her for a nanosecond in the trailer, beckoning to someone while surrounded by a group ("they," perhaps?) that includes Syd. The latter is "David's friend, who despite a life of drugs and alcohol abuse, knows that any day now her life is gonna turn around." The promotional footage has shown her grooving with headphones and smirking while she looks at a drooling mental patient. Yeah, that sounds like the Aubrey Plaza we know.
We also know about a handful of other characters you'll run into. Banshee's Amber Midthunder is playing Kerry, a "savant" and "a woman of action with a childlike sense of wonder." She stands alongside Melanie in that brief shot from the trailer. The League's Katie Aselton is portraying Amy, David's "practical" older sister. TV newbie Jeremie Harris is playing Ptonomy, "an outsider by nature, standoffish and sardonic, who is a former child prodigy who feels trapped in the past." Bill Irwin is going to show up as a guy who shares Kerry's name and may or may not be the same person as her. All of these official character descriptions are about as illuminating as a next-week-on-Mad Men promo.
The approach
Most superhero TV shows have placed function above form, opting for uninventive visuals and boilerplate adventure narratives. Thankfully, Legion seems to be going in a much more ambitious direction. As we noted in our write-up of the footage screened at New York Comic Con, the visuals are sumptuous and idiosyncratic. There are red-, blue-, and gold-bathed images interspersed with bullet-time slo-mo explosions. Tricks of the eye and long tracking shots abound. It's also tonally quirky. There's humor, but it's off-kilter (e.g. the aforementioned Bollywood sequence and the drooling-patient teaser). We haven't seen much on-set photography (hats off to the production squad for keeping their ship airtight), but Noah Hawley Instagrammed an eerie and worn-down window with a dentist-style lamp in the corner. One can hope the show will feel more like Fargo and less like Agents of S.H.I.E.L.D., because we've certainly seen a lot of the latter.
The network commitment
The show's been ordered to series for an eight-episode season.
The fledgling alliance behind the scenes
For sweaty observers of the geek economy like yours truly, one of the most fascinating aspects of Legion is the corporate interplay that's making it happen. It's being co-produced by Disney's Marvel Television and Fox's FX Productions. To put it bluntly, those two entities' parent companies have not gotten along in recent years. The latter owns the film rights to the X-Men and the Fantastic Four, two sets of characters that originated in Marvel Comics, and Marvel CEO Ike Perlmutter has a blood vendetta against Fox for not relinquishing those rights. Fox and Marvel even went to war in the early aughts over a Marvel-developed TV show called Mutant X, which Fox claimed was an infringement on their right to develop all X-Men live-action properties (they settled in 2003). The aftermath of that battle was a dearth of X-Men shows, even as the superhero genre boomed. So it came as some surprise when it was announced last fall that Legion would be produced by both Marvel and Fox. By all accounts, it's a genuine collaboration with involvement from both parties, making this a remarkable bit of détente that surely entailed some acrobatic deal-making.
The sister shows
The October 2015 announcement of Legion was accompanied by news that Marvel and FX were also developing a show called Hellfire, which would have depicted traditional X-Men foes the Hellfire Club. However, in July, Variety reported that Hellfire had gone the way of the dodo. But there was reason to be cheerful, too: That same report said Fox (as in the broadcast network) had made a put-pilot order for an unnamed X-Men TV series. It will follow "two ordinary parents who discover their children possess mutant powers," their race to avoid government forces, and their alliance with "an underground network of mutants." Bryan Singer has said the latter show "will relate to future X-Men movies," but as is true with Legion, it's anyone's guess what that could mean.