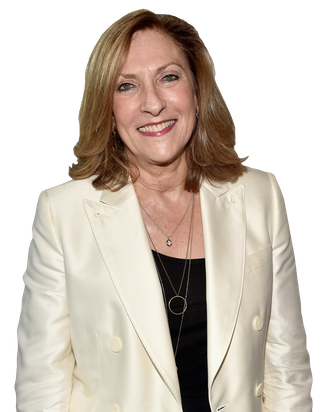 Photo: Alberto E. Rodriguez/Getty Images for Women In Film
If you've watched TV, you've surely seen shows directed by Lesli Linka Glatter. Ever since Steven Spielberg hired and mentored her after seeing her first, Oscar-nominated short Tales of Meeting and Parting, she's been one of TV's go-to directors. A four-time Emmy nominee, Glatter's been behind the camera for everything from Twin Peaks, The West Wing, and Gilmore Girls to The Walking Dead, The Good Wife, Justified, and Mad Men (one of her nominations). This year, the Homeland executive producer and director is the only woman among the nominees for outstanding director in a drama series, for her work on Homeland's "The Tradition of Hospitality." Which means Glatter, who Claire Danes says takes mentoring up-and-coming female directors "as serious as her own career," had to find her awards' outfit solo — unlike the year she and former protégée Jennifer Getzinger were up for the same Directors Guild Award, and went dress shopping together. Glatter took a break from filming the upcoming season of Homeland, now shooting in New York City, to talk about the challenges of directing a spy thriller about terrorism, and how happy it makes her to help other women call the shots.
In "The Tradition of Hospitality," the episode for which you've gotten your third Homeland directing nomination, Carrie has to protect her boss from a terrorist attack in a Syrian refugee camp. After the episode, shot in Berlin, aired, we learned the Arabic-speaking graffiti artists hired to add realism to the set had been a bit subversive, for example, by writing "Homeland is racist" in Arabic. What did you think when you heard about that?
Listen, if you are doing something controversial, you have to be prepared that people are going to have feelings about that. [Showrunner] Alex Gansa said they have every right to have a difference of opinion. I don't think he ever sat down with them, but he was going to meet with that group to discuss it. When we first found out, it's like, Oh, God, you wish that didn't happen. You hope everyone loves what you do. But you have to be prepared for that when you are doing something that deals with this kind of material.
You said you love doing action scenes if they're character-based, that just blowing up a truck doesn't interest you. But Claire says you're good at those, too. As an executive producer directing four episodes a year, do you get to choose which ones you direct?
No. I usually do the first two, something in the middle, and the end. But no, I don't pick them because of the story content. What's so interesting about Homeland is there's a week where we — the writers and Alex and Claire and Mandy [Patinkin], and myself — go to Washington, D.C., for a week of meetings with intelligence experts. A lot of the content of the season comes from that week of meetings, which is both incredibly exciting and terrifying — learning what's going on in the world. It feels like an incredible responsibility to, hopefully, tell a good story. So I'll know the general arc of the season without knowing the specifics of the episodes.
You also directed the season finale in which Carrie prevents a gas attack in a Berlin subway station. The subway portion was shot the day after the Paris terrorist attacks, which must have been nerve-racking. Claire said shooting in the train station was unpredictable because you had no control, and shot among real commuters. You storyboard everything. Are you also a good improviser?
My background is as a dancer and then a choreographer, so I come in with a very strong plan. I don't storyboard everything; I storyboard all the action sequences. But I'm also open. If something extraordinary happens — you know, I hope that something extraordinary happens that I couldn't have thought of alone in a room — then I will absolutely go with that idea, wherever it comes from: the actors, the DP, wherever. But I always know what the story is about, and what is essential in the storytelling.
It was very distressing to be shooting in the subway station under the Reichstag the day after Paris. It felt like a big responsibility. A couple of days before, we had been shooting in the huge train station, Hauptbahnhof. And that's where we had absolutely no control of anything. So we surrounded Claire with, like, 50 extras. But basically the train station was going, and it's a huge place, and it was very intense. Everything was planned, but you had to respond to the spontaneity of what was happening. In some ways it was very exhilarating.
This year's D.C. trip led to the show being shot in New York City, with a story revolving around female President-elect Elizabeth Keane (Elizabeth Marvel), a junior senator from the state, who gets briefed by the CIA. Both Trump and Clinton recently had their first national security briefings. Do you ever worry about how closely the show tries to maintain its ripped-from-the-headlines quality?
That's an interesting one because the writers are committed to telling a good and provocative story, both politically, but also character-wise. So you can't try to get ahead of what's happening in the world; you can only be honest to the story. And yet it has felt like the show is very prescient.
In a talk with you and Claire earlier this summer, she said Keane "challeng[es] norms" but gets along with Carrie. At the Television Critics Association press tour, we learned Patrick Sabongui will play a college law professor who works with Carrie, and advocates for Muslim Americans. Alex Gansa said Carrie will deal with how police treat Muslims post 9/11. Can you say anything more about what Carrie's up to?
I'm a little hesitant to add more information. One of the things that is so interesting, of the many things we're looking at this season, is the fact that you can get arrested and detained for, basically, thought crimes. If you're a Muslim American who hasn't actually committed a crime, you can still get detained if there's any sense that you're involved with any kind of thinking that could be perceived as not completely pro-American. That's one part of the big puzzle this season.
Can you divulge anything about Peter Quinn, who Alex has said is alive, but his stroke has left him "very changed and altered." We know Rupert Friend is back as a season regular, so clearly he's in the mix.
Yes, he is in the mix. And just having been filming for a week, the work Rupert is doing is quite amazing.

From a bed?
He's out of bed. The thing that is exciting about this show for me, as a director and a producer, is each season is its own new thing. It keeps all of us on our toes.
When Claire presented you with a Women in Film award this summer, she talked about how important mentoring is to you, how you're always shadowed by young female directors. Despite your efforts, a recently released report from the Directors Guild of America, of which you are a national board member, found that of the 153 new directors hired to do episodic TV last season, only 23 percent were women, which isn't much of a change since 2012.
The fact that in 2016 things have hardly changed at all is very distressing. [With] the hiring of first-time directors, you would think that if the playing field is completely equal — no one has ever directed, male or female — that the percentages would be more balanced. But the fact that the hiring percentages are similar to those for non-first-time directors, that's really shocking. You can't use experience as the excuse. And honestly, there are a huge amount of qualified women directors. I hear this all the time, "Well, there just aren't enough women directors." That's just not true; there are plenty. But you have to dig deeper than the most obvious. We have people shadowing on every episode this season.
Who have you mentored whose work we now know?
Oh, there have been a lot. I've been doing it a long time! Jennifer Getzinger is somebody I mentored. [In 2010], we were nominated by the Directors Guild for Mad Men against each other, and to top it off, we went shopping for our dresses together. I mean, how hilarious is that? I mentored Lily Mariye, who's now directing Nashville. It's a very long list. It makes me happy [to do it]. I get calls all the time, even from someone directing a pilot who wants advice. That's how it should be; that's how changes happens.
Have you, or will you speak to the EEOC, who are looking into discrimination against women in film and TV?
I have not gotten a call from them. None of the directors I know have gotten a call from them. So I'm not sure who has talked to them.
What do you think of We Do It Together, the nonprofit that aims to finance and produce empowering female content? When I interviewed director Susanne Bier, she said she was a bit concerned about making women "fringe."
I don't know anything about that organization. It's another way for content to get out there. However it gets made — if you don't think you're marginalized, you don't have to be. I tend to go for material — I don't know if it's female-driven. I'm interested in people being put in extraordinary circumstances where they're forced to deal with who they really are. And that's not a gender issue; that's the human condition.
This interview has been edited and condensed.