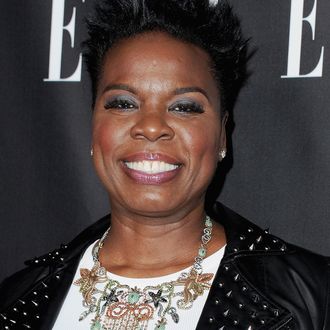 Photo: Jon Kopaloff/FilmMagic/Getty
Sorry, haters, you're not going to scare Leslie Jones off of social media. The comedian and actress went back to tweeting her usual funny commentary on TV without any mention of how her website and private photos were hacked in late August. Instead, Jones went right back on Twitter Saturday afternoon, and let us all know just how much she loves The Golden Girls. "I don't care what nobody say, these bitches make me laugh no matter what the hell is going on. For real!" Jones says in a video showing her watching the opening credits of the show.
She also takes the time to point out the evident cannibalism in a Cinnamon Toast Crunch commercial.
Oh, and she reminds us why the women of The Golden Girls are icons of no-nonsense talk.
Jones hasn't been one to shy away from sharing her feelings on social media. When internet trolls took it upon themselves to harass Jones for her role in the Ghostbusters reboot, she didn't hesitate to put them on blast and call attention to the racist vitriol she was enduring on Twitter. Things eventually got so out of control that what followed involved Twitter's CEO stepping in, the banning of a notorious troll, and an apparent happy ending for Jones when she was invited to cover the Rio Olympics. Then her website was hacked and nude, personal photos of her were released.
Jones has so far stayed mum on the situation (though plenty of people immediately came to her defense). The only hint of commentary from her on the ordeal might be in her most recent tweet, involving the cover of the comic "100 Bullets." The plot involves a briefcase with a gun and 100 bullets that can't be traced, allowing for someone to easily seek revenge.
Regardless of whether she's trying to send a cryptic message or not, one thing is certain: The internet is glad to have Leslie Jones back.