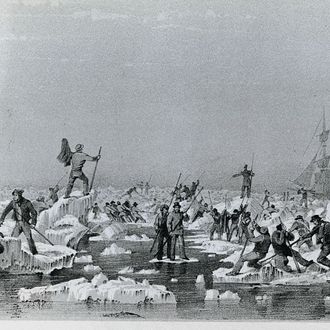 Crew of the HMS Terror (Photo by DeAgostini/Getty Images)
Photo: De Agostini Picture Library/De Agostini/Getty Images
Some things should always remain a mystery, like filing your taxes or the disappearance of the British Royal Navy's H.M.S. Terror. Unfortunately for AMC, after 168 years, an Arctic Research Foundation team has located the long-lost ship of British polar explorer Sir John Franklin in perfect condition, at the bottom of an Arctic bay. This happens to be terrible timing, seeing as AMC is preparing an anthology series inspired by the disaster, Deadline reports. "We congratulate the Arctic Research Foundation on finding The Terror 168 years later," AMC president of original programming Joel Stillerman told Deadline. "Apparently they've never heard of a spoiler alert." AMC's ten-episode series The Terror is based on the best-selling 2007 novel by Dan Simmons, and it is a fictionalized account of Franklin's lost expedition of H.M.S. Erebus and H.M.S. Terror. Set in 1847, it follows a Royal Navy expedition crew searching for the Northwest Passage, who are attacked by a mysterious predator that stalks the ships. The series is set for a 2017 debut, and for now there are no immediate plans to use any of the findings from H.M.S. Terror.
Long-Lost Ship From AMC Series The Terror Found
Every product is independently selected by (obsessive) editors. Things you buy through our links may earn us a commission.