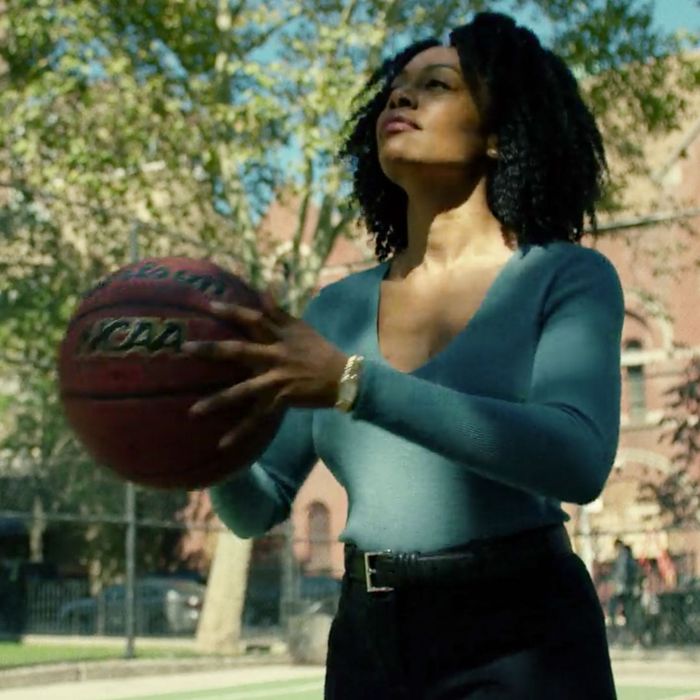 Top of the key!
Photo: Netflix
You know that old line about Ginger Rogers having to do everything Fred Astaire did, except backwards and in high heels? One is reminded of it during the second episode of Marvel's Luke Cage, when hero cop Misty Knight manages to own a bunch of dudes on a basketball court and sink some improbable shots, all while wearing a pantsuit and, yes, heels. You'd be forgiven for assuming actor Simone Missick had a professional ballplayer stand in for her — indeed, that's what the studio intended to have happen. But Missick tells Vulture it was all her.
"That was me! I was captain of my varsity basketball team," she says, then goes on to recall the whole experience. "It was funny. They were like, 'We've got a basketball coach and she can be your stand-in, if you want.' And I was like, 'Oh, okay, cool!' So I went and hung out with this really great woman in Harlem and she was showing me around the city."
The day of the shoot came. "She's on set, dressed in her Misty outfit, and we get ready to roll," Missick says. Then Missick did the scene herself and, by her account, crushed it. "The first shot, they were like, 'Oh wait, you really play basketball?' So then they run up to our [director of photography] and they're like, 'You got that, right? You got that?'"
Alas, they did not have it. "The DP was like, 'Actually, I was on Frank's reaction,'" referring to Frank Whaley, who plays Misty's partner, Rafael Scarfe.
"Which was amazing," Whaley adds.
"Which was amazing," Missick agrees, "because he didn't know that I could play, either." They rolled the cameras again, and bam, she nailed it again.
"You hit, like, 10 out of 12!" Whaley says, his voice rising with wonder. "Rarely did she miss. And she was wearing high heels!"
"It was a lot of fun," Missick says. "It was one of those things where you're like, as an actor, Are you serious?"
Whaley has the final word on the experience. "You can't underestimate the difficulty, no matter how good a basketball player you might be, of doing what she did," he points out. "Saying her lines. I have one line, I kept on fucking it up. Say her lines? Amazing. Walk up, then whoosh, whoosh. This is why I've got some real respect."