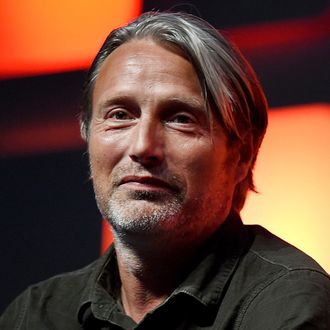 Maaaaads!
Photo: Ben A. Pruchnie/Getty Images
Mads Mikkelsen's role in Rogue One: A Star Wars Story has been known ever since Mikkelsen himself spoiled it for everyone on British TV: He's playing the father of Felicity Jones's protagonist, Jyn Erso. But a new synopsis of a tie-in novel for the December tentpole has shed some light on what, exactly, his whole deal is. One piece of Rogue One merchandise unveiled in a big rollout yesterday was Catalyst, a prose prequel to the flick. It's set during the Clone Wars and, according to the publisher's description, focuses largely on Mikkelsen's character, Galen Erso.
Apparently, Galen is buds with Orson Krennic, the sinister Imperial officer who will eventually don a sweet white cape (and be played by the rodentine Ben Mendelsohn) in Rogue One but who, at the time of the novel, is still an employee of the pre–Empire Republic. Krennic is working on the early stages of the Death Star and wants "Galen's energy-focused research" to help him get the job done. Krennic saves the Erso family — including wife Lyra and daughter Jyn — from some kidnappers, putting them in Krennic's debt. Afterward, Galen gets the chance to continue his research with massive resources at his disposal.
Of course, all is not as it seems. "While Galen and Lyra believe that his energy research will be used purely in altruistic ways, Krennic has other plans that will finally make the Death Star a reality," the description says. "Trapped in their benefactor's tightening grasp, the Ersos must untangle Krennic's web of deception to save themselves and the galaxy itself." (Spoiler alert: The galaxy gets saved, at least until the end of Episode IX.) None of these bits of information are stunning revelations, but it's interesting to see that Krennic — the movie's Big Bad — has a personal tie to Jyn. It's also interesting to see that Mikkelsen will be playing what appears to be an almost entirely good guy, which is a bit of a departure for him.