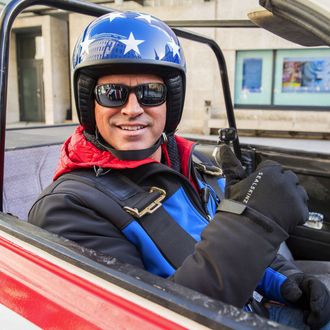 Matt LeBlanc in Top Gear.
Photo: Mark Yeoman/BBC Worldwide Ltd.
After all of the drama around The Great British Bake Off, at least Top Gear is giving us some small measure of continuity, as the BBC announced Monday that Matt LeBlanc has signed a two-year deal to return as host of the BBC Two car show. After one season serving as replacements for the departed trio of Jeremy Clarkson, Richard Hammond, and James May, LeBlanc's co-host Chris Evans quit the show in July, and LeBlanc himself admitted he was "not sure" if he would continue on. LeBlanc will be joined by Chris Harris and Rory Reid in the new season of Top Gear, and, fittingly, the show's success will rest on whether the three hosts can convincingly act like friends.