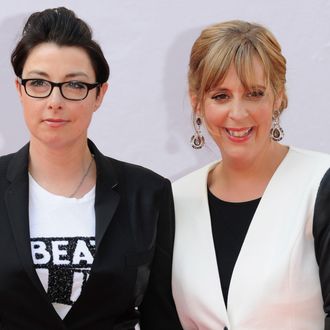 Farewell, Sue and Mel.
Photo: Stuart C. Wilson/Getty Images
Well, we're feeling as sad as a limp baguette. Mel Giedroyc and Sue Perkins, the comedy duo that hosts The Great British Bake Off, have announced that they won't be coming with the show when it moves to Channel 4 next season. In a dramatic announcement Monday, The Great British Bake Off said it would be leaving its home at the BBC, where it has been since its inception seven seasons ago. Then, before the news could even cool, Channel 4 announced that it had picked up the show. Mel and Sue have been vocal during the ongoing negotiations around the show, saying they wanted the show to remain at the BBC. They said in a statement:

We were very shocked and saddened to learn yesterday evening that Bake Off will be moving from its home. We made no secret of our desire for the show to remain where it was. The BBC nurtured the show from its infancy and helped give it its distinctive warmth and charm, growing it from an audience of two million to nearly 15 at its peak. We've had the most amazing time on Bake Off, and have loved seeing it rise and rise like a pair of yeasted Latvian baps. We're not going with the dough. We wish all the future bakers every success.
On Monday, the BBC said it made a last-ditch effort to keep the show, but Love Productions, which makes the show, refused the offer. BBC News reports that the BBC had offered £15 million — double what the BBC currently pays for the show — but that Love Productions was only entertaining offers that reached a minimum of £25 million. Likely, Mel and Sue would have seen a big raise had they moved with the show to Channel 4, but it's clear the decision wasn't about the money.

It's currently unclear whether judges Mary Berry and Paul Hollywood will also return.