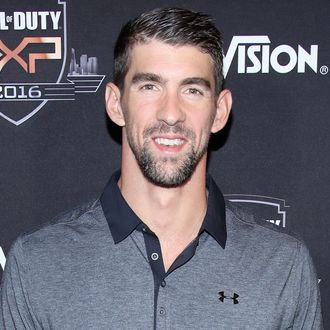 Michael Phelps, looking for other things to do.
Photo: Randy Shropshire/Getty Images
After coming out of retirement to bring his Olympic medal haul to 23, did you think Michael Phelps, one of the most decorated athletes in history, would just fade into obscurity? Did you think he would be content to change Boomer's diapers in the quietness? No, not even Michael Phelps can resist the siren call of reality television. While Ryan Lochte and Laurie Hernandez are competing on Dancing With the Stars, the swimmer with the pterodactyl wingspan will compete on an "All Stars" special of Lip Sync Battle, where he'll take on John Legend, Olivia Munn, and Terry Crews in a live edition September 11 at 8 p.m. ET/5 p.m. PT, so viewers can vote on their favorite lip sync to crown a winner. We just have one thing to say: Don't fuck it up.