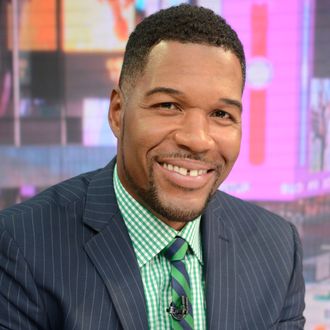 Michael Strahan just wants to live.
Photo: Ida Mae Astute/ABC via Getty Images
In April, America's morning people were shocked, shocked to learn that affable co-hosts Kelly Ripa and Michael Strahan were not friends in real life, after it was announced that Strahan would leave Live! With Kelly and Michael and take on a job at Good Morning America. Now, those good, honest, coffee-drinking, Live!-loving Americans must brace for more tragedy, because things were way worse than we thought. In a new People cover story, Michael Strahan tells his side of the story, which amounts to Michael Strahan saying, basically, eh, I tried. "The most disappointing thing to me was that I was painted as the bad guy," he told People, "because I value the way I carry myself. I don't want people to see me as 'Oh, he just ran out, just left them there.' That's just not true." ABC, by its own admission, "made some mistakes" in forcing Strahan to change shows, which led to Ripa taking several days off and pushing for Strahan to leave earlier after she was reportedly blindsided by the news. But Strahan will have you know that he made sure to sit down with Ripa himself and tell her that execs wanted him to move. "I wasn't surprised by her reaction at all, but I can't control somebody else's actions," he said, treating the move like he was being traded between sports teams. "I was there four years, and it's about more than just being in front of the camera."
But here's the real question: Did Kelly and Michael get along? They certainly don't anymore, according to Strahan. "At one point I think we were friends. I don't know what happened at the end. I learned a lot from her, though," Strahan said. Later, he adds, "Toward the end of it all, we didn't really communicate that much … I kinda looked at it like, 'It was what it was.' I come from a business where you have to collaborate. The show was going well? We're all winning. That's all that matters to me." Oof.