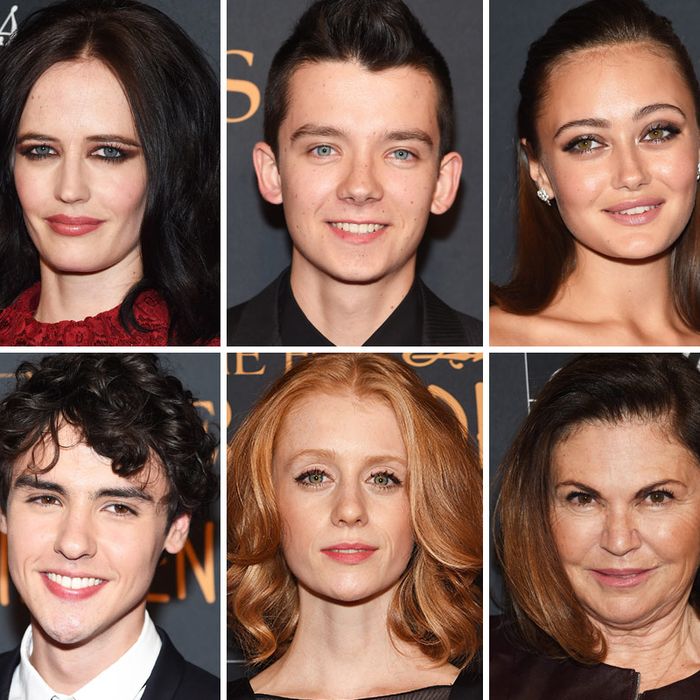 In the world of Tim Burton's Miss Peregrine's Home for Peculiar Children, the titular unusual kids are blessed (or cursed) with abilities like invisibility, floatation, or having a mouth at the back of their heads. But in the real world, those of us who don't quite fit in aren't lucky enough to live in a special home run by Eva Green. Instead, all we have is the comfort and consolation of knowing that we are not alone, that everyone out there is also hiding their own secret habit or quirk. At Monday's Miss Peregrine's premiere, Vulture caught up with the film's cast in the hopes of getting them to share what makes them weird, and they dutifully obliged.
Eva Green
I was always quite weird, you know? I was very shy as a child. I couldn't go to birthday parties, because I wasn't very good with groups. I had to go see to a therapist for it. And sometimes I still feel too shy to join a group, and it makes me sad. And that's why we do movies like this, to tell kids it's okay: Whatever makes you weird makes you unique and special. I'm actually unloading my feelings with this movie!
 
Ella Purnell
I can do weird things with my body. I'm a bit of a contortionist. I can fit in a box. Maybe not tonight in this dress! But I can dislocate my shoulder and pop it back. Want to see it? [She can indeed do it.] Most people get really freaked out by that. It just happened one day in ballet, I had to stand without moving my arm for a while, until someone had the guts to pop it back in. Now I'm fine, and I can do it all the time. I'm sorry! I know it's weird. But I've always been weird. I used to have an imaginary friend named Bred, and I used to talk to him all the time, and people would be super freaked out by that, too. I still speak to him sometimes.
 
Lauren McCrostie
I can do this with my eyes. [She crosses her eyes, and then makes each eye go look in the opposite direction.] And I can also wiggle my ear, but so can my dad, so maybe that's genetic. I taught myself how to do the eye trick, because I saw someone else do it, and so I just kept practicing, trying to move my eyes. That's how I spend my time, apparently. Practice makes perfect. Practice makes you perfectly peculiar.
 
Colleen Atwood
I think about strange things all the time, just walking down the street, looking at people. Sometimes, I see things that might not be there. A color on the wall, or something I can duplicate in a piece of fabric. I see things that aren't there! And that's when I'm sober.
 
Samuel L. Jackson
I find myself to be quite ordinary, but I do have a peculiar job, in that people want to watch me do it all the time. But my own personal peculiarity is that I stutter. Some days are B days. Some days are W days. And some days, the best thing for me to do is say my favorite word: "Motherfucker!" I say it and it helps me stop stuttering.
 
Asa Butterfield
I can type the alphabet in under two seconds. One point nine seven, to be exact. I can clap super-fast. I built a computer, just for fun. I had an incredibly boring childhood, I had a lot of time on my hands.
 
Finlay MacMillan
I used to make lightsabers and sell them on eBay. I used to go to hardware stores and make them and sell them, because I clearly love Star Wars too much.

Tim Burton
Everybody else is peculiar. I'm normal. I'm the most normal person you'll ever meet. I'm the most normal person here.