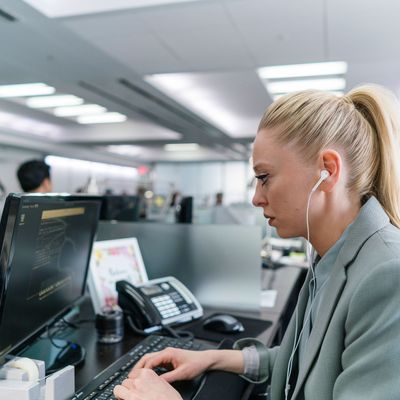 MR. ROBOT – "eps2.5_h4ndshake.sme" Episode 207 – Pictured: Portia Doubleday as Angela Moss – (Photo by: Michael Parmelee/USA Network)
Photo: Michael Parmelee/USA Network
When Kor Adana first read the script for Mr. Robot's pilot, Sam Esmail's then-assistant saw the potential to create something unprecedented in the history of television: a series that was fully interactive. "I wanted to make Mr. Robot hackable," says Adana.
Adana means Easter eggs, which have for decades been a staple of TV shows, films, and videos games. Easter eggs would typically include a phone number in a scene that, when dialed, led to an automated message, or a URL address that was actually a real website. "You rarely see IP addresses that go anywhere," says Adana. After he joined the crew, and particularly when he was promoted before the second season from assistant to the show's lead technical consultant, Adana worked within Esmail's vision to determine how Mr. Robot could flip television's paradigm — to essentially create an alternate reality that exists within the show and is occurring in real-time.
"It is like the 2016 version of a choose your own adventure book," he says. "One that gives you some illusion of control over the story."
Conceptually, the idea seems simple: Any number, QR code, bar code, host name, or IP address that appears on the show also has a counterpart in real life. Plug that information into a browser, and you'll go to a website. Freeze frame a scene, scan the code, and it will lead somewhere. (Decider has a good breakdown of many of these Easter eggs here.) Though the phone numbers are fake — Adana says NBCUniversal warned him of the risks of using real phone numbers — everything else is accessible in some form. "I wanted to give the viewer as much control of this story as possible, and have them really feel like they are a part of this narrative," says Adana.
He continues, "You can log on to these sites, and then recreate and relive some of the hacks you see on the show. You can solve problems, and find codes hidden in the source code, or you can take answers from different Easter eggs and put them together, which will lead you somewhere else. It might give you a little bit of a hint for what is to come in the story. And usually, it doesn't stop at the first page. Even if it is an ad for something, or if it is a very simple page, there is something else on that page that will lead you somewhere else."
While Adana has always been fascinated by Easter eggs — he used to obsess over "hidden secrets and clues" in shows like Lost and Battlestar Galactica — the inspiration for Mr. Robot's challenge came from Def Con, a hacking conference held annually in Las Vegas. Def Con hosts an intricate and multistep code-solving contest each conference, which draws attendees who don't even bother to go to any of the panel discussions or demos. "They'll spend a whole week in a hotel room trying to break this code," says Adana, who thought Mr. Robot's expansive Easter egg rollout would appeal to the show's problem-solving-hacker viewer.
The execution, though, hasn't been easy to scale. When he first put in his initial requests to purchase IP addresses and domain names, the network was hesitant. "I was just an assistant working with a first-time showrunner on a show that hadn't even aired or become successful," he says. "They thought 'Who is this guy bothering us?'" The first season only highlighted fake IP addresses — a setback for a show that has set the bar for technical accuracy.
While Esmail argued on behalf of Adana's request, even he conceded, telling Adana that it was better to have fake IP addresses than no IP addresses. That didn't stop Esmail from tasking the writing team with sneaking in some non-technical Easter eggs — the names of several of the arcade games at fSociety's HQ, like Lulzsec and the Lizard Squad, were named after hacking collectives.
Emmy and Peabody nominations in tow, though, and it suddenly became much easier to convince network executives that the show needed those real IP addresses. The requests for season two went a bit smoother. "They saw the benefit of promoting Mr. Robot as an authentic portrayal of technology," says Adana. "It is a win-win: I get my interactivity, and they get this marketing edge."
At least one or two Easter eggs are planted per episode, and while Adana is hesitant to reveal the scope of the show's challenge, he admits hundreds of IP addresses and domains have been purchased and featured (which means that every website, even if it briefly seen onscreen, is owned by Mr. Robot). Since Adana advises and helps write each script's technical aspects, he knows the specifics of where each Easter egg should go. He'll work with the show's animator (Esmail prefers not to add in anything during post-production, so the actors are actually looking at real code during any scenes with a screen) and plug in the relevant information. If the Easter egg hasn't been devised yet, the animation will still be built as a placeholder until the domain name, cipher, or code-breaking sequence is created. At that point, the animation is redone and the scene is reshot.
According to Adana, an Easter egg "may be an activity, it may be an IRC channel, or it might be something they need to do. It is some level of interaction that will set them on this Easter egg hunt. Or it'll be a continuation of an Easter egg hunt that we planted in an earlier episode."
And there is an endgame. In order to get the prize, which Adana says will be available at the end of season two, viewers will have to solve all of the Easter eggs. Even if someone has cracked 90 percent of the codes hidden within Mr. Robot, there is no way to figure out the final egg without completing all of the others. "It is pretty involved," he says. Most, if not all, are easy to spot. Within an hour of an episode airing, Reddit is filled with cracked eggs. "We have the viewers who tune into Mr. Robot just to see the story, but we have another smaller subset of viewers who come to Mr. Robot to solve these problems," Adana adds. During Elliot's 1980s-inspired vision sequence from "eps2.4_m4ster-s1ave.aes," viewers quickly figured the numbers on the turnpike sign were part of an IP address. "We have trained our viewers so that even if they see four numbers on a street sign," says Adana, "they'll think it is an IP address and put it into their browser, which is kind of cool."
Others are more daunting: An Easter egg hidden within "eps2.1_k3rnel-pan1c.ksd," which aired in late July, still hasn't been solved, which Adana knows because Easter egg obsessives and other fans of Mr. Robot constantly reach out to him via Twitter or Reddit. Even the half dozen or so consultants who help orchestrate the hacks and plan out the technical details aren't cued into the Easter eggs. When they do crack a code, they'll send Adana a link to it with a smiley face emoji.
It is worth asking, though — is the overall experience worth the hassle? Adana says Esmail has been supportive of the challenge, even coming up with a few Easter eggs that have been incorporated into the show himself, but Adana has to juggle this task with all his other Mr. Robot duties. Why not skip this massive undertaking? "I was inspired by the tone of this show, and the nature of a hacker's psyche, this whole problem-solving element," he says. "We have this cool groundbreaking hacking show, and people are really turned on by the tech that we use."
He continues, "When I started working on the show, I got on a kick that all the screens would be real, and I wanted to take that to the next level. Why can't the IP addresses be real too? It's never been done before, but let's try it. I want our viewers to go somewhere that would be cool, and that then opened up the door to these other ideas."
As for the episode on Wednesday night, Adana advises, "It is a given, but keep your eye on the URL addresses, and see where they go."