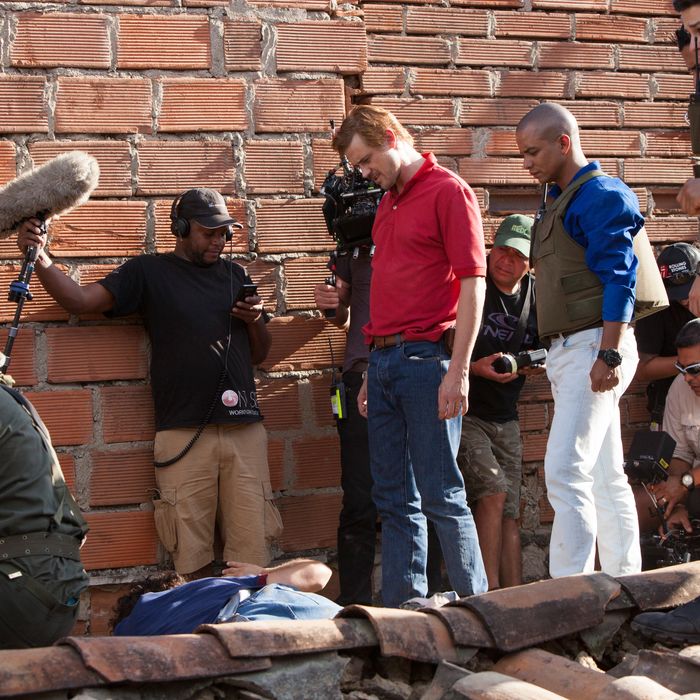 On the set of Narcos, during filming of scene of Pablo Escobar's death.
Photo: Juan Pablo Gutierrez/NETFLIX/Juan Pablo Gutierrez/NETFLIX
Though the fate of coke kingpin Pablo Escobar was sealed from the moment Narcos began, it was still cathartic to see the megalomaniac who says things like, "Sometimes I'm God. If I say a man dies, he dies the same day," get gunned down. Sure, it took the combined forces of the Colombian government, D.E.A., and the vigilante group Los Pepes to get to the climactic gun battle depicted in "Al Fin Cayó!" Filming that roof shootout also had its challenges, not the least of which, says showrunner Eric Newman, was saying good-bye to the production's "heart and soul," Wagner Moura. So shooting the sequence, done in one day with handheld cameras, was saved until the end of production. Newman broke down what else went into creating Escobar's last stand.
The show compressed time so Escobar could die on his birthday.
Though it's true the narco-terrorist was caught after the Search Bloc located his phone signal while he was talking to his family, he was actually killed the day after his birthday, on December 2, 1993.
The authentic Medellín locations didn't include Escobar's last hideout — because it's now a brothel.
The current owner of his last safe house would've happily let the show shoot there. But a nearby interior was used instead, because, Newman says, it would've been too hard to retrofit the Escobar-themed whorehouse, with its stripper pole, and drawings of the drug trafficker above the beds. Since a second story had been added onto the building Escobar jumped to and was killed on, an adjacent roof subbed in. The show supplied its own tiles to protect Moura's bare feet from the 33-year-old surface.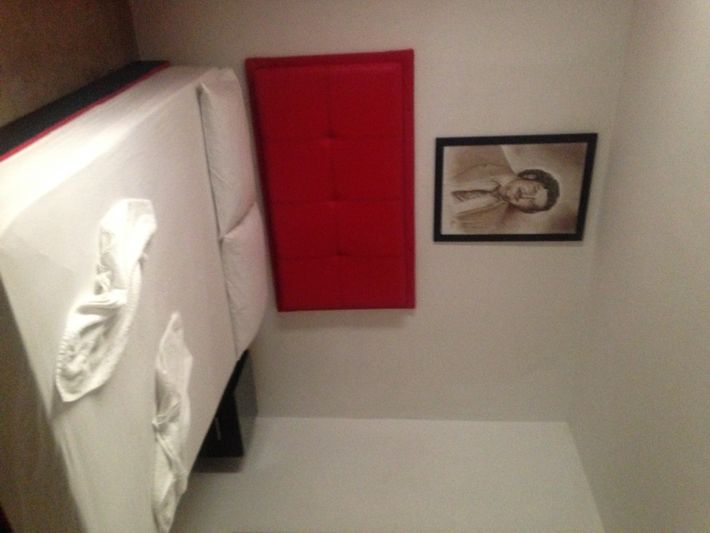 Trujillo, the Colombian cop who executed Escobar, was based on three policemen.
Newman says two of the cops, one of whom was Hugo Aguilar, worked closely with the vigilantes. Google Aguilar, and you'll see a photo of him standing over Escobar's body. He became a politician, got busted for corruption, and went to jail; the other cop became a drug dealer. The third, known as "El Negro," was also said to have pulled the trigger.
As for D.E.A. agent Steve Murphy's unfinished voiceover after Trujillo executes Escobar — "You take a good long look at evil and it reminds you of one thing …" — Newman says nothing more was written because "it felt like enough was said."
Murphy didn't call Pēna from the roof.
The D.E.A. agent, who was not on set when the shootout was filmed, told Newman he actually spoke to his exiled partner either later that night or early the next morning, and Pēna was on a plane to Medellín the next day.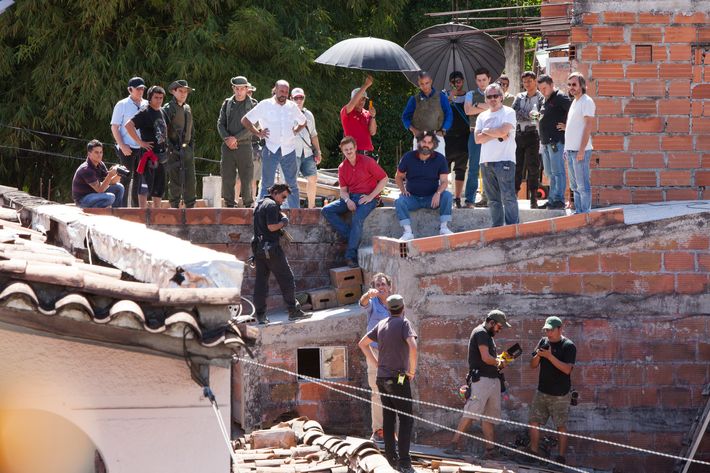 Yes, Escobar's mother showed up at the crime scene — but the Castaño brothers and Don Berna probably didn't.
After she identified herself, Newman says police asked Hermilda to identify her son. When she was first shown his driver's, Límon's, body she mocked them, thinking they'd killed the wrong guy.
Showing the drug lord with his brains blown out, and re-creating the photo of the cops standing over his body, was always the plan.
"The reality is he died with half his head missing, on a rooftop in Medellín, grossly overweight, and alone, except for one guy who hung in there," Newman says. As for the shot of the real Murphy and Pēna toasting his death in a bar, Newman says they always wanted the cops, who served as show consultants, to do a cameo.
Narcos will pick up with the Cali cartel next season.
Newman says the "tragic" story will begin with their takeover in 1993–94, but he wouldn't say whether Pedro Pascal's Pēna will be back.