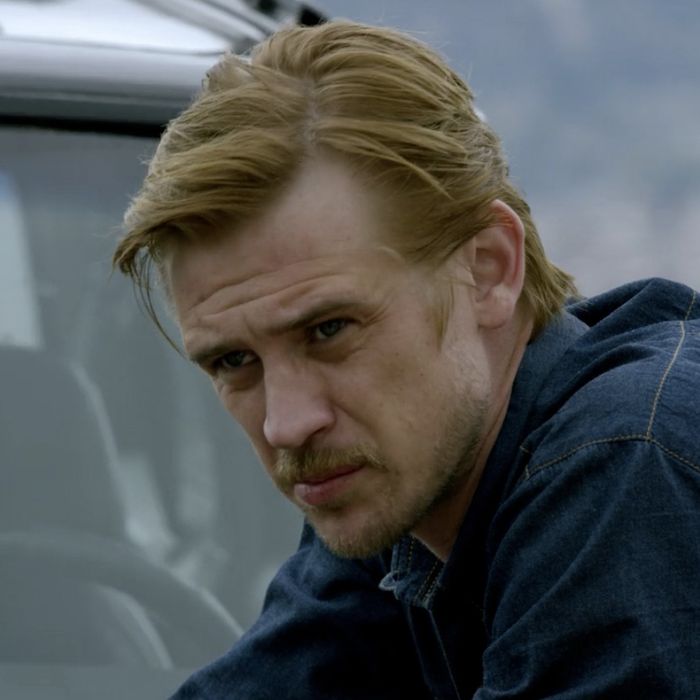 Boyd Holbrook as Murphy.
Photo: Netflix
"I'll show you the way," Pablo tells Limón at the end of "Exit El Patrón," after yet another near miss with Search Bloc. Wherever they're going, they'll be alone when they get there.
How did the world's biggest drug lord end up with just one person at his side? With only two episodes left in its second season, Narcos digs into Pablo Escobar's waning days. An impulsive car bombing ruined any chance of a negotiated surrender. Even worse, President Gaviria outright refuses the attorney general's request to send Pablo's children out of the country, demanding that he not be allowed to surrender. As the Cali Cartel's Gilberto observes, Pablo "really fucked up."
Blackie hasn't given up on Pablo, though. After following Pablo's order to build a massive car bomb, he's miserable and on the run in Bogotá. Even then, he follows Pablo's latest kamikaze order, agreeing to lurk around a government-controlled hotel where the Escobar family are being held. As police close in on him, Blackie offers his boss the consideration that Pablo never gave him, lying that he can see Tata from the window.
Limón has his own crisis, praying alone in Pablo's dismal hideout. He surely has his doubts at this point, but Pablo still manages to reassure him. For Quica, though, there's never a question about following El Patrón to the end: He's not going to do it.
While helping Pablo's flop-sweating accountant Rojas collect the cartel's remaining cash for a last-ditch attack on Los Pepes' Montecasino stronghold, Prisco assures Quica that there's only a 50 percent chance they'll die. It turns out there's a 100 percent chance Prisco won't make it to sunrise, though: Quica shoots him and the accountant, then tries to flee with the money.
Instead, he's caught by Search Bloc and quickly gives up the sicarios' rallying point. Quica's information helps the police kill the rest of Pablo's army, which is small consolation to a frustrated Peña, who hoped Pablo would show his face.
Meanwhile, the Gallón gang take an increasingly desperate Judy Moncada up on her offer to ditch Pablo for Los Pepes. Similarly, Miami cartel man Lion's encounter with the Cali Cartel has turned him into an enthusiastic, if secret, Cali supporter. Lion happily betrays all of Pablo's financial secrets to Pacho, only to find himself strangled by Navegante.
Even Tata abandons Pablo, if less treacherously than his former cronies. She's stuck in protective custody at the hotel, and her son is slowly realizing that a death squad is obsessed with murdering him. With few options left, Tata tries to convince Pablo's mother that they can't count on him to solve their problems anymore. If they're going to survive Los Pepes, they'll have to do it themselves.
That realization inspires Tata to call Valeria Velez, Pablo's former mistress and maybe the last person willing to do him a favor for free. Nevertheless, Valeria helps relay a radio from Pablo to the wife whom Valeria once thought he'd leave. Tata takes the radio, then refuses to talk. For her trouble, Valeria and her camera crew end up murdered by Los Pepes and stuffed in their news van.
As his band of loyalists dwindles down to Limón, Pablo radios in a good-bye to his wife, then has a gloomy last call with Quica, who's now in police custody. With his support all but disappeared, Pablo has finally realized what's already obvious to everyone else: He's going to die. There won't be a deal with the attorney general. There won't be a desperate attack on Los Pepes. It's over. Pablo hangs up the phone, then tells Limón all he needs to know: "They're all gone."
Cartel Club:
The close-up shot of Navegante smiling after he garrotes Lion is pure fan service. It's a rare moment of happiness for Navegante, who spends the rest of the episode moodily toting Pacho's loud print shirts around Miami.
Speaking of beloved flunkies, a fond adiós to Dr. Ricardo Prisco. Healthy to the end, Prisco is shown eating an apple right before Quica executes him.
For all his sweat, Limón takes Pablo's final days with dignity. Not so for Pablo's accountant Rojas, who reacts to the cartel's collapse like a bug-eyed Bobby Moynihan character.
The Martinez Jr. subplot sets up the cell-spotting technology that helps Search Bloc nab Quica, but it doesn't make any sense. Although he doesn't have any experience with this difficult technology, he tells the cop to just do it better … and boom, it works.
What were the actual chances Prisco and Quica would survive the Montecasino attack? Five percent? Ten?
The Gallón brothers' meeting with Los Pepes inspires Pablo's planned attack on Montecasino. They're the same group that would later be implicated in the murder of Colombian soccer player Andrés Escobar, as related in ESPN's "30 for 30" documentary The Two Escobars.
DEA chief Messina finally points out that calling Pablo's one black sicario "Blackie" is problematic. She insists on calling him by his actual name, only relenting when Peña and Murphy have no idea who she's talking about.
Valeria Velez's real-life analogue didn't suffer such a gruesome fate. In the mid-aughts, she published a memoir about her affair with Pablo and eventually found asylum in the U.S.