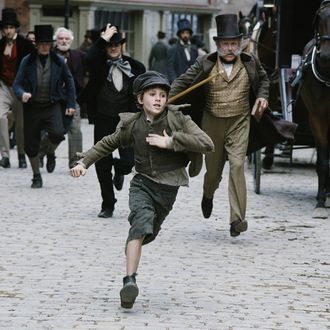 Barney Clark in the 2005 version of Oliver Twist.
Photo: Guy Ferrandis
NBC is developing a modern-day adaptation of [spins wheel] … Charles Dickens's Oliver Twist, turning the beloved novel into [spins wheel] … a gritty urban procedural with [spins wheel] … a female lead, THR reports. Called Twist, the series would be "a sexy, contemporary take" on the tale, turning the London orphan into "a struggling 20-something female," who finds a sense of community in "a strange group of talented outcasts who use their unique skills to take down wealthy criminals." So, Girls meets Mr. Robot, basically. The news comes days after the world learned of Fox's attempts to turn the legend of King Arthur into a police procedural about a graffiti artist, and only hours before CBS announces it will be developing Beowulf as a three-camera family sitcom.