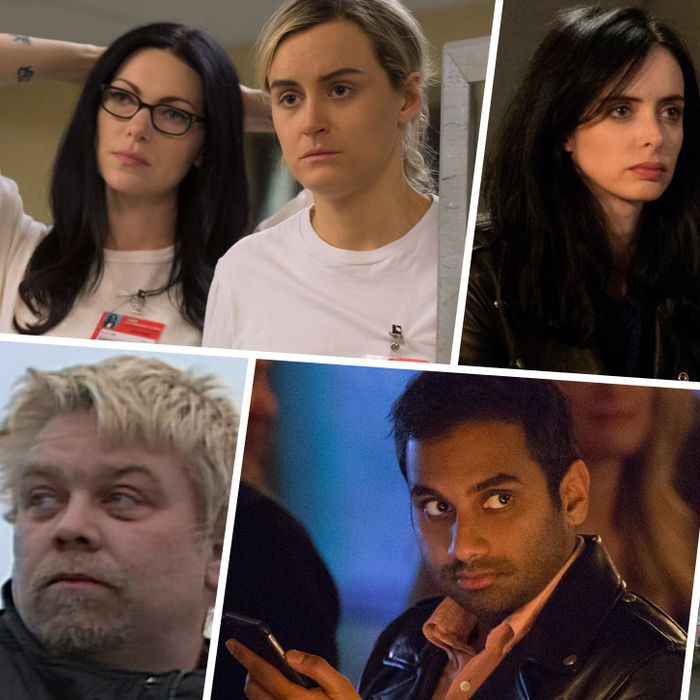 Last summer, Vulture published a ranked list of every Netflix original series. Since then, the roster of programming has more than doubled, and it's time to reconsider the impressive, overwhelming bulk of TV that Netflix now offers.
Like that list, I've excluded what's become an increasingly big chunk of Netflix's "originals" — programs like Marcella or Peaky Blinders, which began life in some other production paradigm and only later snagged Netflix distribution agreements. The international shows that have been included (Between, Atelier, and others) were conceived with, or produced specifically for, Netflix distribution. This list also excludes feature-length films, revivals of older properties (shows like Arrested Development, while Wet Hot American Summer: First Day of Camp is included because it didn't previously exist as a TV series), and original series like Fuller House or Degrassi: Next Class that are marketed toward a young-adult audience. Yes, it's still pretty silly to claim that Marco Polo and Chef's Table are an apples-to-apples comparison, but we're living in a Netflix world.
36. Real Rob
A sitcom from the mind of Rob Schneider, in which we learn that Rob Schneider thinks it's funny to run out of a book signing because "a busload of handicapped people" arrived and "they take forever." It begins with the premise that Schneider is the single most relatable person in the world, and proceeds from there, skating through jokes about how hard it is to be Rob Schneider, the travails of having an incompetent personal assistant, and the anxieties that come with a hot wife. Women, we learn, are so easily disgusted that they'd never eat food with a hair on it. Men, meanwhile, would eat anything with hair in it, unless that hair were attached to a pair of balls. It is the sort of programming that makes you want to bleach out your ears and eyes.
35. Flaked
Middle-aged white man tries to find himself, struggles with alcoholism, and rides his bike around a California setting that looks like your local mall's PacSun crossed with the worst smugness of a Whole Foods.
34. Between
A virus wipes out every resident of Pretty Lake over the age of 22, and none of the survivors seem capable of mustering an emotional response more passionate than a hearty " … Oh crap, this looks bad."
33. Marseille
A Netflix series from France, Marseille would love to be a dark, political, twisty, House of Cards–type drama with Gérard Depardieu as a Francophone Underwood. Instead, it is an incoherent political show that features, among other things, some truly upsetting sexual "humor." (Dear Gérard Depardieu's character, whatever your name is: Asking if your daughter's roommate makes noise during sex is not appropriate, jovial fatherly conversation.)
32. Marco Polo
Much better to look at than it is to listen to, Marco Polo is an exercise in attractive people wearing very attractive costumes. Somehow, though, it also manages to make even a martial-arts training montage boring. Perhaps some of its $90 million budget would've been better spent on story development.
31. Hemlock Grove
Hemlock Grove is more interested in gore and monstrosity than it is in editing, pace, storytelling coherence, or character development. The town of Hemlock Grove, Pennsylvania, is filled with monsters and mysteries, which makes the show a jumbled mix of plots — murdered teenagers, a nefarious Institute, werewolves, cults. You name it, Hemlock Grove crammed it in.
30. F Is for Family
An animated sitcom with hints of something interesting — such as explorations of family dynamics, masculinity, fatherhood, class, and pop culture — buried in a frustratingly dull, juvenile sensibility. Just because you can use animation to puncture visual taboos of, say, a kid watching his father's testicles bounce around doesn't mean you necessarily should.
29. Grace and Frankie
To its credit, Grace and Frankie creates a marvelously relaxing ambience, and it's hard to not feel warmth toward Sam Waterston and Martin Sheen as lovers. But it's much better at developing its beach-house atmosphere than it is at emotional nuance or characters who aren't caricatures. The frustrating thing about this series is the gap between its promise and its execution — the complete lack of nuance makes it cornier than an Iowa primary, and in the instances where you want it to slide into full-on Kleenex-tearjerker moments, it punts.
28. Love
Love boasts striking performances and characters, set inside a conceptually interesting premise: What is falling in love really like? The problem is that actually falling in love with someone is longer, slower, and less interesting to an audience than it is to the lovebirds.
27. Sense8
It's not that Sense8 is terrible; it's that it somehow manages to be both unsubtle and not especially coherent. The Wachowski-helmed series plays with appealing ideas, and its fundamental premise could make for excellent TV, but where its storytelling should be clearer it's opaque. And where its characterization should be more subtle it can get far too blocky.
26. Chelsea
In a crowded field of topical late-night TV, Chelsea is fine. Without any other programming gestalt to prod you to watch it every night, fine is not enough to turn Netflix's only daily offering into a destination show.
25. Cooked
Occasionally beautiful and undeniably attractive to watch, Michael Pollan's docuseries nevertheless falls into the unfortunate trap of preaching about food and food policy without making much space for the privilege that informs those stances, or the nuance and variability in human experience. It's mesmerizing to watch Aboriginal women hunt iguanas in the bush; it's less mesmerizing to watch Michael Pollan extol the cleverness of getting up before dawn and preparing food so your husband can have a home-cooked meal when he's at work.
24. The Ranch
Very old formula, very recognizable tropes, very staid (and occasionally stilted) comedy. For all that unoriginality, though, The Ranch is remarkably good at what it sets out to do. Its characters are human and act compassionately toward one another. Its setting is refreshingly rural, a rarity in modern sitcoms. And if Ashton Kutcher isn't a revelation, at least his character's parents are played by Debra Winger and Sam Elliott.
23. Chelsea Does
This four-part documentary series skips blithely between complicated aspects of modern life and tone-deaf detours into its host's Hollywood centrism. When it is bad, it is pretty notably bad, and even boring. Its revelations about the institution of marriage reveal very little. When it gropes toward bigger, more controversial subjects like race, Chelsea Does is sometimes frustratingly self-centered, but also weirdly fascinating.
22. Club de Cuervos
Netflix's first Spanish-language original series is a comedy/drama/melodrama show that suffers, as you might have guessed, from some identity confusion. The story of a fictional Mexican soccer team, Club de Cuervos swoops wildly between wry satire and serious emotional drama, and although it's often good at those particular pieces, it lacks the assured vision to tie its disparate elements together. Less a soccer show, more a "soccer-themed" show.
21. The Characters
A group of promising, under-recognized sketch comedians each get a half-hour to do whatever they'd like. Their showcases are often hilarious (especially Natasha Rothwell's), but the sketch-comedy focus has neither the slapdash rawness of SNL, nor the laser-point accuracy of Key and Peele.
20. Daredevil
There is so much superhero content out there already, and when Luke Cage premieres this fall, even more of it will be available on Netflix. When it was the only Netflix original show to fit this bill, Daredevil was fine. Now that Jessica Jones is around, it's hard not to wish its familiar grittiness and impressive fight scenes were harnessed by something more thoughtful.
19. Fearless
The weakest of Netflix's documentary series offerings to date, Fearless's greatest strength is also what makes it so frustrating: It's a series about competitive bull riding, and slow-motion footage is vital to turning eight-second rides into fascinating TV. But when nearly the whole thing is in slo-mo, an adrenaline-filled sport feels empty and sluggish.
18. House of Cards
One of Netflix's first tentpoles, House of Cards is better at a prestige-y veneer than it is at actual prestige-quality narrative. While Kevin Spacey plays his character with embarrassingly visible excess, Robin Wright's Claire Underwood is a stunning, implacable pillar of hard surfaces and internal machinations. Everything else veers rapidly between way-too-complicated plotting and underdeveloped surprise twists. Though initially absorbing, it feels increasingly unnecessary given the drama of real-life politics.
17. Bloodline
Bloodline is full of gripping, tense, emotionally fraught moments, and it places them inside an arresting, tropical noir Florida. When the show runs into trouble, it's because it's perpetually stuck with the burden of creating elaborate, deeply held secrets and plot twists — not to mention finding somewhere to put them.
16. Atelier
Atelier is a Japanese show about a young woman starting her first job at a boutique lingerie company. It begins with heavy shades of The Devil Wears Prada, and doesn't shy away from extended considerations on the nature of beauty, or the role of fashion on clothing, economics, and innovation. American shows about young people trying to make it (think Entourage or Silicon Valley or even Girls) tend to render that entire idea either comedic or foolhardy, but Atelier is built out of the pleasantly unfamiliar fantasy that hard work and passion will lead to immense career success. And as a bonus, it passes the Bechdel test dozens of times in every episode.
15. Wet Hot American Summer: First Day of Camp
If you loved Wet Hot American Summer, chances are great that you'll love First Day of Camp. If that cult property doesn't already speak deeply to you, the Netflix prequel will still have plenty of silliness and absurd plotting of its own to keep you engaged.
14. Hibana: Spark
I suspect that the exact things that make Hibana worthwhile TV are also the things that might hamper the Japanese series for an American audience. It's a show about a young man trying to succeed as a comedian, and it's unreservedly rooted in Japanese culture. From an outsider's perspective, the show's manzai-style comedy can seem baffling. But Hibana is beautifully made, and full of sharp specificity. The result is an appealing little show about Japanese comedy, set inside another show that's remarkable for its cultural precision.
13. Chef's Table
If you're not into food documentaries, Chef's Table won't change your mind. It's the foodiest food altar imaginable: a glossy, reverent, hagiographic exercise in gastronomic imagery and making-of-a-genius narratives. Very beautiful, intermittently transfixing, and includes more slo-mo footage than could ever be necessary. But it's so pretty.
12. Last Chance U
This documentary series about the East Mississippi Community College football team falters when it tries to uncover deeper social themes, but it is nevertheless eminently watchable. It's yet another example of a Netflix show that looks gorgeous, and it takes full advantage of Gabriel Patay's beautiful cinematography to show off its subjects.
11. W/ Bob and David
Part of the appeal of sketch comedy is watching the same people turn into different characters over and over. That element is missing from The Characters, and it makes W/ Bob and David so much more appealing. The zombie revival of David Cross and Bob Odenkirk's Mr. Show reaches peak silliness, and it's at its best when it jabs at overinflated self-righteousness.
10. Jessica Jones
Like too many Netflix series, Jessica Jones suffers from some bagginess in the middle of its season, resulting in a long narrative arc that's stretched too wide and too thin. Its structural issues are unfortunate, because so much of the rest is fantastic, effective, impressive work within the superhero genre. The show's reframed gender dynamics, terrifying villain, and foundational exploration of victimhood, memory, and trauma are remarkable.
9. Master of None
Aziz Ansari's often hilarious, frequently smart, and sporadically underwhelming comedy series has hints of the same structure and pitfalls of Chelsea Does — considerations of big social issues, filtered through one comedian's perspective. Unlike Chelsea, though, Master of None comes at those issues with a warmer, more open stance, and tackles its subjects with ambitious formal experimentation.
8. Making a Murderer
Sure, there are things to quibble about — it was probably too long, it was repetitive, it meandered through meditations about timelines and witness accounts. It also garnered criticism that its filmmakers are as biased as the justice system they're attempting to unmask. But Making a Murderer is also undeniably gripping, and its slow journey through a very strange set of crimes touches on vital, infuriating, and little-seen aspects of criminal justice as it operates on a local level. Its impact on real-world events continues to unfold; its impact on true-crime television will continue to reverberate for a long time.
7. Lady Dynamite
A comedy defined by its unrelenting self-consciousness, its resilient mix of optimism and fatalism, its commitment to honest self-examination, and the markedly specific vision of Maria Bamford. Lady Dynamite is uneven, but make no mistake: It finds tremendous success through its willingness to experiment, its absolute devotion to exploring the self, and the tangled questions Bamford raises about fame, mental illness, and happiness.
6. Narcos
An appealing, gripping, smart drama. The first episodes of Narcos sweep across decades and spend way too much time waving the exposition wand, but it somehow makes those tropes feel confident rather than tiresome. Yes, the story of Pablo Escobar covers well-trod Difficult Man territory, but Wagner Moura's performance is charismatic and layered, and Narcos' deadpan tone is a bracing way to frame Escobar's often gruesome life.
5. The Get Down
Baz Luhrmann's The Get Down is a fabulous, ambitious, sometimes bloated, often messy, always full-throttled story. It's defined by some solid performances from Justice Smith and Herizen Guardiola, along with a characteristic Luhrmannian aesthetic that stuffs every frame with color and glitter and noise. As with the best Luhrmann productions, The Get Down is obsessed with performance and passion, and it couples that obsession with a real, palpable commitment to the music it's working to portray. It's jangling and raucous and forthright and big.
4. Stranger Things
I suspect Stranger Things will always remind us of this strange summer. Aside from a swift and widespread fanbase that emerged almost immediately, the show itself seems to represent numerous current threads: nostalgia, especially for the '80s; reverence for source materials, but also a desire to reconstruct them; and (slightly) reconsidered gender politics.
3. Unbreakable Kimmy Schmidt 
The Ellie Kemper–led sitcom has been plagued by its tone-deaf approach to racial issues, and in the way it sneers at its critics. When it's on, though, Kimmy is one of the funniest, most pointed comedies around, and although its most recent season fell to the lows of Titus Andromedon dressed as a geisha, it also created razor-sharp musical parodies, skewered wealth culture, and made a concerted effort to consider Kimmy's trauma.
2. BoJack Horseman
Is any contemporary series as sure-footed as BoJack Horseman? It's a remarkable feat, made even more impressive by the show's treacherous narrative territory. BoJack is ostensibly a comedy about a washed-up sitcom actor (who, yes, is also a horse) struggling to find relevance in a late stage of his career, and it is frequently, deliciously silly. His surrounding cast of misfits and friends and agents, including his friend Todd, his feline agent Princess Carolyn, and a Labrador named Mr. Peanutbutter, are some of the most well-rounded, thoughtfully constructed characters around. Many of them are also cartoon animals. It's a deeply sad and utterly fearless show, unafraid of combining trenchant political and social observations with formal experimentation and visual gags.
1. Orange Is the New Black
If you only watched the first few episodes of OITNB's most recent season, you might question the show's greatness. It's an underwhelming start. The flashbacks aren't as revelatory. The plots take a while to come together. And then, as the back third of the season gets going, OITNB stops pulling punches, and weaves together a devastating story about black lives, the inhumanity of private prisons, victimhood, memory, and how we use stories to shape our understanding of the world. The show has sparked some criticism as well as praise, but it is impossible to come away from the fourth season without being moved in way or another. It is a bold, unforgettable accomplishment, and it cements OITNB as Netflix's best original series.