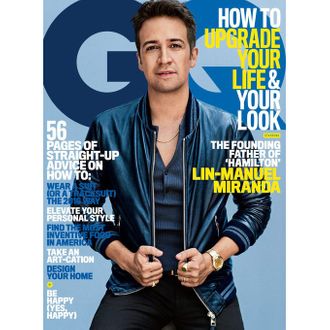 More like Lin-Manuel New-hair-da
Photo: GQ
After leaving Hamilton, Lin-Manuel Miranda cut off his ponytail. This wouldn't be much news, except, oh my God, Lin-Manuel Miranda cut off his ponytail. Sorry, we apologize for losing a sense of decorum. The award-winning actor and writer has a new interview in GQ, where he talks about working hard on the Hamilton mixtape, getting ready to shoot the Mary Poppins remake, and how nobody recognizes him without his ponytail, not even the teens he is actively lying to on the subway:
Now that my hair is off, and I look less like The Guy in the Thing, my life's been a little easier. Yesterday I took the train uptown, and I'm in this crowded 1 train, and this teenage girl next to me goes, "You look exactly like Lin-Manuel Miranda," and I go, "I know. I get that a lot." And she goes, "You even sound like him." And I go, "I've been getting that all year." I felt bad about lying to her, but it was a really crowded train and there was not a lot to be done.
In the interest of thoroughness, here is better look at Lin-Manuel Miranda's new haircut. Have a good day.