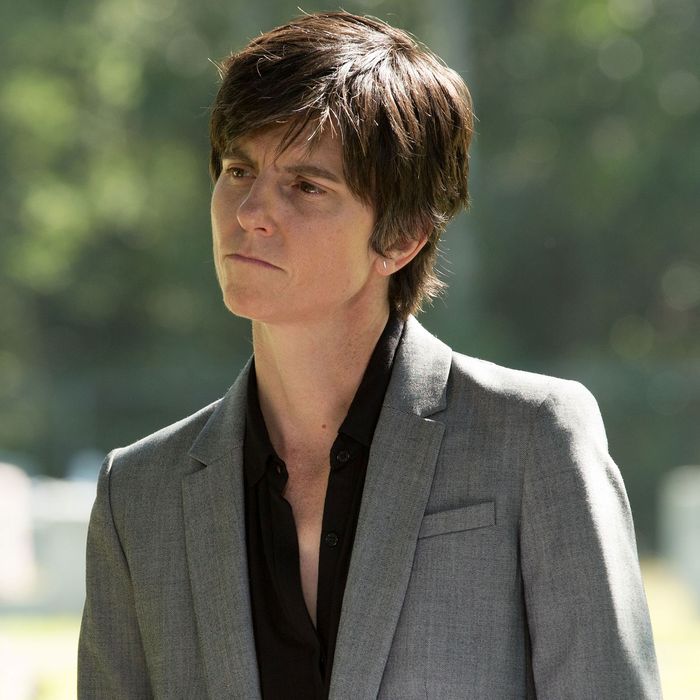 "You look like shit." That's how Tig (Tig Notaro), the heroine of One Mississippi, is greeted at the airport near her hometown, and it could serve as a catchall description for this half-hour comedy's methods.
Did I type "comedy"? Sorry, force of habit. Notaro is the star of this Amazon show, its co-creator (with Juno scribe Diablo Cody, her main writing partner), and an executive producer, alongside Louis C.K., whose longtime director of photography shot the show. The result absolutely fits the description of the Comedy in Theory, a 30-minutes-or-less production that might look and feel like a sitcom in some ways, or at least some of the time, but that tends to prize discomfort and brutal honesty over slapstick and jokes. This series is a logical outgrowth of Notaro's stand-up career and talk-show appearances, which tend to dwell on (or at least circle back around to) her misfortunes. She's had plenty, most of them concentrated in a year that included a breast-cancer diagnosis, a double mastectomy, the death of her mother, and a nasty breakup. Yikes, I forgot about the intestinal parasite: That's covered here, too, and it's probably the main reason Tig looks like shit when she arrives home.
Even if her life were going swimmingly, she might still look less than daisy-fresh: Tig's mother is terminally ill, and the instant she arrives, she has to decide — with help from her brother Remy (Noah Harpster) and her stepfather Bill (John Rothman) — whether to pull the plug. The handling of Tig's mother's death confirms what that airport greeting made you suspect: This show isn't into sugarcoating at all. Tig thought terminating life support would just let the old woman slip into the great hereafter, the way it does in movies. Turns out it's much messier than that.
What's the show about? What happens? Those are the questions people tend to ask when you recommend a new series, and here — as is the case with Atlanta and Better Things — I'm not certain how to answer them. I guess you could say that One Mississippi is about grief and mourning. It addresses those issues head-on, particularly in scenes that show Bill and Tig arguing about how and when to deal with the estate. Bill is a brilliant study in denial and suppression all by his lonesome; Rothman's delicate layering of resentment and anger over the course of three episodes should be studied by aspiring actors who want to know how to illustrate a basic aspect of the human condition over a long span of screen time without underlining or boldfacing anything. Tig, too, seems as if she's not entirely in touch with the depths of her own pain. As as storyteller-DJ, she is used to turning her life into art, often before life has had a chance to settle; we see her dictating what amounts to an extended answering-machine message to the mother who can no longer hear her, and working out material for her radio show, including song cues for her producer ("Now go into 'One of Us Is Dead,' by the Earlies"). How much of this artistic woolgathering is truly a means of confronting pain, though, and how much is an elaborate sort of evasion? The show doesn't answer this, but the question is implicit.
One Mississippi is also about more than the darker emotions. It's at its best, perhaps, when showing the emotional complexities of family. Harpster, Rothman, and Notaro have such convincing chemistry that whenever they're in the same room together, the characters' peculiarities of speech and gesture feel so lived-in that you feel as if you're sharing a table with them. Bill's anti-sentimental attitude and tendency to fuss and fume agitate Tig and her brother, yet they try not to jump on him too hard under the circumstances. They often express their opinions through very dry, sarcastic asides; Tig calls Bill "the only person in the world who can get a cat on a schedule."

Bill tends to view everything in terms of harsh practicalities, as if they are all struggling to survive a zombie apocalypse rather than dealing with sad but mundane events in a Mississippi town. Some of the exchanges are laugh-out-loud funny precisely because they sound like stories you'd tell to relatives about your own family members when the subject of the tale is out of earshot. An early-morning kitchen scene finds Remy advising Bill that he doesn't have to wait for the coffee pot to finish brewing, that he can just rob the pot. "I prefer to let the machine complete its process," he says. The lively cast of supporting characters include Casey Wilson as Tig's girlfriend, Brooke, who's sweet and upbeat, but also a tad chirpy and smothering, and Stacie Greenwell as Bugsy, who tells Tig that she and her mother and a lot of other people prayed for her recovery, and that's why she survived breast cancer. Tig is skeptical about that, with good reason, but Bugsy won't back down. God, she says, "loves everybody, just like any father loves all of his kids, but He appreciates the ones that call Him, and He rewards them more."