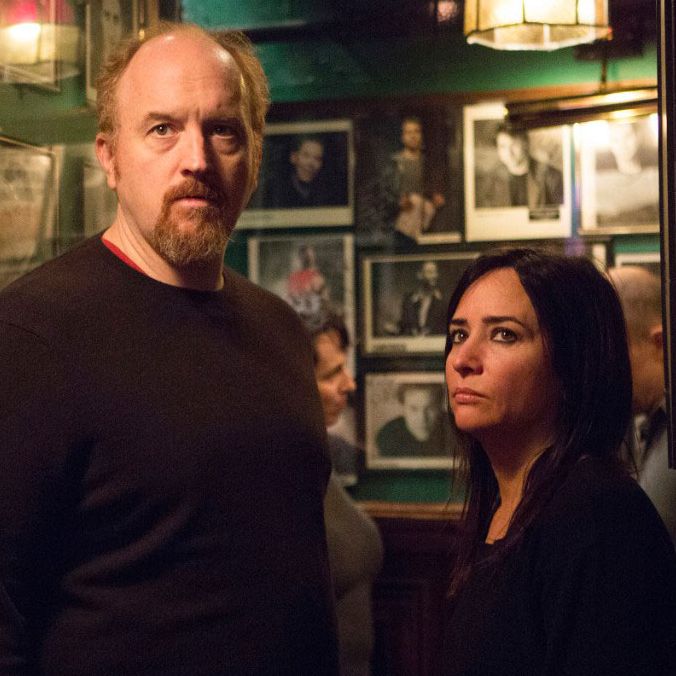 It's hard to pull Pamela Adlon's character on Louie, a brusque, sometimes love interest, out of the orbit autobiographically. That's what happens when you play a recurring character on a show named for, and starring, a guy who's essentially playing himself — especially if you are playing a character also named after yourself. And it's also what happens when your work on that show as an actress (in 14 episodes), writer (with credits on seven episodes), and producer (since 2010), gets you a semi-autobiographical show of your own. That show is Better Things, premiering tonight on FX, which Adlon writes, produces, and stars in, while C.K. gets co-writing and co-creating credits (he also directed the pilot). Adlon's character in Better Things, Sam, an actress and single mother living in Hollywood, is much closer to her life than her character on Louie.
And though C.K. and Adlon have long worked together closely, looking over the episodes in Louie where Adlon is credited as a writer or an actress, you can get a sense of her fascinations. If Louie, or at least C.K.'s character, tends to meander from scene to scene and story to story, Adlon's episodes are more confrontational and straightforward. Take the graphic cold open in "A La Carte" (Adlon get a story-by credit), where Louis poops in front of his daughters, something she'd been pushing to get on the show for "four fuckin' years," as she told Vulture. The scene could be a statement of purpose about Adlon's style: Uncomfortable experiences don't go away, they cling to you in ways that are all-too literal. "I want the real moments to just lay there," she told Vulture when talking about Better Things, "and be super-uncomfortable — lay there like a fart."
In the same way, Adlon's episodes of Louie introduce uncomfortable conversations about trauma, love, and sex, and turn on bursts of violence. Children are often in the background, and their presence underlines the tension between being a parent and being a person, with embarrassing tendencies and an embarrassing body. Her first story credit, season two's "Bummer/Blueberrys" (C.K. also gets a story credit, and credit for the teleplay) exemplifies this pattern. It begins with Louis witnessing a homeless man getting decapitated by a garbage truck. Then, he goes on a date. In typical Louie zigzag, his gloom ends up making his date take him seriously, until he tells her the story of what happened, and she's repulsed. In the second half of the episode, Louie hooks up with Maria Dizzia's Delores, a single mom at his daughters' school, who makes him pick up condoms, lubricant, Vagitine, and blueberries at a pharmacy. Then she insists that he spank her during sex and calls him "daddy" before breaking down into tears. After she collapses, the episode cuts to Louis watching Delores eat blueberries and cream in the relative calm of her kitchen. She tries to make small talk about their kids.
Other episodes Adlon has a writing credit on repeat similar patterns. They often have Louie's sex drive come into conflict with his responsibilities as a parent, or simply a functioning adult. In "Daddy's Girlfriend: Part 1" (where Adlon has a story credit), C.K. goes on a date with Maria Bamford, and has recurring fantasies about Parker Posey's bookstore employee. Tellingly, those fantasies alternate between being about sex, and about these women bonding with his children.
The classic Adlon-C.K. story structure — built around bursts of honesty so unbearable its stench lingers — is perfected in Louie's relationship with Adlon. As seen in the three-part arc of "Pamela" episodes that anchor Louie's fourth season (Adlon gets written-by credits on parts two and three), they both want and are disgusted by each other, and lash out when they can't separate the two. In part one, Louis aggressively tries to kiss Pamela. As she pushes him away, she says, "God, you can't even rape well." That brutal discomfort hangs over the rest of their relationship, into season five, where Pamela still insists on keeping things casual. In "Bobby's House," Pamela dresses up Louis in makeup, and pushes him into sex as he says no. It's a more intense replay of the kissing scene in "Pamela: Part 1." Writing on Vulture, Danielle Henderson asked, "Did Louie get raped?", concluding, "It's okay to have depictions of relationships that have their fair share of muddy waters. But last night he clearly said no, and I just don't think that's a gray area." Time and again, Adlon's presence adds a layer of painful, in-your-face reality that can't be ignored. The last we see of him and Pamela, in "Sleepover" (another story credit for Adlon), they have phone sex, which is interrupted by the noise from the sleepover Louis's holding for his daughter. When she hangs up, we hear a man, probably Pamela's new boyfriend, calling out to her from another room — a twist that lays there like a fart in a very Adlon sort of way.
In Better Things, Adlon is at the center of the story. She can include all the farts she wants, or whatever else seems interesting: kids, Hollywood, age, porn, pot. She seems aware, too, that having her own show means the freedom to explore, and having to be responsible for whatever territory she covers. There's a scene at the end of the Better Things pilot (written by her and C.K., and directed by C.K.) where Sam, in character for her latest acting gig, hooks up with a man played by Bradley Whitford. She pauses the shoot, and asks the director if they can cut the part where his son walks in on their characters hooking up, explaining that her kids might be put off. "You mean the funny part?" She shrugs, as if to acknowledge, yeah, it's funny, but it's not the way I'd do it. The director thanks her for understanding and hurries off. As the episode wraps up, the words "dedicated to my daughters" flash across the screen.