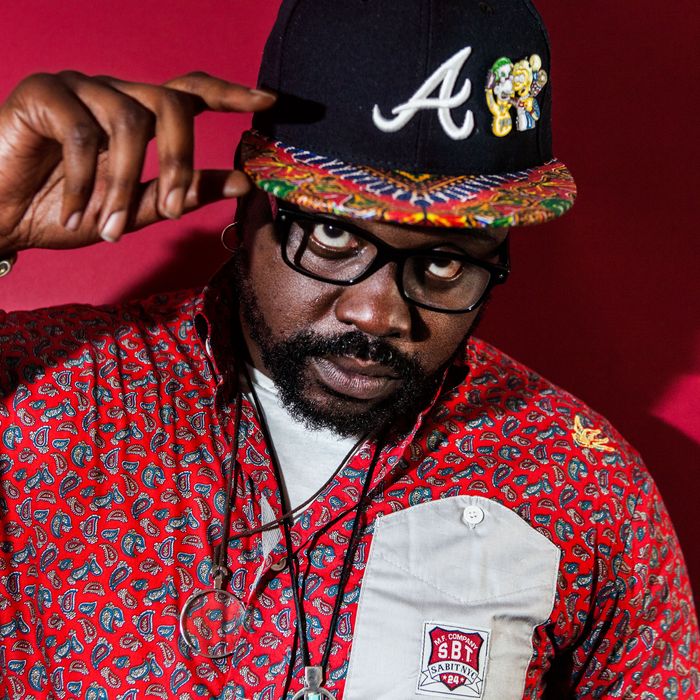 Brian Tyree Henry stops by the New York offices, in an Atlanta Braves cap.
Photo: Konstantin Sergeyev
Brian Tyree Henry spent his first day in character as Alfred, a.k.a. Paper Boi, on Donald Glover's new FX comedy, Atlanta, filming a music video in front of a housing project in Bankhead, the west Atlanta community known as the birthplace of trap rap. "We'd play the song and the neighborhood kids would come out," Henry, 34, recalled over lunch in Los Angeles. "They really thought I was Paper Boi." 
Atlanta, which premiered its first two episodes Tuesday night on FX, tells the story of Earn Marks (Glover), a struggling, underemployed father who sees an opportunity to manage his cousin Alfred's budding career as a trap rapper. (The subgenre of rap music, which began in the early 1990s, marked the first time "trappin," or drug dealing, was introduced in the lyrics of rap songs. "Trap" also refers to the feeling of being stuck in a life of poverty.) When Glover auditioned actors to play the show's rapper, he looked for men who had comedic timing but could also be intimidating when necessary. "Someone who was scary to some people just by existing," Glover said. At six-foot-two and 250 pounds, Henry cut the imposing figure needed for Alfred, whose day job is selling drugs with his buddy Darius.  
"I'm a big guy, I look like a linebacker, you know? But no one cares, really, that I'm educated," Henry said. "I have a copy of Fire Next Time by James Baldwin in my bag. I have an Ibsen play in there, too. I have to walk through this world with that duality all the time, that I live in two different worlds. And that's what I love about Alfred — Alfred only knows one world. He's not gonna make any apologies, 'cause you in my town."
Henry, who has a teddy-bear charisma and is quick with a joke, grew up in North Carolina with his four sisters until his parents separated, and his mother, a special education teacher, moved with the five children to Washington, D.C. After graduating from Morehouse College in 2004, Henry earned an MFA from the Yale School of Drama. His big break arrived in 2011 when he became the first actor to play the role of "The General" in The Book of Mormon. Since then, Henry has appeared on TV dramas, such as The Good Wife and Boardwalk Empire and has a recurring role on HBO's freshman comedy Vice Principals as the principal's (Kimberly Hebert Gregory) lousy, estranged husband. But Atlanta gave him his most high profile role to date.
Henry remembers how just hearing his manager say the title of Glover's show made him nostalgic for his years at Morehouse, living in a city where black people lead in business, government, sports, and entertainment. It was also in Atlanta where Henry first envisioned a different life for himself. "I discovered that acting gave me this spark, this thing,"  Henry said, adding grimly, "Honestly, it was a way to survive. Living in the South at that time, being a young black man, there are statistics: Once you're 18, you're supposed to be in jail or you're selling drugs, and once you're 21, you're probably dead." The show, Henry adds, "invites you to see the different sides of Atlanta, the different sides of us than what you think we can be or can't be," he said. "The show is blaaaaaack. It is unapologetically that."
The role of Alfred in particular evoked memories of some of Henry's college friends, "that guy who loves family and friends but can be petty at the same time, that country guy who makes anyone laugh, that can just get the party going and still be down-home country." But as he reflected more on the character, he saw same of his father — a Vietnam veteran and public bus driver — in Alfred as well.
"My dad was the life of the party, he and my mom would have people over, and everyone wanted to come to their cocktail parties and hang out — I literally always went to school smelling like cigarettes and weed," Henry said. "Alfred is what my father would have been like if things had veered a different way. I don't think my father would've been a trap lord, but you know, he has his charisma, his charm, and infectious laugh." He paused, his eyes welling up. "Alfred is my dad!"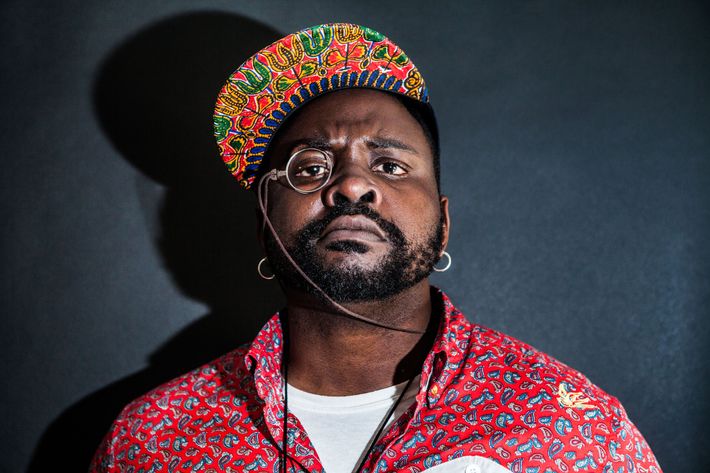 To play Alfred, Henry also studied how different rappers move, but didn't want to model him on any one specifically. "The rap scene is so unique," he explained. "Every rapper has to bring their own thing. You look at Anderson Paak, who is a rapper, but is also a singer; Chance the Rapper, same thing, but he raps and sings at the same time; Lil' Wayne has his own clothing line, even Donald has his own lane. I had to treat Alfred like an individual, figure out his style." He focused on developing Alfred's other traits and habits: Alfred likes to smoke marijuana, play video games, and is as quick with one-liners as he is with his gun. "I'd think about little things like, what sign is Alfred? I decided he's a Virgo," he said. "I'd listen to music in my trailer and it'd be jazz or classical opera or the Bee Gees." Above all, he wanted Alfred to be a relatable, believable character, because it's a characteristic he associates deeply with hip-hop. "Hip-hop is not about pretense," he explained, rattling off a poetic list of reasons why: "You can be missing an eye; you can have an ice-cream cone in your face; you can run around with Bantu knots; you can decide to wear gold, all everything. It's not about how you look — it's about what you say. It's about what message you're getting across." Glover agreed: "Rapping is just conveying the attitude you have about the situation. Brian did an amazing job of that."
Henry and Glover had never met until Henry was called in to test with the show creator. Glover said "improv with Brian felt more like hanging out," and emphasized his professionalism on set. "Some days it was very hot, hot enough to make you sick. Brian and I would be dying from the heat, but as soon as the camera was rolling, it was like it didn't affect him," Glover recalled. "I felt cooler just watching him. It's like he has a switch — he's able to jump in consciously and convey something that's unconscious."
Atlanta director (and Glover's longtime music video director) Hiro Murai said that on paper, Alfred felt like the least accessible of the three main characters, as if he existed mainly as a foil for Earn. But, by the end of the season, Murai predicts, viewers will feel the most for Alfred. "He is the biggest gap between character and actor in all of the cast of Atlanta," Murai said, "but he really knows this person, and on top of that, he's someone who has a lot of pathos as a performer. You leave the season really knowing who Alfred is."
These days, Henry has a painful thread in common with Alfred. In the pilot of Atlanta, Alfred mentions having lost his mother. Henry's mother, Willow, died in a multi-vehicle accident in Maryland, the day Atlanta wrapped production on its first season. Henry remembers his colleagues holding him down when he received the news.
"This is the first time I've really understood what the word 'bittersweet' means," Henry said, noting his mother's absence was heavy on his mind because it was the third "monthaversary" of her death. "We were very close spiritually. We were supposed to go on a road trip this summer and she was going to go with me to the premiere in Atlanta. There are good days and bad days, but I am really riding on the good ones right now. The biggest thing is just trying to hold onto the joy."
"I was driving down Melrose Avenue the other day and almost crashed my car — there was the Atlanta billboard," he continued. "I started sobbing. Ma, there it is. There it is. So I just wanna feel that. I'm so proud of this show. If you had told me five years ago that something this great, this cathartic, this therapeutic and fun and great would have fallen my way, I would have said, 'Nah, no one's gonna write a show like that.' So, God bless Donald Glover."