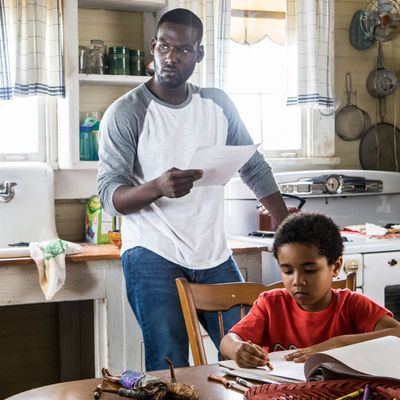 Kofi Siriboe as Ralph Angel, Ethan Hutchison as Blue.
Photo: OWN
The black-family saga has taken off on television. First, Fox hit pay dirt with Empire, and now OWN has two of its own: Greenleaf and Queen Sugar. The latter is based on a Natalie Baszile novel about siblings who inherit their late father's Louisiana sugarcane farm and must protect it from vultures and their own fraying relationships. It's also one of the most anticipated shows of the season, touting Ava DuVernay and Oprah Winfrey as its co-creators. It can be hard to manage expectations for such a big debut, especially since the show has already been renewed for a second season. You need not worry, though: If Empire is a whirlwind of histrionics, and Greenleaf is a runaway train, Queen Sugar is a slow, simmering pot of gumbo.
DuVernay wrote and directed the first episode, "First Things First," and it deviates from Baszile's novel right away. A close-up shot introduces Nova Bordelon (Rutina Wesley) waking in bed next to her lover, Calvin (Greg Vaughan). "Faithful" by series composer Meshell Ndegeocello, plays in the background, and the lines hint at the couple's relationship: "No one is faithful / I am weak / I go astray / Forgive me for my ways." The camera pans over Nova's locs and tattooed skin, and she flashes a shy smile at Calvin, who helps her dress. The act is as sensuous as any undressing, and it's a trademark DuVernay moment. She is always careful to show love scenes in which black women are being touched tenderly and with care.  (If you haven't watched I Will Follow, Middle of Nowhere, or even the episode of Scandal she directed, fix your life.) It's quietly revolutionary to show black women in the act of gentle lovemaking, and I, for one, am ready for more of it on television.
Next, we meet Ralph Angel Bordelon (Kofi Siriboe) and his five-year-old son Blue (Ethan Hutchison). Ralph Angel tells Blue about the importance of discipline just before leaving him alone at the park to go rob a convenience store. After Ralph Angel knows he won't be caught, he comes back to get Blue and take him to stay with his Aunt Violet (Tina Lifford). Aunt Violet is flirting with her younger man, Hollywood Desonier (Omar J. Dorsey), and refuses to take the cash Ralph Angel offers in exchange for watching Blue. Violet doesn't know it's stolen money, but she wouldn't want it even if it was clean. She tells Ralph Angel to give the money to his father, Ernest (Glynn Turman). Later, he does just that, but only after telling his father that he won big during a craps game. Ernest takes the money, but knows his son is caught in something shady, especially since Ralph Angel is only six months out of prison.
"First Things First" then introduces the last Bordelon sibling, Charley Bordelon West (Dawn-Lyen Gardner). In further deviations from the novel, Charley lives in Los Angeles with her husband Davis West (Timon Kyle Durrett), a professional basketball player, and their 15-year-old son Micah (Nicholas L. Ashe). The West family lives in a literal glass house, the irony of which becomes apparent when Davis's team gets caught up in an alleged gang-rape scandal, which mirror the current accusations against New York Knicks player Derrick Rose. At first, Davis denies being a part of the situation, but surveillance video shows him throwing a listless woman over his shoulder before entering a hotel room with the starting lineup. When Charley finds out about the damning evidence at Davis's basketball game, she walks ONTO THE COURT to yell at him and call him a liar. Do not mess with Charley Bordelon.
With these introductions, Queen Sugar illustrates the many differences between the Bordelon siblings. Nova sells weed, practices voodoo, and investigates police brutality as a journalist. (Calvin is a white police detective, so trouble's brewing there, for sure.) Ralph Angel wants to overcome his criminal past and be a better father, but old habits die hard. Charley is the one who's made it, the one who earned an MBA and married a wealthy husband who supported her dreams. They were living their best lives until his possibly criminal behavior brought them both tumbling down.
Again and again, "First Things First" presents Charley as smart and classy, but when she went full Basketball Wives on the court, it pulled me out of the show's deliberate pacing. I guess that's one way to show how perfectly put-together Charley is as human as anyone else: She turned down a reality show because she didn't want her personal life on display, yet she still contributed to her husband's public spectacle. Yes, the scene felt out of place, especially considering the quiet that dominates the rest of the episode, but maybe it's too much to expect a person to stay calm in the face of such grim news.
Charley is so devastated by Davis's betrayal, she refuses to listen to Micah when he arrives with tragic news: Ernest had a stroke at Blue's birthday party. At the hospital, Ralph Angel reaches out to Blue's mother, Darla (Bianca Lawson), a recovering drug addict, though he's not sure why. Maybe Darla isn't the only addict between them. Ernest, no longer able to speak, uses flashcards to ask for Blue. When Ralph Angel brings his son to see grandpa, it's time for tissues. Blue and Ernest share shaky smiles, each trying to reassure the other that everything is okay. Blue curls up on Ernest's chest, and once the child can't see him, a tear falls from his eye. Then Ralph Angel does the same, curling onto his father's chest, three generations of Bordelon men holding each other for the last time.
When Charley and Micah finally arrive, it's too late. Ernest is gone. Although Nova previously claimed she and Charley weren't close, they rush toward each other in the hospital for comfort in their grief. Later, Ralph Angel sleeps in bed with Blue, and Violet and Hollywood hold each other. Nova cries in her car, parked outside of Calvin's house, watching as he plays with his wife and children. Poor Nova. Before the episode ends, Charley walks through her sugarcane fields — which haven't yielded crops in two years — and makes a promise to her late father that she'll fix everything.
Regardless of how one feels about the drastic changes from Baszile's novel, Queen Sugar is here to showcase the diversity and complexity of black lives, even within the same family. DuVernay has already put her distinctive stamp on the show, from the delicate loving of black women to the way the cast is lit, which highlights richness and beauty in the various complexions of black people. It all points to the idea that there is no single way to be black, though I wonder if Queen Sugar will address the fact that Charley, the light-skinned sibling, is written as the most financially successful Bordelon. (As Survivor's Remorse demonstrated in a recent episode, colorism can be a touchy subject.) To its credit, Queen Sugar debuted with a full-throated commitment to the many shapes, sizes, and shades of blackness. That's not the only reason to keep watching, but it's certainly a good one.