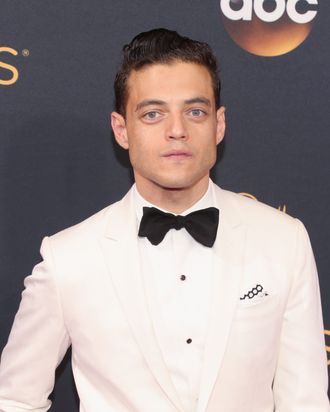 Rami Malek.
Photo: Todd Williamson/Getty Images
After poking fun at his Mr. Robot persona during his Emmy acceptance speech for Outstanding Lead Actor in a Drama, Rami Malek got more serious with reporters backstage, which is disappointing if you were hoping that he was actually a paranoid hacker bent on taking down the government, but pretty standard if you realize he's just a charming and intelligent actor. The first Egyptian-American to win an Emmy acting award, Malek spoke about what his family's past meant to him and how it's similar to Elliot's own experience:
We live in a world right now where so many of us feel voiceless. We're not being heard by the government, we're not being heard by our society. I grew up in a family that immigrated here. My dad worked door to door to sell insurance, and my mom was pregnant with my brother and I, taking three buses going to work, so that they would give their children the opportunity to be special. My sister's an ER doctor, my brother's a teacher, and I'm standing here today. I think a lot of people can relate to wanting an opportunity. I wanted an opportunity and now I have it. I just want everyone, no matter how you grew up, the socio-economic standard you were born into, to have an opportunity regardless, to not be stifled in this time in the work. To be given a chance, like I've been given a chance.
Malek also discussed how he worked with a therapist to get his portrayal of Elliot's mental illness right, and about what his win might mean in the larger context of TV representation. "For me to stand stand here as, not the typical leading man," Malek said. "I think speaks a lot about where we're headed. I think we can just keep going further in that direction. Obviously, not just limited to entertainment, but socially and politically, to continue and strive to be as progressive as possible." Basically, let's all hope for more recognition for people like Rami Malek — and for Malek himself, since he gives good speeches.
Additional reporting by Lisa Butterworth.