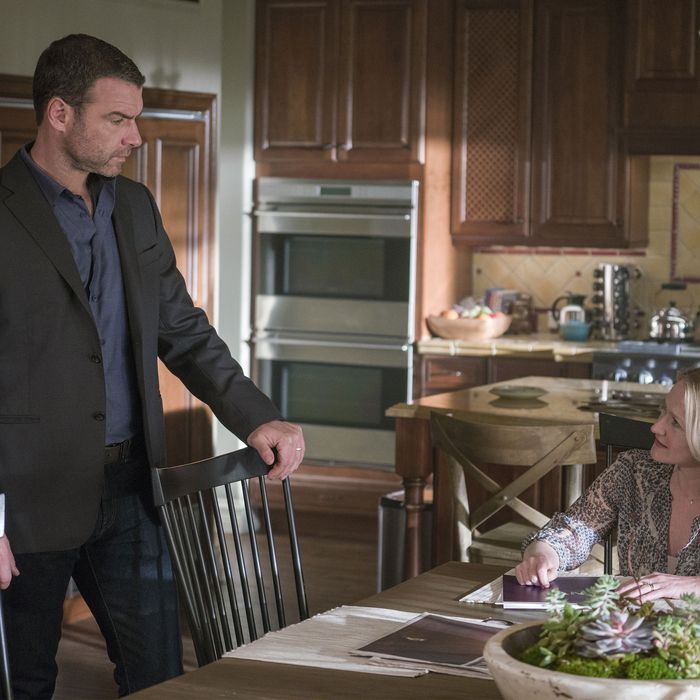 Liev Schreiber as Ray, Paula Malcomson as Abby.
Photo: Michael Desmond/Showtime
The disappointing fourth season of Ray Donovan ends with an all-too fitting finale. "Rattus Rattus" gets the job done, but offers none of the depth that made the series so compelling in previous years. Although the season started with promise and peaked in the middle, it basically dragged itself across the finish line. Even typically-great actors like Liev Schreiber and Jon Voight couldn't hide their disappointment, phoning in their performances throughout these last few episodes. Ray Donovan has a habit of ending seasons strongly — it did last year, for sure — but it couldn't save itself this time.
After a really long "previously on" segment that almost gives the impression that a lot happened this season, we open with a dream sequence. Ray (Schreiber) is in church, sitting opposite his family. Father Romero (Leland Orser) is describing a smartphone app at what looks like a funeral, but the casket is initially facing the wrong way. Then Abby (Paula Malcomson) disappears from the pew opposite Ray, winds up in the coffin, and leave Mickey (Voight) separated from the rest of the Donovans. Of course, it wouldn't be a dream without a sexual component, and this one has Sonia (Embeth Davidtz) rubbing Ray's crotch over his pants. What does it all mean? Not much, but at least it's more visually interesting than the rest of the season.
Ray awakens in the police station, where Frank (Michael McGrady) is detailing just how much they have on him. Sonia gave him up. We also learn that a new Sonia and Belikov are running forged art, drugs, girls, and whatever else the Russian underworld needs transported through the City of Angels. Ray forgives Sonia almost immediately — which seems awfully scripted given how she's put his family in danger — and the two go back to Dmitry (Raymond J. Barry) to say they want to work for him again. Would Dmitry not suspect something? Does anyone believe that? Ray looks bored and so am I.
Avi (Steven Bauer) is still severely injured in the hospital. He's so swollen and bruised, I actually hope he won't just be same old Avi next year. This show has a bad habit of forgetting things that happened in previous seasons. Ray tells him that he's wearing a wire to get the Russians.
When Ray gets home, Abby has some good news. Her cancer is gone, as is the subplot that went absolutely nowhere this season. She tells Ray that they now have a "fresh start," and I'm begging the writers of Ray Donovan to take that line seriously: Please give the talented Malcomson, who showed so much range on Deadwood, a chance to deliver here.
While Hector (Ismael Cruz Córdova) uses his daughter to dodge questions about his sister's death, Father Romero is driving back to town. Is Hector going to confess? Has he already done it?
In a move that might get rid of a character that Ray Donovan had no idea what to do with this year, Bridget (Kerris Dorsey) gets into NYU. While she's immediately ready to leave town (and presumably the show), Terry (Eddie Marsan) gives Damon (Dominique Columbus) a key to the Fite Club. It's the first key this formerly homeless kid has ever had for anything. In a surprisingly effective moment, Damon hugs him. Terry Donovan is a good man who tries to do good in the world, often failed by his own family in his pursuit to do so.
Mickey has certainly betrayed Terry's kindness on multiple occasions, and he cleverly compares himself to the Donovan family dog in my favorite line of the episode: "Very loving, but he makes a mess everywhere he goes." Mickey tells Abby he needs some money for a sure-thing bet. Remember, Mickey knows that Hector is taking a dive in the sixth round. She decides to give him the painting that Sonia gave Ray back at the beginning of the season. Mickey can sell it, use the money to place the bet, and they'll split the profits. Only one problem: When Mick goes to a pawn shop, he discovers that the painting is full of drugs. Huh? I get the idea that the Russians were using art to traffic drugs, but did they not notice that a remarkably large quantity was missing?
Meanwhile, Bunchy (Dash Mihok) has some bad news for Terry. He reveals that Mickey asked for money to bet against Hector, which means Terry finally figures out that the fix is in. Terry goes straight to Ray, looking for the truth, which Ray admits immediately. The fighter is taking a dive in the sixth round. Ray blackmailed Hector to clear his name with the Russians; Terry's hope for a successful future as a fight trainer was just collateral damage. Terry is pissed (and Marsan is great in this scene), but Ray calls out his hypocrisy. Terry didn't call the cops when he found Marisol. He called Ray. He knew that her death needed to be cleaned up. He knew it wasn't a suicide. Terry agrees to play along and puts something in Hector's eyes before the sixth round to make sure he goes down.
After Ray tells Abby about Sonia's two-timing, he gets a call from Lena (Katherine Moennig). Sonia is dead. The Russians either figured out that she was wired or just couldn't forgive her for past mistakes. What will this do to Ray's deal? They're probably only keeping him alive for the fixed fight. Knowing this, Ray decides to turn the tables, and he'll need the Donovan clan to help pull it off.
As the fight starts, Ray marches to Frank's surveillance van and throws his wire back at him. He's going in dark. He then tells Hector to win. Meanwhile, Avi and Daryll (Pooch Hall) beat up a Russian guard outside. Avi's return to action is too convenient, but that's TV. Elsewhere, Mickey and Bunchy pull up on a house as the fight reaches the sixth round. Ray is sitting next to Dmitry. Hector is on the ropes. It looks like he's gonna lose. And then he rallies! He turns around and starts landing punches. The writers really can't handle the conflicted morality here. Hector killed his sister two episodes ago. Are we supposed to root for him to win? Really?
Dmitry marches off to his car, where Daryll and Avi are waiting. They drive off as Bunchy and Mickey take out a few Russians at the house. Daryll puts the drugs from the painting in the car with Dmitry, then Avi shoots him. It will look like a deal gone bad. Ray hands the art, drugs, and bodies over to Frank with a simple message: "You brought down another crime boss."
Everyone's happy. Even Terry says, "It's fucking great to be a Donovan." The only fly in the ointment? Ray isn't happy that Hector hasn't confessed about the murder of his sister. Ray tells him, "I'll call you when I need you," meaning the Hector narrative is likely to continue into next season. As "Rock Me Gently" plays, the Donovans dance.
Final Notes:
It was a good idea for new showrunner David Hollander to helm this finale — he directed last season's excellent closer — but it was just too little too late in terms of story.
I hate that the final episode brought back Father Romero, a character we haven't seen in months. That's just weak writing. As is bringing back Sonia just to kill her off-camera. Why even bother?
On that note, what did we really learn this season? What happened that could carry over in any way to next year? Nothing really. Sure, Hector might still be around, but does it feel like anyone is in a different place than when the season began? I suppose it's good that the show didn't do anything irreparable, but talk about treading water. Let's hope they find a way to start fresh and move forward in season five. The cast is more than talented enough to deliver. It's time the writers give them all something to do — especially Malcomson.