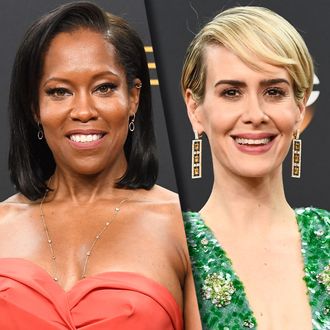 Cast them in all the things.
Photo: Getty Images
Welcome to the Emmys, where everyone knows everyone and the press room is like a Thanksgiving dinner table full of all the aunts and uncles you haven't seen in years. For Regina King, that quirky aunt is Sarah Paulson. The two had a backstage reunion at this year's Emmys following their respective wins, when Paulson surprised her just as King was sharing her relief at not having been nominated against anyone from The People vs. O.J. (Though, technically, she did beat Paulson for American Horror Story.) "I love you, Regina!" Paulson chimes in. "You would be right here to hear me say that," King laughs. "What did I tell you yesterday? When you walk up on that stage, I'm gonna be screaming." The best part: Paulson throwing it back to Leap of Faith, a short-lived 2002 NBC sitcom the two starred in. Just in case you forgot these two Emmy queens have been slaying the TV biz. Hear a clip from their reunion around the two-minute mark below.
Additional reporting by Lisa Butterworth.