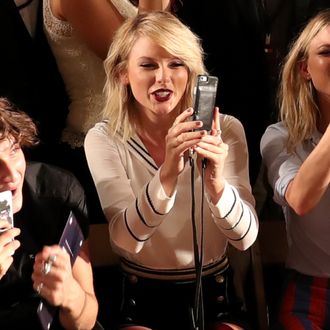 Photo: Neilson Barnard/Getty Images for Tommy Hilfiger
Taylor Swift was front and center at last night's Tommy x Gigi show with squad member Martha Hunt in tow, marking her first official appearance in public since her breakup with Tom Hiddleston. (Well, other than those artfully casual post-gym pics snapped by the paparazzi last week, but let's not split hairs.) Swift was there to cheer her girl Gigi Hadid on as the model stalked the runway, and to casually lip-sync "This Is What You Came For," the song she wrote for ex-boyfriend Calvin Harris and Rihanna. Super chill and normal Instagram fodder!
Martha Hunt got meta by posting a picture of the mini-squad carefully examining Swift's iPhone, with the caption "Tinder. Jk chill." The comment section on Hunt's quick pic looks like Medusa's hair after a bad date — filled with snakes. Swift, on the other hand, wrote that they were "[l]ooking up videos of kittens hugging each other, probably." Either way, Meredith is gonna be soooo jealous.