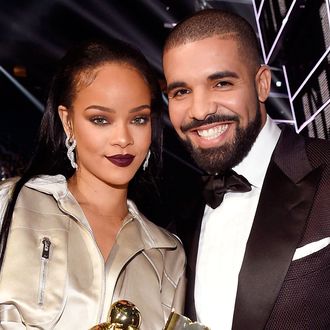 Uh oh.
Photo: Kevin Mazur/Getty Images
Well it's no emboldened name across the forehead, but here appears the surest sign that AubRih is as legit as it's ever been. After more than a decade of publicly rejecting Drake's affection, at last, Rihanna may have reciprocated his love — permanently. Following their second pass at that fail of a kiss at the VMAs, last night at Drake's show in Miami, Rihanna flew in her tattoo artist Bang Bang for more new ink. And brace yourself, because Rihanna and Drake's "relationship" may have already gone off the deep end. We regret to inform you that that camo shark now swimming on Rih's ankle appears to be a recreation of a stuffed toy shark she got on a rumored date with Drake at Ripley's Aqua Canada in Toronto last month, presumably a gift from Aubrey.
You can see the shark creeping in the corner of the photo Drake posted shortly after the VMAs, to make them Instagram official. Rihanna was then photographed carrying the shark to the airport on the way to Miami, which might explain why a grown woman was traveling with a stuffed animal. (Not that we'd ever judge.)
Of course, shameless promotion of the shark in question is already in full effect:
Left Shark, you've truly made it far.