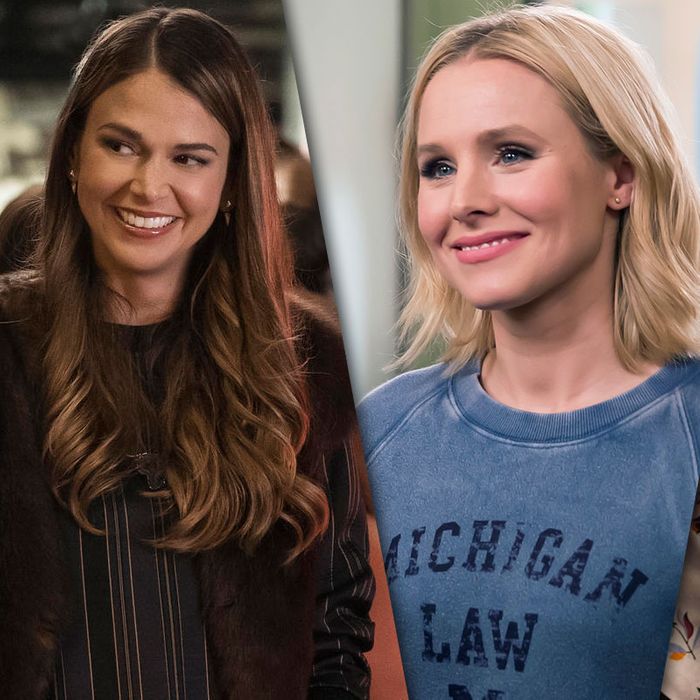 L-R: Sutton Foster in Younger, Kristen Bell in The Good Place, Rachel Bloom in Crazy Ex-Girlfriend
Photo: TV Land, NBC, CW
In the third season of Younger — the TV Land comedy that stars Sutton Foster as a 40-something woman pretending to be 26 in order to maintain her job in the publishing industry — there's a moment when it seems like Foster's Liza is about to get busted.
Her colleagues at the aptly named Empirical Publishing are discussing one of their nonfiction titles, which features a case study about a 40-something woman pretending to be 26. Of course, the anonymous figure in the book is actually Liza — long story, go watch season two — but they don't know that. So they conclude that the unidentified woman in question must be a sociopath.
"Shaving one or two years off your age is one thing," says Diana, Liza's boss and a woman who has indeed shaved one or two years off her age. "But living a double life? That is one very disturbed individual."
Younger, which just kicked off its third season on TV Land, is one of several current comedies that feature women leading double lives, to varying extremes. On Fleabag, there's the Fleabag (Phoebe Waller-Bridge) that she allows the people around her to see, and there's the one that talks directly to us, eventually revealing the depth and cause of her depression. On HBO's forthcoming Insecure, Issa Rae plays a woman (also named Issa) who frequently feels frustrated — with her boyfriend, her co-workers, her best friend — but keeps those feelings in check until she can spit them out in rhyme form, privately, in front of a bathroom mirror. On You're the Worst, Gretchen and Lindsay — well, everybody on You're the Worst, really — constantly wallpaper over their doubts, insecurities, and vulnerabilities with devil-may-care facades, while Kimmy on Unbreakable Kimmy Schmidt does the same thing, but replaces Gretchen's and Lindsay's recklessness with a relentless chirpiness.
Younger is different from those other examples because it takes the idea of the woman with a specific dark secret — one that, if revealed, would shatter the life she's carefully built for herself — and makes it the central driving force of its plot, an approach echoed in two other current comedies with female protagonists: The Good Place and Crazy Ex-Girlfriend. All three of these shows stand out from a lot of the women-led fare found on other cable networks and platforms because they're more narrative-driven and more overtly designed to appeal to mass audiences. These are shows about women struggling to seem like they belong even when they don't, comedies about impostors that actually serve as commentaries on impostor syndrome, yet cover that territory with an often sunny lightness. Which is appropriate, since that's how a lot of women who suffer from impostor syndrome go through life: with a smile as their text, masking all the messy subtext beneath it. All three also prove that comedies can delve into this sort of subject matter with intelligence and insight, while still maintaining the infectious, kinetic energy that keeps them rooted firmly in their genre.
The Good Place is only four episodes into its first season and is less specifically focused on gender-related issues than the other two, though it does confront those issues tangentially. The premise is that Kristen Bell's Eleanor has died and gone to heaven, but only arrived there accidentally because, when she was alive, she was the kind of depraved person who would have fit in pretty well with the You're the Worst gang. Eleanor doesn't want to get kicked out of heaven because it's awesome — Lots of fro-yo! Unlimited shrimp at parties! — so she keeps living the lie that she was actually the Earthly equivalent of Mother Teresa. Everyone believes it, partly for the same reason that, on Younger, Liza's best friend Maggie says Liza can get away with posing as a millennial: "People will believe what you tell them." They also believe it because of confirmation bias, an issue the series explores through its other central characters as well as Eleanor.
At the end of last week's episode — and here comes the requisite spoiler alert — Jianyu, the Buddhist monk who had supposedly taken a vow of silence, tells Eleanor that he, too, doesn't belong on the upper levels of the afterlife. It comes as a shock, not only because the guy hasn't spoken before, or because he uses the word "homey," which, as a general rule, doesn't fall under the heading "typical Buddhist monk vocabulary." It's a surprise because you think you know this guy just by looking at him. But you don't. The same can be said of Eleanor: On the surface, with her all-American blondness and dazzlingly kind smile, she looks like the prototypical female heavenly creature. But the truth is, she's a clandestine hellion.
The Good Place highlights how society, even a heavenly one, conditions us to make assumptions about others, often and especially when gender, race, or ethnicity are involved. (The fact that the show's principal characters are women and/or people of color is not only refreshing, but purposeful.) Eleanor may be choosing to lie about who she really is. But she's also in a situation that practically gives her no choice, and even rewards her for maintaining the deception.
Similar things can be said about Rebecca and Liza, the women of Crazy Ex-Girlfriend and Younger, two shows that share similar DNA but opposing trajectories. While Younger is about a divorcée ditching the Jersey suburbs and getting her groove back in a super-sexy version of Brooklyn, Crazy Ex-Girlfriend is about a single woman getting the hell out of New York and embracing the smoothies and shopping malls of West Covina, California, an L.A. suburb.
Like Eleanor, Crazy Ex-Girlfriend's Rebecca decides to tell a monster fib: She pretends she moved to West Covina for personal and professional reasons when she really did it to be closer to Josh, her long-ago boyfriend from summer camp. (In a way, Rebecca is as fixated on her youth as Liza.) She doesn't have to do this — she doesn't even have to move to West Covina, obviously — but decides it's the best way to come across as a normal, sane person in her new hometown, since impulsively moving all the way across the country for the sake of a guy she dated when she still wore a retainer seems, well, a little nuts. As its title suggests, that's really what Crazy Ex-Girlfriend is about: the lengths to which a woman, and women in general, will go in order to seem 100 percent together on the outside even when they feel completely cracked-up on the inside. The first season explores that not only via Rebecca's perpetually escalating acts of Josh-related deceit, but false expectations women set for themselves based on societal standards. It's a show about feminism and the ease with which otherwise bright women buy into romantic fantasies that also acts as pure, silly, enjoyable escapism.
Younger arguably has an even more escapist flavor than Crazy Ex-Girlfriend. While Liza certainly has her problems, the New York she inhabits — even more so than the New York on that previous Darren Star series, Sex and the City — is like a Manhattan and Brooklyn fantasy camp. The woman basically lives in Candyland, except the candy has been replaced with alcohol, hipster bars, and hot, much younger tattoo artists. (Liza's on-again, off-again boyfriend on Younger? Also named Josh.) If you're a woman in her 40s with kids, watching Younger acts as a form of wish fulfillment: Here's a gorgeous, awkwardly affable mom as old as you are who works in an exciting field, gets to go out every night, is still an object of desire to very alluring men, and has her whole future ahead of her. (Except, on that last point, she actually doesn't.) Like Eleanor on The Good Place, Liza has found herself in a version of heaven that she'll be forced to leave if the truth comes out.
Unlike Rebecca, Liza has a slightly more reasonable excuse for becoming an impostor: After leaving the workforce to raise a daughter, she finds that, at 40, no one in book publishing will hire her. Once she pretends to be an upstart 26-year-old, she gets a job, so she keeps the game going. It's a scenario that's believable only to a point, but certainly anchored in something very real: ageism and the creeping sense that one's value is culturally diminishing with every ticking minute. That's a problem that hits everyone, but women much more acutely.
Younger milks that idea mostly for comparatively gentle comedy; unlike The Good Place and Crazy Ex-Girlfriend, it rarely paints its protagonist in a truly negative light. But as fizzy and fun as the show can be — and oh my God, it is so addictively fun — it still manages to underline some really valuable truths about women, most notably, that regardless of their age or level of success, a lot of ladies out there, including Liza's boss, Diana (Miriam Shor), and her millennial BFF, Kelsey (Hilary Duff), are clacking around in uncomfortable heels, feeling like frauds.
The challenge of a show that's grounded in an ongoing lie is how long the lie can last. Crazy Ex-Girlfriend nipped that in the bud at the end of last season, when Rebecca finally confessed to Josh that she came to West Covina for him. One of the challenges it will face when it returns for its second season on October 21 is how to move forward now that Rebecca's truth is out there. The Good Place has just started, so it can afford to let Eleanor's falsehoods breathe for a bit, but certainly there's only so much longer that Liza — who has threatened to spill all her beans more than once on Younger — can continue to keep her actual age on the DL.
Even if she did come clean, though, it seems like Younger might still have somewhere to go, narratively speaking. What happens to a woman when her impostor syndrome isn't just a syndrome but revealed as something real? What's the fallout from that? That's a question I'd be curious to see the show answer.
Living a double life may be the engine that makes all of these series go. But what keeps them running is their acknowledgment of the fact that all women, not just the ones played by Kristen Bell, Rachel Bloom, and Sutton Foster, are living some version of a double life. Shows like Fleabag or You're the Worst show us the darker, spikier, amusing side of that. But The Good Place, Crazy Ex-Girlfriend, and Younger acknowledge certain grim realities while also serving us the TV comedy version of thickly frosted cake. For those of us dealing with our own raging cases of impostor syndrome, they serve as both dessert and exactly what our feminine psyches ordered.
A previously published version of this piece referred to Sutton Foster's character on Younger as Eliza, rather than Liza. The story has updated and republished to correct the error.