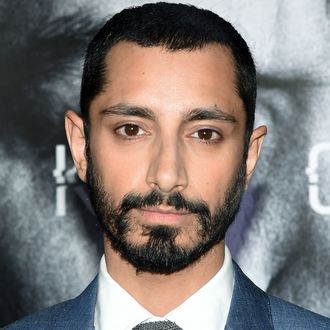 Your boyfriend has been through some shit.
Photo: Ethan Miller/Getty Images
British actor and rapper Riz Ahmed continues to engage with political issues even as he has risen to the status of the internet's boyfriend. The Night Of and Rogue One star has been vocal about many issues, including typecasting in Hollywood and his experiences getting detained at the airport. In an essay for The Guardian, Ahmed goes into greater detail discussing the violence he experienced when he was traveling from Berlin after the debut of his first major film, Michael Winterbottom's The Road to Guantanamo. Ahmed arrived in the London Luton airport, where he was illegally detained. Ahmed writes:
But airport security did not get the memo. Returning to the glamour of Luton Airport after our festival win, ironically named British intelligence officers frogmarched me to an unmarked room where they insulted, threatened, and then attacked me.

"What kinda film you making? Did you become an actor to further the Muslim struggle?" an officer screamed, twisting my arm to the point of snapping.
Traveling to the U.S. was no easier. When Ahmed arrived in the States, he describes being placed into a holding pen where he would have to wait to be questioned. "Apart from a Chinese family and a South American pilot battling the indignity with his spotless uniform, the holding pen was filled with 20 slight variations of my own face, all staring at me — kind of like a Bollywood remake of Being John Malkovich."
He describes these experiences with immigration officers and airport security as a kind of audition process, where they invariably see him as a stereotype: someone to be feared, a potential terrorist. He wryly reflects on the performance he puts on, using "Gosh!" and other means to navigate his way out of those situations.
Ahmed now sees himself as edging towards "the other side" of the situation, where he is recognized and waved through. But he understands how he is placed within the system so that it can continue to function: "These days it's likely that no one resembles me in the waiting room for an acting audition, and the same is true of everyone being waved through with me at U.S. immigration. In both spaces, my exception proves the rule."